Expensify wants to revamp downtown with food cart pod makeover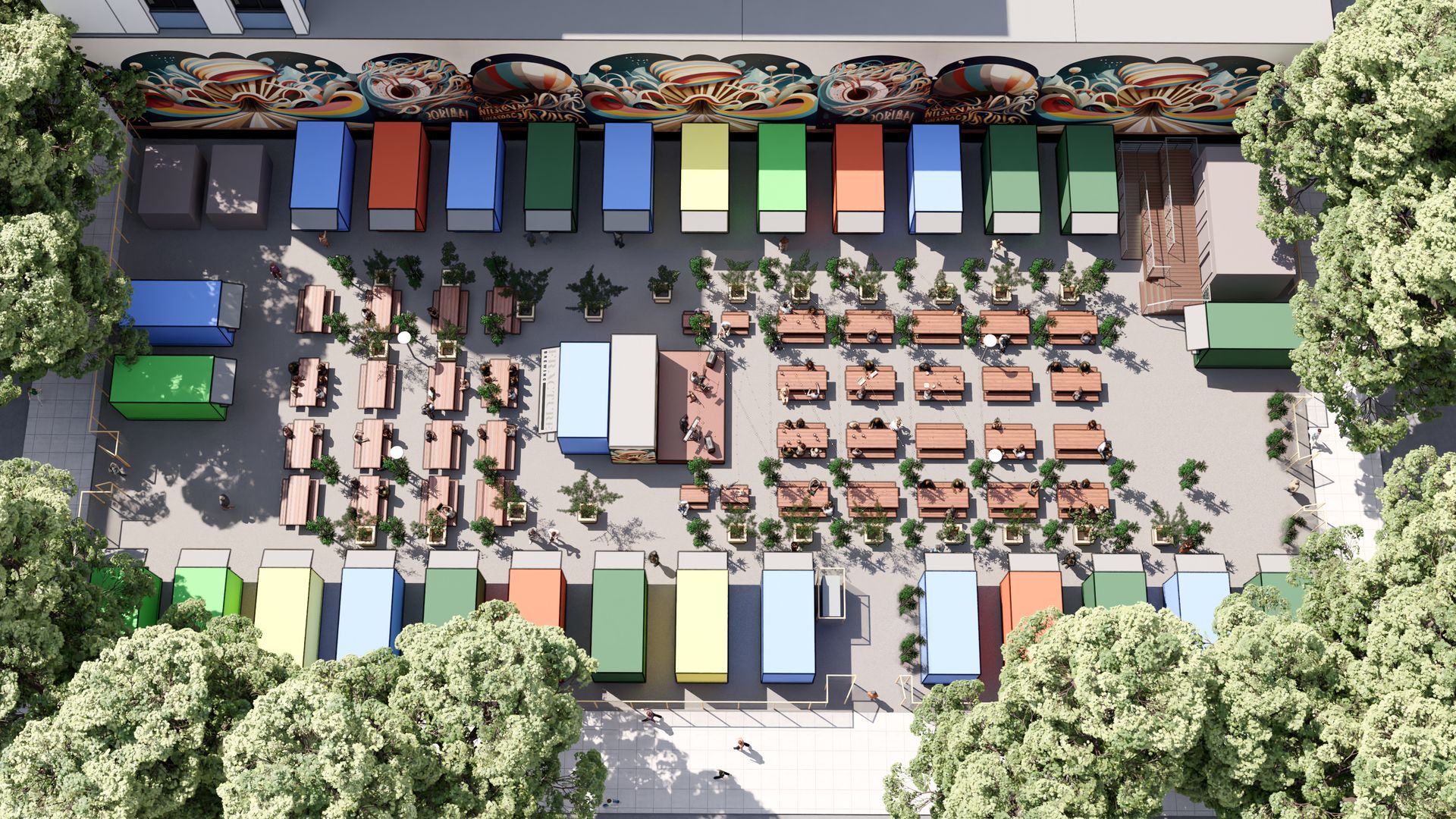 The planned makeover of Portland's oldest food cart pod is intended to rejuvenate the neighborhood as well.
Why it matters: The global tech company that's investing, Expensify, is making a bet on a downtown block without expecting a significant financial return.
Catch up fast: A half-block parking lot with 10 food carts is getting a total makeover, turning into a 28-cart pod anchored by a beer cart, with outdoor seating for 300 diners. It will also have covered areas, heat, an events stage, bathrooms and security.
Construction started earlier this month; the new pod is due to open in July.
Expensify is partnering with homegrown restaurant group ChefStable, which will manage the pod.
Details: Expensify "came to me saying, 'We want to try not to spend more than a million dollars,'" Kurt Huffman, ChefStable founder, told Axios. "I was like, 'Whoa. Awesome. I can work with that.'"
Expensify started a seven-year lease on the parking lot in April, with two five-year optional extensions.
The company, which counts Axios among its clients, doesn't expect to turn a profit on the project for several years, Matt Allen, who heads the project for Expensify, said. He added that any eventual profits will likely be invested back into the space.
Context: The pod is kitty-corner from Expensify's headquarters in the old First National Bank building, and the company sees building out the pod as a way to bring foot traffic and fun back to the neighborhood.
The area had been feeling downtown's slow decline even before the pandemic increased street camping and open drug use in the area.
State of play: ChefStable gained pod management experience with its Lil' America project in SE Portland, which focuses on carts run by people of color and women. Huffman said if this downtown pod makeover can attract enough people, the nearby streets will change.
"Tents tend to gravitate toward areas that have much less foot traffic."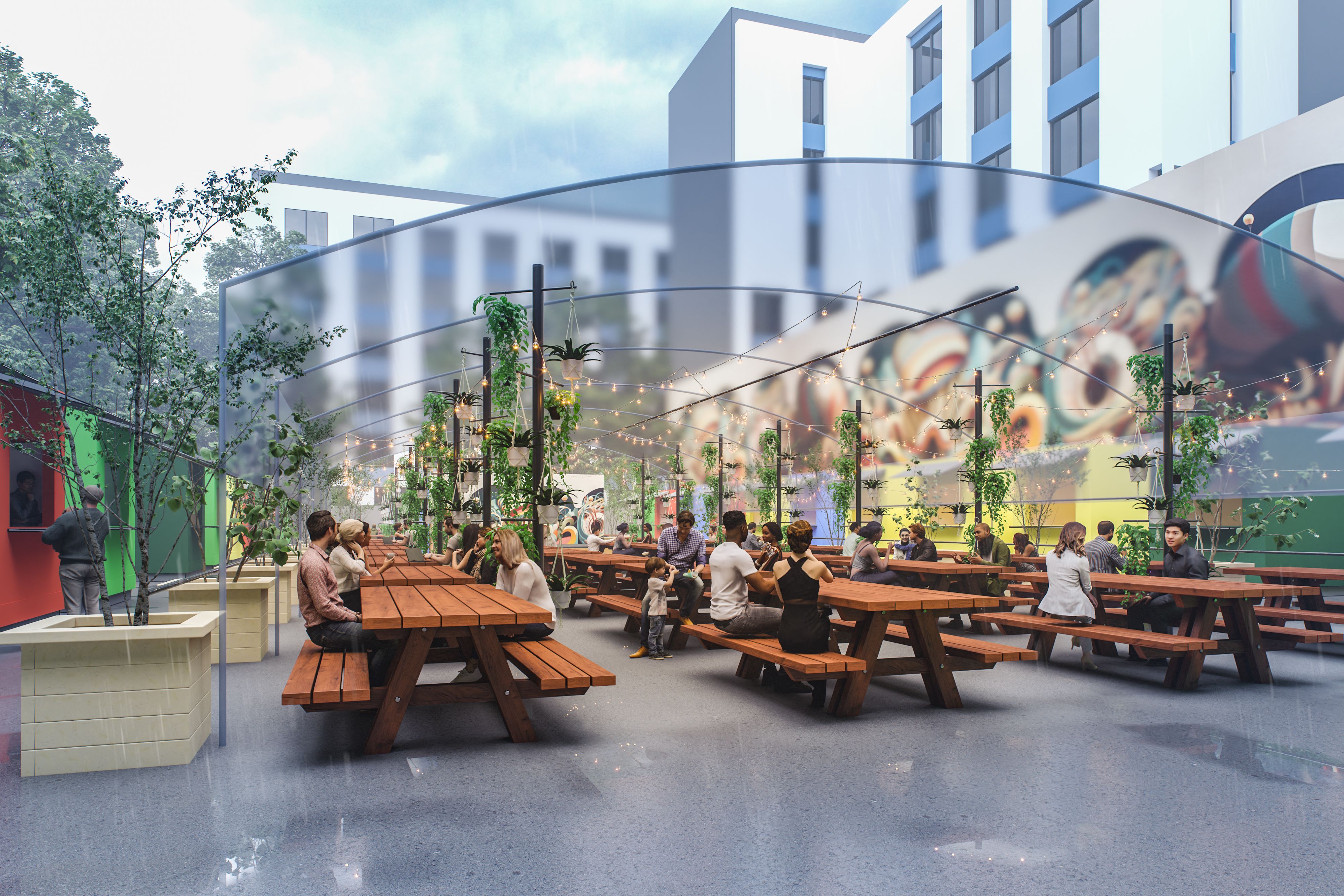 The intrigue: Huffman said ChefStable has donated its time and expertise to get the project off the ground so far, though Expensify will pay the group for management once it's up and running.
"I'm not interested in running a cart pod where we're required to exact some sort of 20% return on capital," he said. "Then you just don't have very much money left" for amenities like security and trash pickup.
What we're watching: The name. Expensify plans to call the pod the Midtown Beer Garden, making up a new neighborhood name, and will add its branding somewhere.
Details: The carts that were on the space when construction started are all expected to return. For the rest, Allen hopes for "a diversity of cuisine."
The group also wants to ensure carts are open throughout the day, so diners can get breakfast, lunch or dinner.
The bottom line: One of Allen's metrics of success will be the view from Expensify headquarters.
"Being able to stand up, look out the window and see hundreds of people just all hanging out. Having a good time. And for all the vendors to be successful."
Editor's note: This story has been updated to correct the number of food carts on the site before closing for the upgrade. It was 10, not more than 10.
More Portland stories
No stories could be found
Get a free daily digest of the most important news in your backyard with Axios Portland.