It's the end of an era as the Pac-12 disintegrates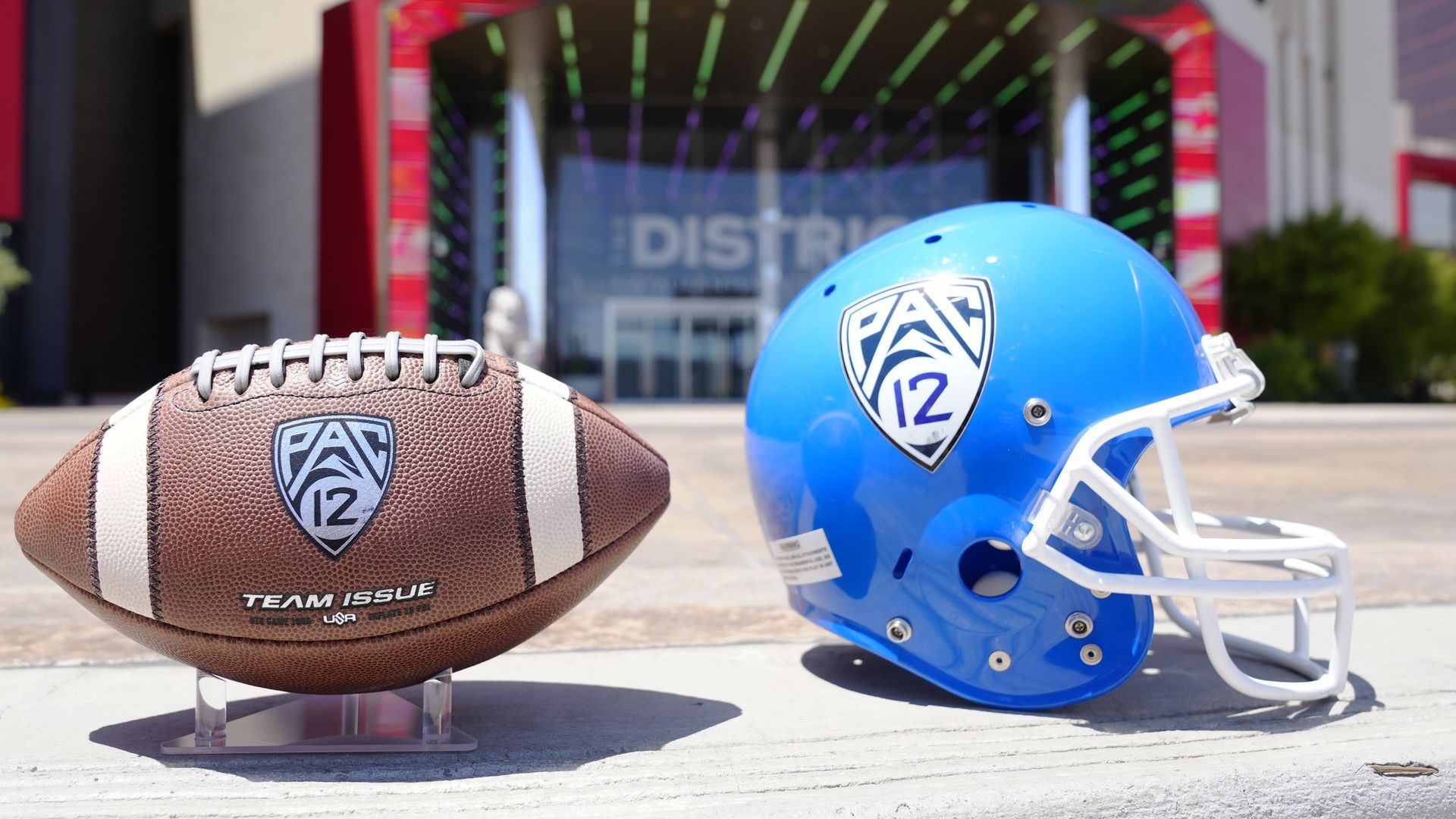 After a flurry of weekend activity that began with reports Thursday night that the University of Arizona was poised to join the Big 12, the Pac-12 conference has effectively become the Pac-4 — and it may not even exist in that form for long.
The latest: UofA joined fellow Pac-12 team Colorado in the Big 12 last week, with Arizona State University and Utah quickly following suit, boosting the conference to 16 teams.
Oregon and Washington announced their departure for the Big Ten, which began the exodus when it accepted UCLA and USC last year.
Dissatisfaction with a Pac-12 TV deal and the money that comes with it likely sealed the conference's fate.
Why it matters: ASU and UofA are moving from a strictly regional conference, which they joined in 1978, to a sprawling Big 12 that stretches nearly from coast to coast.
They're now in the same conference as Cincinnati and the University of Central Florida.
The intrigue: ASU president Michael Crow and athletic director Ray Anderson took part in a last-ditch effort to keep the Pac-12 alive. But when several schools declined to show up at Friday's meeting, Crow said they knew the conference "was no longer viable," and they had to act quickly following Oregon and Washington's announcement that they're Big Ten-bound.
"How do we feel about the destruction of the Pac-12 and what do we feel about our responsibility for that? We were the stalwarts fighting for the Pac-12 until the last ditch," Crow told reporters Saturday.
What they're saying: The Pac-12 issued a statement Friday calling the departure of ASU, UofA and Utah "incredibly disappointing for student-athletes, fans, alumni and staff of the Pac-12 who cherish the over 100-year history, tradition and rivalries of the Conference of Champions."
What's next: The fate of the Pac-12's remaining four teams — Cal, Oregon State, Stanford and Washington State — has yet to be decided, but there are a number of possibilities.
The remaining teams could join the Mountain West Conference, disbanding the Pac-12 or the Pac-12 could invite MWC teams to join it.
There's also been talk of possible merger between the East Coast-based ACC and the remaining Pac-12 schools.
Cal and Stanford, which have substantial athletic pedigrees, could become independents — a la Notre Dame — leaving Oregon State and Washington State to join the MWC or another conference on their own.
💭 Jeremy's thought bubble: As a UofA alum and diehard Wildcats basketball fan, I'm going to miss the Pac-12. I know keeping the Pac-12 together wasn't really a viable option, but I loved having a regional West Coast-centric conference filled with traditional rivalries that went back generations.
Still, being in the same conference as basketball powerhouse Kansas is going to be a lot of fun.
If nothing else, at least the Sun Devils and Wildcats get to keep their rivalry and the Territorial Cup in conference, even if it's the Big 12 instead of the Pac-12.
No one knows which conference gets to keep broadcaster and enthusiastic Pac-12 booster Bill Walton — he's a UCLA alum, so it would make sense that he'll become a Big Ten guy now — but I'm going to be disappointed if his days of announcing Wildcats basketball games are over.
More Phoenix stories
No stories could be found
Get a free daily digest of the most important news in your backyard with Axios Phoenix.