How to Fake It: What to know about the 2023-24 Chicago Blackhawks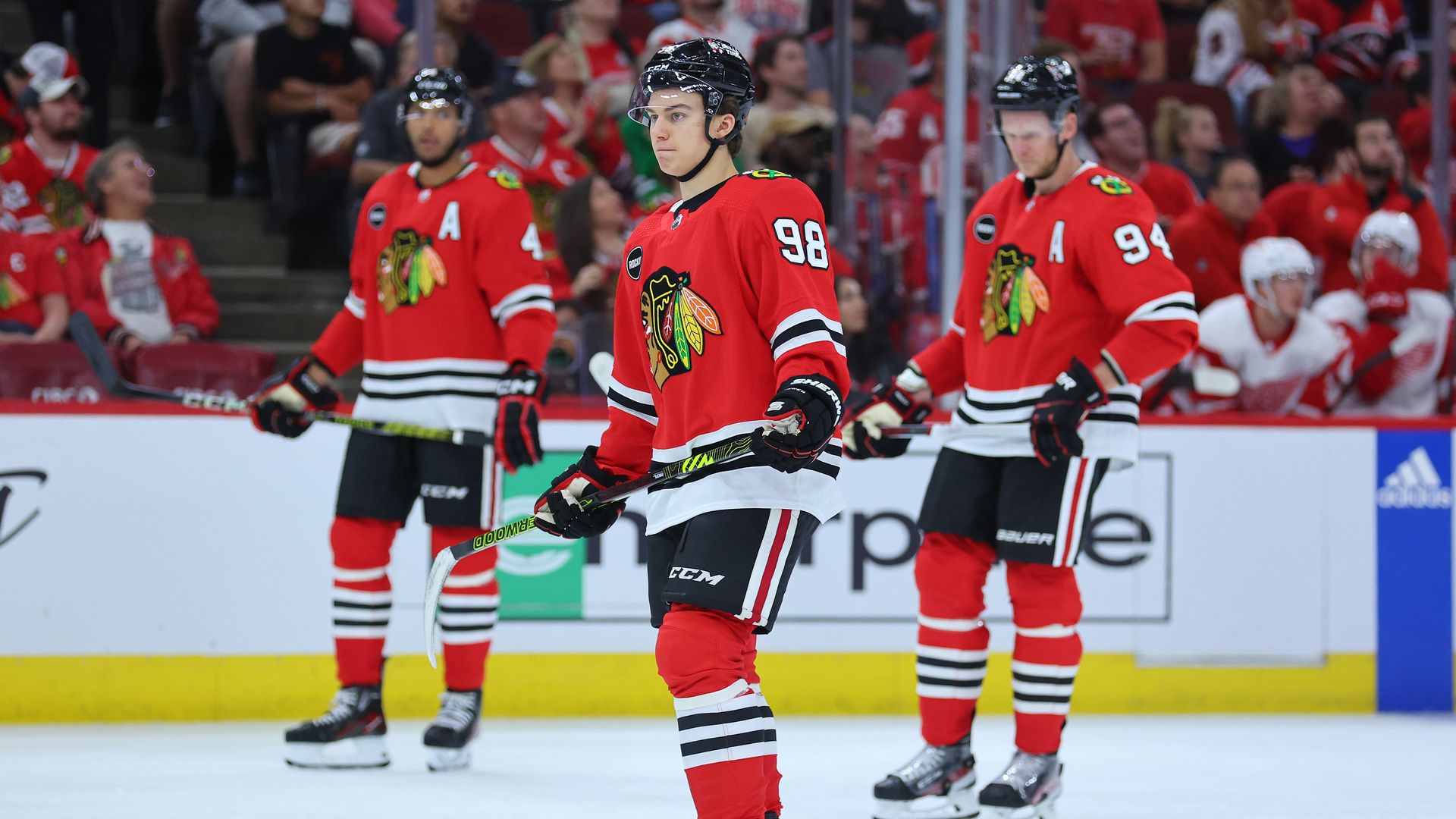 The Blackhawks head to Pittsburgh to start the regular season against the Penguins on Tuesday.
Why it matters: This is a rebuilding year, but things have accelerated since the last time the 'Hawks took the ice, mainly because of the NHL draw, scoring the first pick and landing rookie phenom Connor Bedard.
So if you find yourself watching the game with some hockey geeks tonight, let us help you get up to speed on the 2023-24 squad.
The rebuild: The 'Hawks have moved on from just about everyone who played on the Stanley Cup championship team of 2015 (the last of their Stanley Cup hat trick). The front office has turned over, the coaches too. Even ownership, since the untimely death of Rocky Wirtz.
Yes, but: Hopes are high this won't be a long rebuild thanks to Bedard. The rookie sensation looked the part in the preseason, handling himself against NHL talent. The 'Hawks' only other No. 1 pick? Patrick Kane.
A well-timed "Can't go wrong with a young Kaner" will start you off on the right foot.
If you want to take it one step further, you can shower your friends with a "Does Bedard automatically get to skate next to a Chevy Cruze, too?" Deep cut, but it will be appreciated.
The other youngsters: The 'Hawks also drafted speedster Oliver Moore in the first round, but he's a ways from contributing to the team. Is it worth a mention?
How about, "Bedard is gonna be great, but imagine how incredible it will be when Oliver Moore is ready to go." Draft pick knowledge is always appreciated.
And Duncan Keith is long gone, but last year's draft pick Kevin Korchinski defied the odds and made the roster. Keep the name Korchinski in your back pocket.
Zoom in: The 'Hawks did bring in some veteran leadership to replace Kaner and Toews, while also helping to develop Bedard. Seth Jones, Connor Murphy and Tyler Johnson return, but coach Kyle Davidson said there won't be any captains this year.
So go with "First you get rid of THE captain and now there are no captains? What is this, a Walt Whitman poem gone awry?" On second thought, maybe cool it on the Walt Whitman references and instead yell "Bring back Toews!" Crisis averted.
Flashback: Last, the 'Hawks aren't forgetting their heritage this year. They are going to retire Chris Chelios' jersey, which could lead you to throw in a "Hey, is Chelli's Chili still open on Madison?"
Know-it-alls will tell you it's closed, but they also will love you for the reference and might give you a bowl of chili to go at the end of the game.
You are welcome. Go, 'Hawks.
More Chicago stories
No stories could be found
Get a free daily digest of the most important news in your backyard with Axios Chicago.