Updated Nov 14, 2023 -

News
Closing Time: Chicago businesses that have shuttered in 2023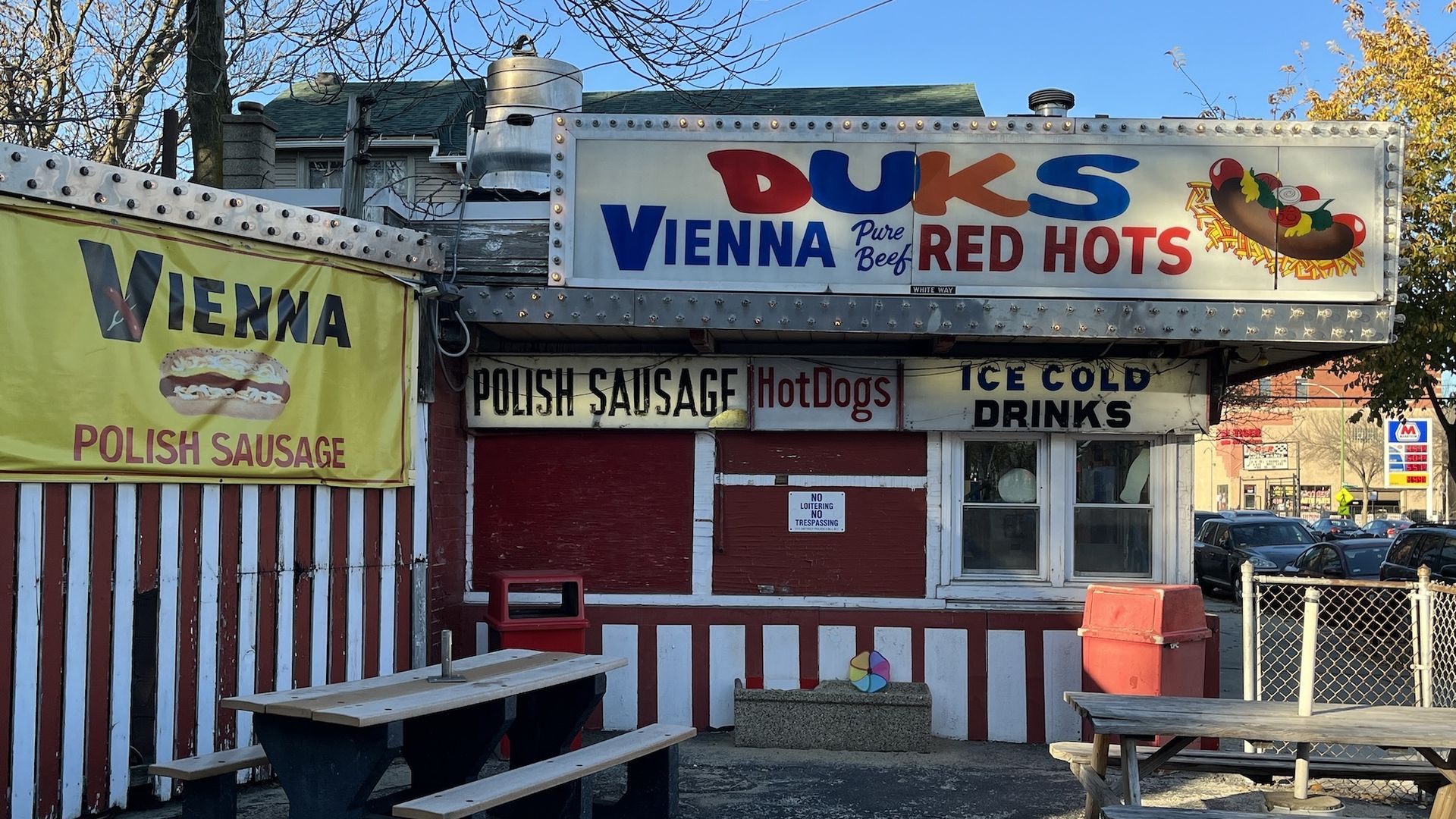 Every month, we look back on businesses that have recently closed up shop.
Why it matters: Amid inflation, rising labor costs and changing consumer habits, Chicago has seen many businesses shutter so far this year.
Here are some closings announced in October/November:
Just announced: Yesterday, Metropolitan Brewing shared that it's closing. The taproom in Avondale along the North Branch of the river was one of Chicago's best.
The company had been in business (two different locations) for over 15 years. Its last day will be Dec. 17.
Also, the popular West Town restaurant Split Rail announced yesterday that it will close for good Dec. 10.
Now where will we take our parents? After 21 years, Grand Lux Cafe is throwing in the towel. The huge restaurant is slated to close Christmas Eve.
For an opulent, giant-menu experience, the eatery's owners recommend you visit their other signature Michigan Avenue spot, The Cheesecake Factory.
Grand Lux's announcement follows other recent Mag Mile exits by Bandera and Signature Room.
🇨🇿 Century club: Czech family-run bakery Vesecky's in Berwyn is closing its doors after over 118 years. Act fast; you have until the end of the year to get a muttnick or a kolacky.
Three-month club: Uptown's Floreen's Chicken & Roost plans to close after just three months.
🌭 Iconic eats: Duk's Red Hots on Ashland is closing New Year's Eve. The hot dog stand is a Chicago staple, maybe more for its iconic sign than its cuisine.
Closed (for the wrong reasons): Calumet Fisheries is temporarily closed because of a rodent infestation. Also, Boston Market is out of the Chicago market, closing the only two locations left while federal regulators investigate the chain for wage disputes.
😢 Notable goodbyes: Roots Handmade Pizza in Lincoln Square, Boca Loca Cantina in Andersonville, D.S. Tequila in Northalsted, Belli's in Pilsen, Mission Control Arcade and Ropa Cabana in Rogers Park, Thee Asian Restaurant in West Town and ChipMonks in East Lakeview.
September
Signature Room: The biggest high-profile closing was high atop the former John Hancock Center. The Signature Room still has some legal issues, but for many Chicagoans it's all about the memories.
Café Selmarie: The Lincoln Square restaurant that holds a special place in Chicago's heart announced it was closing early in 2024 after serving the North Side neighborhood for 40+ years.
Le Select: It's rare to see a Boka Group restaurant close up shop in less than a year, but the expansive French restaurant is done in River North.
It's not just restaurants: The Joy Room Chicago is leaving Portage Park, but the incubator for entrepreneurs is looking to relocate in South Shore. An Orange Moon vintage shop in Humboldt Park liquidated after 14 years.
Other spots: The Mott Street folks are leaving Logan Square after closing their latest restaurant, Second Generation. Murphy's Sandwich Shop in Portage Park is merging into Junebug Cafe.
Good news: The fire that closed Bucktown's Le Bouchon took the iconic restaurant out for only about a month. It reopened last week.
August
🧆 Reza's: It's hard to imagine Andersonville without Reza's. The iconic Middle Eastern restaurant has been serving plates of kebabs and dill rice in the North Side neighborhood for 40 years.
Seven Treasures marks another end to a 40-year Chicago restaurant run. The wildly popular Chinatown staple saw huge lines after the owners announced its closing.
🍴 Fork: The American contemporary restaurant once served as an anchor of gentrifying Lincoln Square. The neighborhood now boasts many more restaurants and bars than it did when Fork opened its doors in 2011.
Debonair Social Club: A late entry to the list, the Wicker Park nightclub announced this week it's closing permanently. The club was already temporarily closed after a recent shooting and city code violations. Debonair had been operating in the Flat Iron Building for 17 years — a lifetime for a nightclub.
🍔 Owen & Engine: The British gastropub closed its doors after a long summer farewell. Say goodbye to one of Chicago's most popular burgers.
The Windy City Fieldhouse: Across the street from Owen & Engine, the large warehouse style event space and gymnasium offered a prime location along the Kennedy for kids' sports leagues, birthday parties and more.
Other closings: We hardly knew ye! Dear Madison in the West Loop and Smokeshow BBQ in Naperville closed within a year of opening.
July
🛏️ Big box stores: Bed Bath & Beyond on Clybourn.
🍝 Classics: Bella Notte.
The West Town Italian restaurant was a staple for more than 25 years, but the owner cited rising crime and city bureaucracy for closing up shop this month. They plan to reopen in the suburbs.
🎨 Relocating: "Monument with Standing Beast."
The famed deconstructed Snoopy sculpture in front of the Thompson Center is moving to the Art Institute. So get your selfie with it soon. (See above.) Though technically not a closing, the artwork's relocation after nearly four decades marks the end of a mini-era.
🍹 Temporary: Castaways.
The boat-shaped bar at North Avenue Beach is being renovated. Owner Phil Stefani is hoping it will be up and running for the Air and Water Show this month, but then it will close again for the rest of the year.
Closed access: Arthur Avenue.
Construction has begun on a new project in Rogers Park to close off Arthur Avenue for pedestrian traffic only and more greenspace. The project will take close to two years.
Honorable mentions (bars & restaurants): Land & Lake Andersonville, North Branch Fried Chicken, Asahi Roll, Sol Cafe, Kinton Ramen (Wicker Park) and Waterhouse Tavern & Grill.
June
📱 Flagships: The AT&T store on Michigan Avenue.
The closing adds to other big Mag Mile departures including Gap, Banana Republic, Uniqlo, Macy's and Verizon. As of now, there are no plans to replace it, and officials say it will be gone by month's end.
🍕 Classics: John's Pizza.
The iconic Bucktown tavern-style pizzeria served its last pie in June. John's Pizzeria was a throwback to when corner taverns served up thin-crust pies for hungry drinkers.
It operated on Western Avenue for 65 years and may reemerge in a new location, but it will be hard to top the hole-in-the-wall vibe.
🥩 Relocating: Peoria Packing Butcher Shop.
Owners of the popular butcher shop announced they are moving west to North Lawndale, pushing one of the last remnants of the old meatpacking district out of the now posh West Loop and Fulton Market area.
They plan to relocate in the coming months.
Temporary: Semicolon Bookstore.
The popular independent bookstore on Halsted Street near Ohio Street is closing temporarily for renovations.
The owner tells Block Club that she plans to reconfigure her business as a nonprofit and that doing so will take some time. Look for a reopening later this summer.
Closed access: Cornell Drive.
Construction on the new Obama Presidential Center in Jackson Park is in high gear this summer, which means Cornell Drive through the park is closed for traffic.
This is a big deal for South Siders, as Cornell Drive was a cut-through for folks trying to get to DuSable Lake Shore Drive.
Honorable mentions (bars & restaurants): Radio Room in River North, Wherewithall in Avondale, Claudia in Bucktown, Mak in Wicker Park, Pearl's Southern Comfort in Edgewater and Dos Urban Cantina in Logan Square.
May
The Museum of Broadcast Communications: The museum last month abruptly announced plans to leave the four-story space at Kinzie and State streets in River North.
It housed media archives, rotating exhibits and a broadcast studio. Just seven years ago, the museum opened its doors after a long period of fundraising and arm-twisting state legislators.
There is no immediate plan to relocate.
Save A Lot in Washington Park: Much was made of the controversial move to put a Save A Lot grocery store in the vacant Whole Foods space in Englewood, due to the brand's troubled history with the community.
But as that store opened, another Save A Lot just two miles away shut down indefinitely, citing several break-ins.
Speaking of Whole Foods, the shuttered Lincoln Park store on Fullerton has been bought by DePaul University to become part of its campus.
Cooper's Hawk in the old Esquire Theater: When the popular suburban chain moved to Oak Street in 2019, it was heralded as a new moment for the struggling retail district.
Fast-forward just four years, and the restaurant/winery is gone, leaving the famed 58 E. Oak St. address vacant again.
Houndstooth Saloon: This Wrigleyville country bar had been operating since 2006 as a favorite for post-game revelry. Located under the Brown Line tracks, its operators say the bar never recovered from CTA construction that blocked the front of the bar.
Temporarily closing: Representatives from the Willow Room in Lincoln Park announced they're renovating and will return later this year.
April
Furious Spoon: The popular Ramen shop remains in Logan Square but served its last bowl in the Northalsted neighborhood in April.
The restaurant, which took over the corner of Belmont and Halsted in 2017, becomes the latest to leave this spot that once hosted the nightclub Spin and, before that, Foxy's.
Barnes & Noble (Webster Place): This Lincoln Park location of the national bookstore quietly closed on Clybourn.
Long the anchor of a small shopping center that includes the Regal Webster Place Theater, this Barnes & Noble somehow outlasted its sister stores.
Celtic Knot: One of Evanston's best Irish pubs shut off its taps. Founder Patrick Breslin told the Evanston Roundtable they struggled to get customers back after COVID, but they're hoping to reopen elsewhere.
Pint: The Wicker Park bar featuring the red phone booth survived 20 years on Milwaukee Avenue before closing in April. It'll make way for a gastropub with West Coast vibes.
Nana: The family-owned organic restaurant closed after 13 years in Bridgeport, along with its counterparts, Taco E and Ajo.
Floyd's 99 Barbershop: The hip barbershop franchise still boasts several local locations, but the big West Loop spot has performed its last haircut.
Others: The Six06 Cafe Bar in West Town, Paprika in Lincoln Square and, after less than a year, Nisos in West Loop.
February and March
February and March have been littered with closings of new outposts of Chicago favorites. Black Dog Gelato closed two locations. Now only the original spot in Ukrainian Village remains.
Eatery endings: Running a restaurant is tough, even without current factors. This season Chicago lost Funkenhausen, SafeHouse, Chez Moi, La Vaca (Lincoln Park), Kroll's South Loop, Ground Control, Bliss Resto, Buona Terra and Foundation Tavern.
Demolished: Chicago Joe's. The old bar and grill on West Irving Park had been closed since 2021. An apartment building with a space for a restaurant is being built.
January
Bed Bath & Beyond: The company announced it's closing more stores around the country. In our area, that includes the stores in Wilmette and Crystal Lake, and the Buy Buy Baby store on Kingsbury Street.
Old Navy: The flagship Old Navy closed its doors at Randolph and State in the Loop. This famous retail space once housed the massive Borders Bookstore.
Banana Republic: The 39,000-square-foot space on Michigan Avenue closed, joining sister company The Gap in leaving the Mag Mile.
Gillman Ace Hardware: The Logan Square hardware store is closing after almost 80 years in business. They announced last month, but will close after the liquidation sale.
Rock Bottom Brewery: It was one of the first breweries to set up downtown over 20 years ago.
📫 Any we missed? Email us with more closings and we'll add them to the list.
Editor's note: This story is developing and has been updated. Check back for new closings.
More Chicago stories
No stories could be found
Get a free daily digest of the most important news in your backyard with Axios Chicago.