Georgia swing voters want gun control, anyone but Trump/Biden in 2024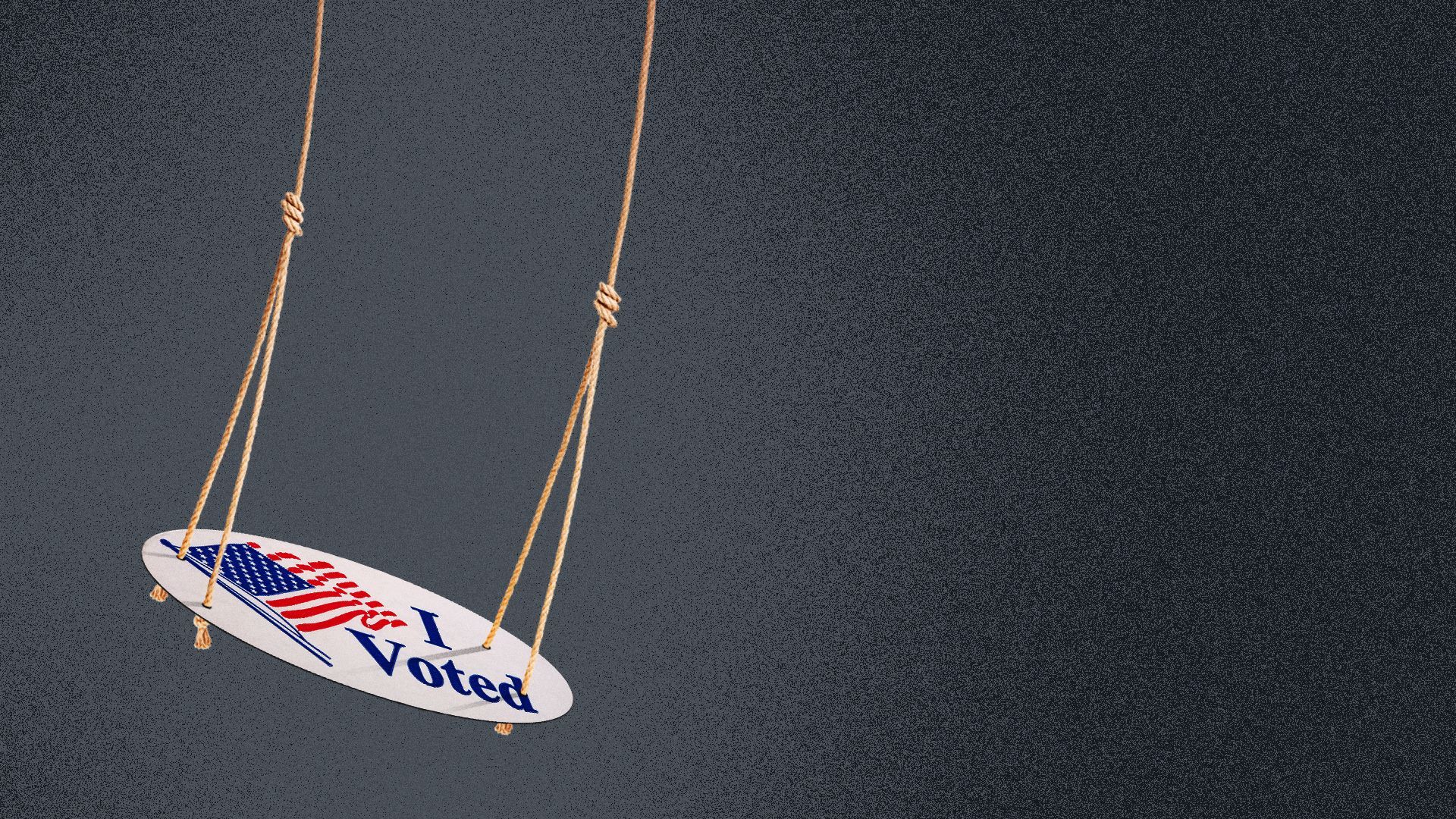 Georgia swing voters in our latest Axios Engagious/Sago focus groups are all frustrated that no meaningful new gun control laws have passed in the state.
Driving the news: That was a key takeaway from two online focus group panels Tuesday night featuring 11 Georgians who voted for Donald Trump in 2016 and Joe Biden in 2020. Two identified as Democrats and nine as independents.
Why it matters: Even swing voters who expressed support for the Second Amendment said the state needs restrictions around safe gun usage in the wake of a mass shooting at an Atlanta medical building this month.
Catch up quick: While Georgia Democrats this year introduced gun control bills, including safe storage around children, three-day waiting periods and universal background checks, they have gone nowhere in a Republican-controlled legislature that abolished the need for any concealed carry permit last year.
What they're saying: Steve D. from Flowery Branch, Ga., who calls himself pro-Second Amendment, supported the recent GOP-backed permit-less carry measure. But he said there simultaneously needs to be a "sensible approach to gun control, and they need to quit fighting the sensible part."
"People are scared to give up an inch because people are going to try to take a mile. If both sides will quit trying to take a mile and come together…this should be done."
Melinda F. of Dahlonega, Ga., said a child in her daughter's middle school died this year after playing with a gun. "They need to hold people liable. There needs to be consequences," she said.
The big picture: Jocelyn D. of Marietta has three sons and a husband who owns guns. But she is frustrated by the "hysterical thinking that if you do one little thing, pretty soon you won't be able to own a gun at all."
"It's this crazy leap from some very rational ideas that most gun owners I know trust…to, 'oh they're going to take all the guns away.'"
What we're watching: Democrats this week demanded the governor call a special session on gun violence.
Gov. Brian Kemp told WSB he has no plans to do so.
"There's a lot of politicians posturing right now which is unfortunate," he said of the Democrats. Kemp added he's "continuing to gather the facts" on the incident.
Reality check: A focus group isn't a statistically significant sample like a poll. But the responses help show what voters think about key issues.
Between the lines: Rich Thau, president of Engagious, who moderates swing voter focus groups across the country, said the sentiment is familiar.
"Similar to swing voters in other states, those in Georgia — including staunch supporters of the Second Amendment — want legislative action on gun storage and waiting periods," he said.
On abortion
Nearly a year after Georgia's anti-abortion law went into effect, respondents were divided in their opinions about whether the apparent drop in abortions in the state was a positive or negative.
Recent data suggest abortions in Georgia have dropped by half since its new anti-abortion law went into effect last year.
Of note: Four of 11 respondents identified as "pro-life," and seven as "pro-choice."
What's happening: Two knew women who would have had abortions except for the new ban.
Carmelita E. of Douglasville, Ga. said her aunt is raising a 15-year-old who was raped. "She's getting ready to have his child because they could not afford to take her out of the state."
Jessica M. of Atlanta said she knew someone who needed an abortion because of a miscarriage and was not able to get one thanks to the law. "It was a horrible mess."
Just four said they were "pleased" to see the drop in abortions.
On politics
All respondents — without hesitation — said they'd rather see anyone on the ballot but Trump and Biden in 2024.
When asked if presidential candidates should be younger than a certain age, respondents' answers ranged from age 60 to 81.
Zoom in: Ten of 11 said they would take an unnamed "garden variety, boring, middle-aged, white guy governor from somewhere in America" with "mainstream conservative views" over Biden in 2024.
Jessica M. said she'd only take Trump back "if he was running against Herschel Walker."
All 11 wanted Democrats to nominate someone other than Biden.
Other possible 2024 candidates mentioned: Dwayne "The Rock" Johnson, Charles Barkley and Michelle Obama.
On Kemp: While three of 11 voted for Gov. Brian Kemp in 2022, none believed he should run for higher office in 2024, as some pundits have suggested.
On Clarence Thomas: These voters were split five/six over whether Georgia native, Supreme Court Justice Clarence Thomas, should be impeached in the wake of reporting about his failure to disclose possible conflicts of interest.
More Atlanta stories
No stories could be found
Get a free daily digest of the most important news in your backyard with Axios Atlanta.