Thomas didn't disclose he sold property to Republican megadonor, report says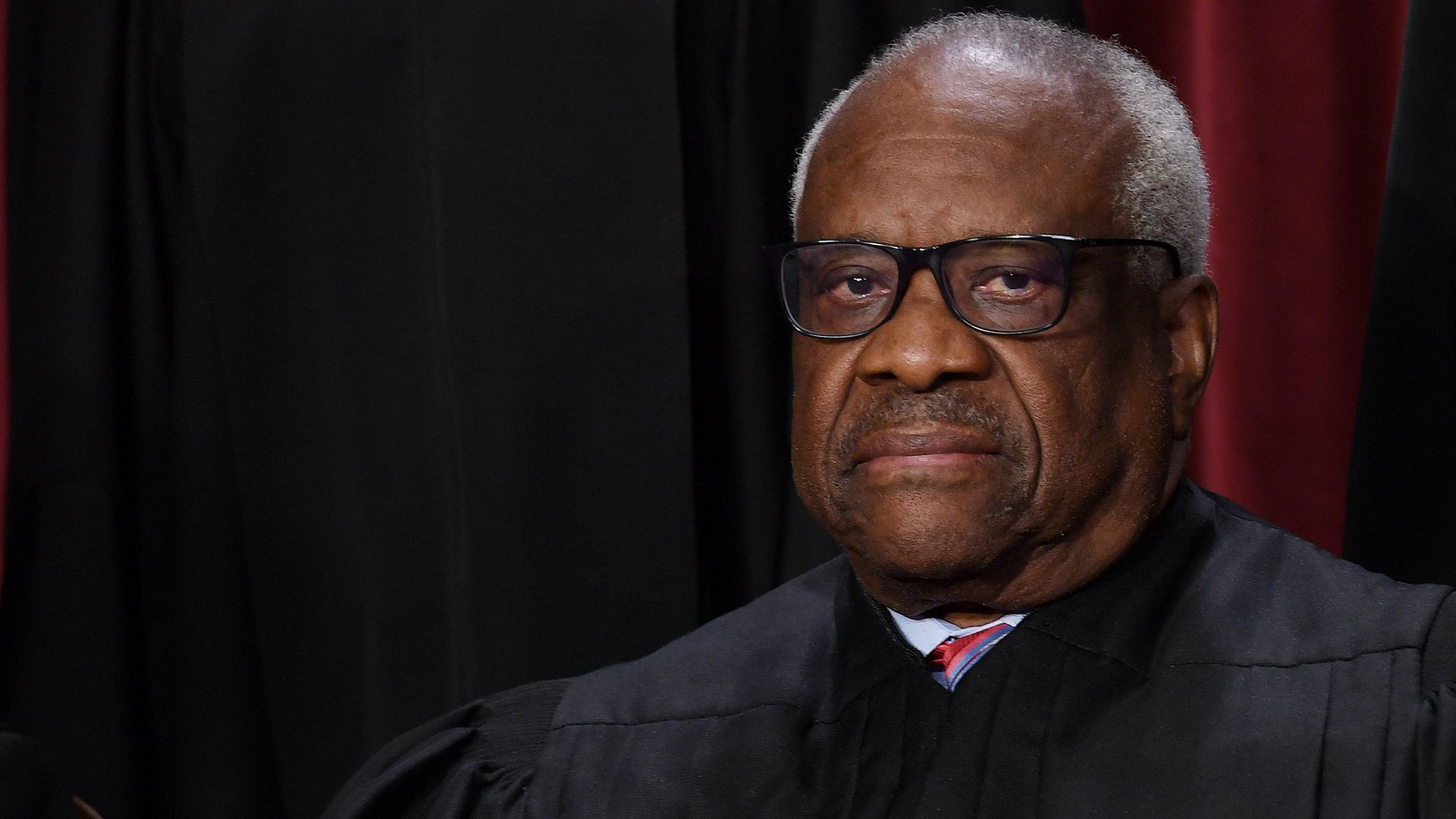 Justice Clarence Thomas allegedly sold properties in Savannah, Georgia, to Texas billionaire and Republican megadonor Harlan Crow in 2014 and did not report the transactions in financial disclosures, according to a ProPublica investigation.
Why it matters: Thomas has faced calls for resignation and impeachment after a separate ProPublica report alleged he had accepted multiple luxury trips from Crow over two decades.
Several lawmakers also demanded the Supreme Court create or adopt sweeping ethics reforms for justices.
The real estate purchases are the first alleged direct flow of money from Crow, who has donated millions of dollars to conservative groups, to Thomas, a champion of conservative causes in the nation's highest court.
What's happening: A company owned by Crow purchased multiple properties in Savannah owned by Thomas and his family members, according to state tax documents and a deed filed at the Chatham County courthouse in October 2014.
That year, Thomas did not reveal the transactions in financial disclosure forms and potentially violated a post-Watergate federal law that requires justices and other officials to disclose most real estate sales over $1,000.
One of the properties Crow purchased was the home of Thomas' mother, where the justice spent some of his childhood. Thomas' mother still lives in the home, neighbors told ProPublica, but thousands of dollars worth of improvements were made to the residence after Crow bought it.
Crow bought the properties through a Texas company, Savannah Historic Developments LLC, which shares a Dallas address with Crow Holdings, the multi-billion dollar real estate investment and development firm founded by Crow's father.
What they're saying: Crow told ProPublica he purchased the home, along with two vacant lots owned by Thomas and his family, and other properties in the surrounding neighborhood for posterity.
"I approached the Thomas family about my desire to maintain this historic site so future generations could learn about the inspiring life of one of our greatest Americans," Crow said, adding that the improvements made to the Thomas home were needed to preserve its long-term viability.
Thomas did not respond to the ProPublica story, and the Supreme Court didn't immediately return Axios' request for comment.
The big picture: Previous ProPublica reporting found, based on flight records, internal documents and interviews with staff, that Thomas accepted trips around the world on Crow's private jet and superyacht for more than 20 years and did not report them on his financial disclosures.
In response to reporting on luxury trips, both men downplayed the gifts.
Thomas said in a statement he did not have to disclose the trips and that he had done nothing wrong based on previous guidance he received.
Go deeper: Senate Dems to hold Supreme Court ethics hearing after Thomas report
Go deeper