Explosive Clarence Thomas report reignites Supreme Court fight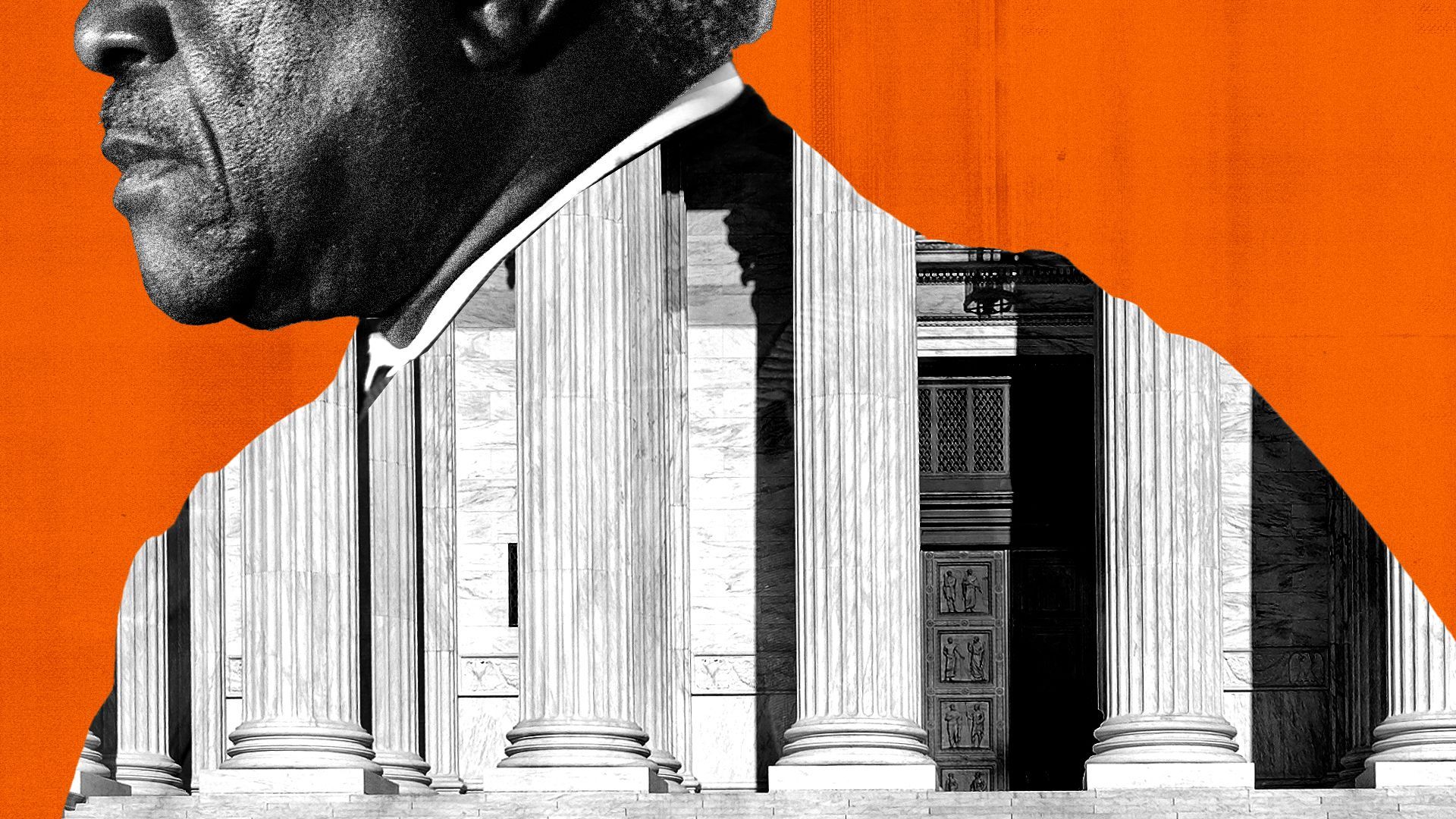 An explosive ProPublica investigation into Supreme Court Justice Clarence Thomas' ties to a billionaire GOP donor has triggered a furious response from Democrats, sparking calls for resignation, impeachment and sweeping reforms to the nation's highest court.
Driving the news: For over two decades, the conservative justice has accepted luxury trips virtually every year from Dallas real estate magnate Harlan Crow without disclosing them, according to flight records, internal documents and interviews with staff.
Thomas and Crow are genuine friends, ProPublica reports, but the extent and frequency of the billionaire's gifts "have no known precedent in the modern history" of the Supreme Court.
By accepting the opulent trips on Crow's private jet and superyacht and failing to report them on his financial disclosures, Thomas broke long-standing norms and potentially a post-Watergate ethics law.
Why it matters: The vast majority of Democrats already believe the Supreme Court is broken, unrepresentative of the views of most Americans, and captured by conservative and corporate interests.
That trend of distrust was accelerated by the overturning of Roe v. Wade last summer, a landmark decision that has transformed the political landscape.
A record-low 47% of Americans said they have "a great deal" or "a fair amount" of trust in the Supreme Court last year, down 20 points from 2020, according to Gallup polling.
Between the lines: Thomas, in particular, has become a top target of Democratic anger after it was revealed that his wife, conservative activist Ginni Thomas, participated in Trump-aligned efforts to overturn the 2020 election.
What we're hearing: Within hours of its publication, Sen. Dick Durbin (D-Ill.), chair of the Senate Judiciary Committee, referred to the ProPublica report as a "call to action" and promised that the panel "will act."
Sen. Chris Van Hollen (D-Md.), a member of the Appropriations Committee, floated using the appropriations process to "ensure that the Supreme Court adopts a code of conduct."
Sen. Tina Smith (D-Minn.) revived a progressive call to "expand the court" — an idea that gained steam after Republicans quickly replaced the late Justice Ruth Bader Ginsburg in 2020, but which is opposed by President Biden.
Progressive Reps. Alexandria Ocasio-Cortez (D-N.Y.) and Rashida Tlaib (D-Mich.) called for Thomas to be impeached, while House Judiciary Committee member Rep. Hank Johnson (D-Ga.) suggested Thomas resign or be censured by his fellow justices.
The big picture: Not every Democrat is prepared to back impeachment — underscoring some divisions within the party about how far to go in responding to the revelations. Rep. Glenn Ivey (D-Md.), another Judiciary Committee member, told Axios: "I don't know that I'm there yet."
"I think it would be instructive to see what a Supreme Court investigation uncovers and what [an] investigation on Capitol Hill would uncover," he said, echoing calls from other Democrats to launch a probe.
Reality check: With Republicans in control of the House, any congressional action against the conservative jurist is likely to fall flat.
"Under Republican leadership, it's not going to happen, I'm afraid," Johnson told Axios of impeachment or congressional censure.
"Based on what I've seen so far from my House Republican colleagues, I think they're going to close their eyes, cover their ears and hope this goes away soon," Ivey told Axios.
Go deeper