Supreme Court ethics criticism grows louder with Clarence Thomas investigation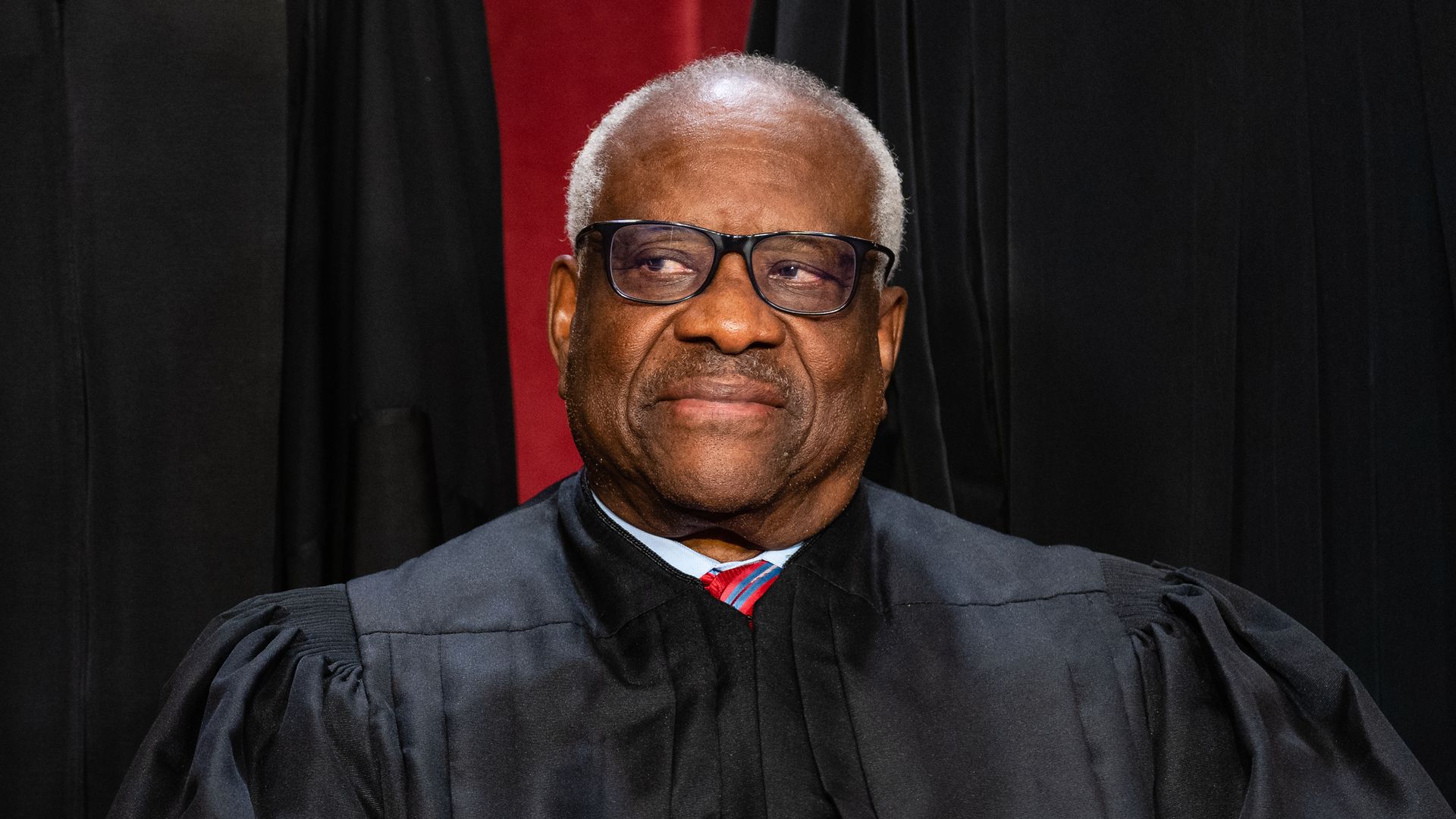 A ProPublica investigation alleging Justice Clarence Thomas accepted luxury trips from an influential Republican megadonor is fueling calls for strict ethics guidelines on the Supreme Court.
Why it matters: Recent controversies involving big donors and chummy D.C. friendships have put a harsh spotlight on the high court as public trust in the institution falls to historic lows.
What's happening: For more than 20 years, Justice Clarence Thomas has gone on luxury vacations paid for by Harlan Crow — a Dallas real estate magnate and big GOP donor — without disclosing them as required, ProPublica revealed in an investigation published Thursday.
Thomas used Crow's private jet, vacationed on his superyacht and stayed at his private resort in the Adirondacks "every summer for more than two decades," ProPublica writes.
Crow was an early donor to Club for Growth, an anti-tax group, and is on the board of the American Enterprise Institute, a prominent conservative think tank.
The big picture: Democrats in Congress are pushing to require the Supreme Court to adopt a formal code of ethics for the first time.
Calls for the nation's highest court to adopt such a code have been building for years. Now Senate Democrats want to attach the adoption of a code of ethics to next year's funding bill.
Sen. Sheldon Whitehouse (D-R.I.), a proponent of the Supreme Court ethics push, called for an independent investigation into Thomas.
Rep. Alexandria Ocasio-Cortez (D-N.Y.) said Thomas should be impeached: "this is what the Roberts court will be known for: rank corruption, erosion of democracy, and the stripping of human rights."
Between the lines: Supreme Court justices are still subject to financial disclosures and are required to report gifts they receive that are worth more than $415 in value.
"Thomas didn't report any of the trips ProPublica identified on his annual financial disclosures," ProPublica reported.
Ethics law experts told ProPublica that Thomas likely violated disclosure rules that require him to report travel on Crow's private jet and yacht.
They said Thomas should've disclosed the stays at Crow's resort in upstate New York because the Republican megadonor owns the property through a company, not personally.
Zoom out: This is not the first time ethics concerns have been raised about Thomas and other Supreme Court justices.
Earlier this year, a former colleague of Chief Justice John Roberts' wife, Jane, raised concerns to Congress that Jane's work as a legal recruiter could pose a conflict of interest for the Supreme Court, the New York Times reported.
Last year, Justice Samuel Alito was accused of improperly disclosing the outcome of a 2014 Supreme Court case about contraception to a donor of a nonprofit led by a prominent evangelical clergyman. Alito denied the leak.
Nearly 20 years ago, the late Justice Antonin Scalia was faced with accusations of bias and calls to recuse himself from a case after he took a duck-hunting trip with then-Vice President Dick Cheney.
What they're saying: In a statement to ProPublica, Crow said that he and his wife's "hospitality" toward the Thomases was "no different from the hospitality we have extended to our many other dear friends."
Crow added that he and his wife had "never sought to influence Justice Thomas on any legal or political issue."
The Supreme Court didn't immediately return a request for comment.
The bottom line: "The extent and frequency of Crow's apparent gifts to Thomas have no known precedent in the modern history of the U.S. Supreme Court," ProPublica writes.
Editor's note: This article was corrected to say that Crow was an early donor to the Club for Growth, not Thomas.
Go deeper