Democrats' new abortion battle plan: Rush to get it on ballots in 2024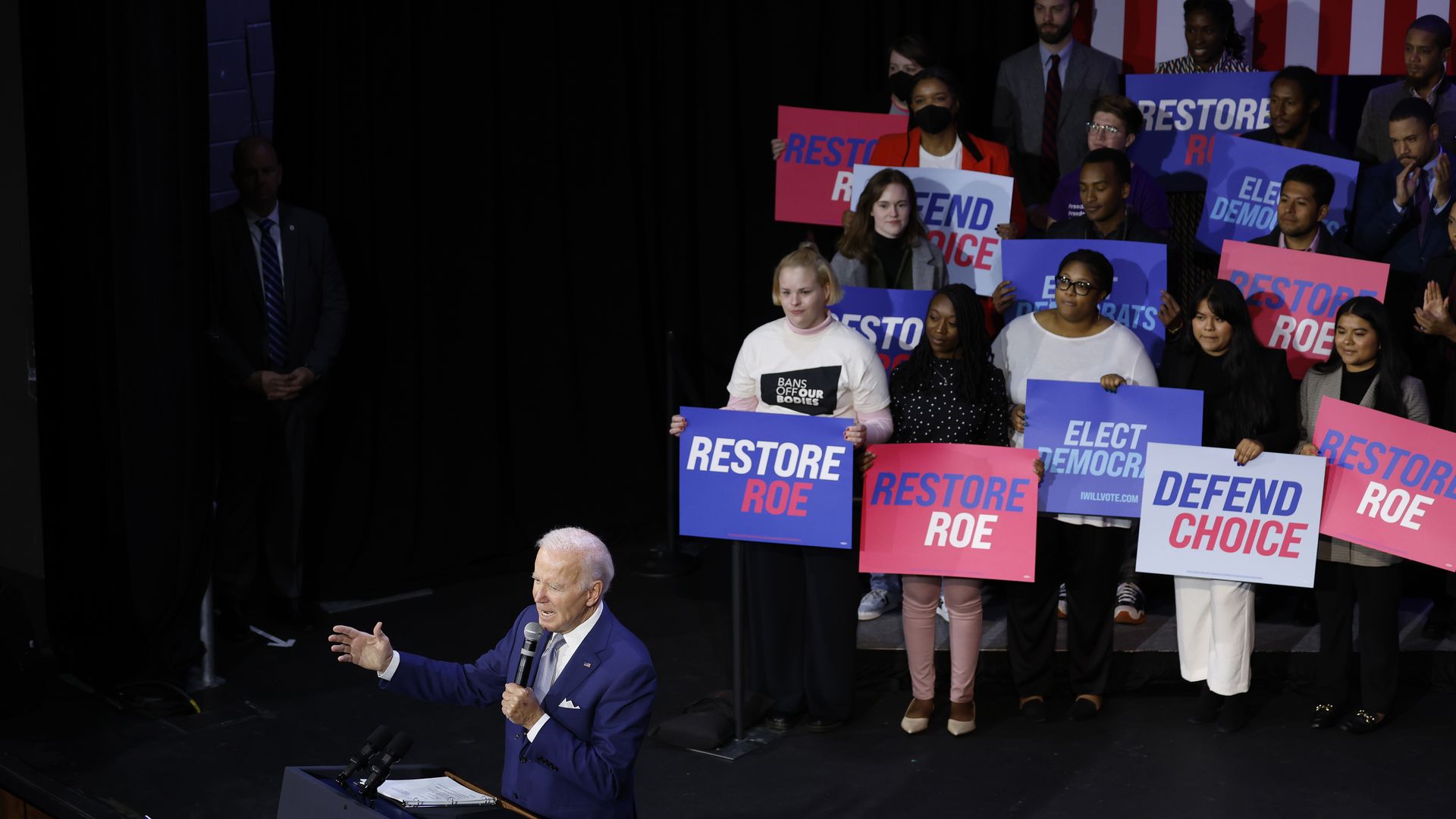 After Ohio's vote Tuesday to protect abortion rights, Democrats are rushing to get similar measures on the ballot next year in key states such as Arizona, Nevada and Florida — partly to boost President Biden and down-ballot Democrats.
Why it matters: In the face of bleak polling on the economy, abortion continues to be a winning issue for Democrats — one that could motivate otherwise uninspired voters to turn out and keep the White House in the party's hands.
Voters now have explicitly endorsed abortion rights via ballot initiatives in seven states since the Supreme Court overturned Roe v. Wade last year — in California, Kansas, Kentucky, Michigan, Montana, Vermont and now Ohio.
The wins are boosting confidence among Democrats that similar ballot measures — and candidates who cast the high court's Dobbs ruling as a government assault on individual rights — can help the party ride the backlash in the 2024 elections.
In private and with a group of abortion-rights organizers in Miami last month, Second Gentleman Doug Emhoff has described Democrats' path to victory in 2024 as "Dobbs and Democracy," according to two people familiar with his comments.
A White House spokesperson said that Emhoff's "public comments speak for themselves."
What to watch: There's now added urgency to efforts to get abortion-rights initiatives on 2024 ballots in battleground states of Arizona, Nevada and Florida as well as Republican-dominated Nebraska and South Dakota, advocates tell Axios.
Zoom in: Florida has the earliest deadline for voter signatures to get a measure on the 2024 ballot — Feb. 1 — and organizers have been trying to get national Democrats more involved in their efforts.
"If you're really interested in affecting turnout in Florida in 2024, then the place to put your money is in this ballot initiative because it's going to pay off all the way down the ballot," said Anna Hochkammer, executive director of Florida Women's Freedom Coalition.
Reality check: Florida has one of the nation's most difficult processes for getting a state constitutional amendment initiative on the ballot, and some national Democrats believe proponents there began organizing too late.
Any ballot initiative requires more than 890,000 signatures with at least half of the state's 28 congressional districts represented — and the conservative state Supreme Court could still throw it off the ballot, as Florida's attorney general is already arguing they should.
Florida has veered to the right in recent years, but Biden lost to former President Trump by just 3 percentage points in 2020.
The coalition of advocacy groups behind the effort, called Floridians Protecting Freedom, is nearing 500,000 signatures. It launched the campaign in May.
Meanwhile, presidential candidate Gov. Ron DeSantis (R-Fla.) has leaned into the issue in the other direction, signing a six-week abortion ban into law earlier this year.
Zoom out: The Dobbs decision ignited an active network of fundraising and spending in support of abortion-rights initiatives that hasn't been matched by anti-abortion groups.
Abortion-rights advocates' string of victories at the ballot box is likely to supercharge those efforts heading into 2024.
"Winning in red states is inspiring. Ohio really has taken this ballot measure strategy to protect abortion rights to the next level," said Kelly Hall, executive director of The Fairness Project, a progressive nonprofit.
Illinois Gov. J.B. Pritzker's abortion-rights group, Think Big America, has donated $1 million to an effort to put a measure similar to Ohio's on Nevada's ballot next year, and is in talks with groups in Arizona and Florida, a senior staffer told Axios.
"The results last night just adds to the CVS-length receipt that we now have of our election wins ever since the Supreme Court overturned Roe v. Wade," Planned Parenthood spokesperson Lauryn Fanguen told Axios.
The other side: Less than two years after achieving its half-century-long dream of seeing Roe v. Wade struck down, the anti-abortion movement is struggling to deal with the backlash — and Republicans don't seem close to finding a winning message on the issue.
"Last night's losses in Ohio and Virginia were major disappointments for the pro-life movement and serve as warning signs for the GOP," Susan B. Anthony Pro-Life America President Marjorie Dannenfelser said in a memo to Congress on Wednesday.
Dannenfelser accused the Republicans of "severely underestimating and underinvesting in the abortion issue" ahead of 2024.
Kristan Hawkins, president of the grassroots Students For Life of America, told Axios, "I think too many in the GOP treat the abortion issue like a three-card monte. They pretend that with a sleight of hand, you can make this issue go away and make it disappear."
"But this is an issue that's not gonna go away."
Go deeper