California drought eases, but its water problems remain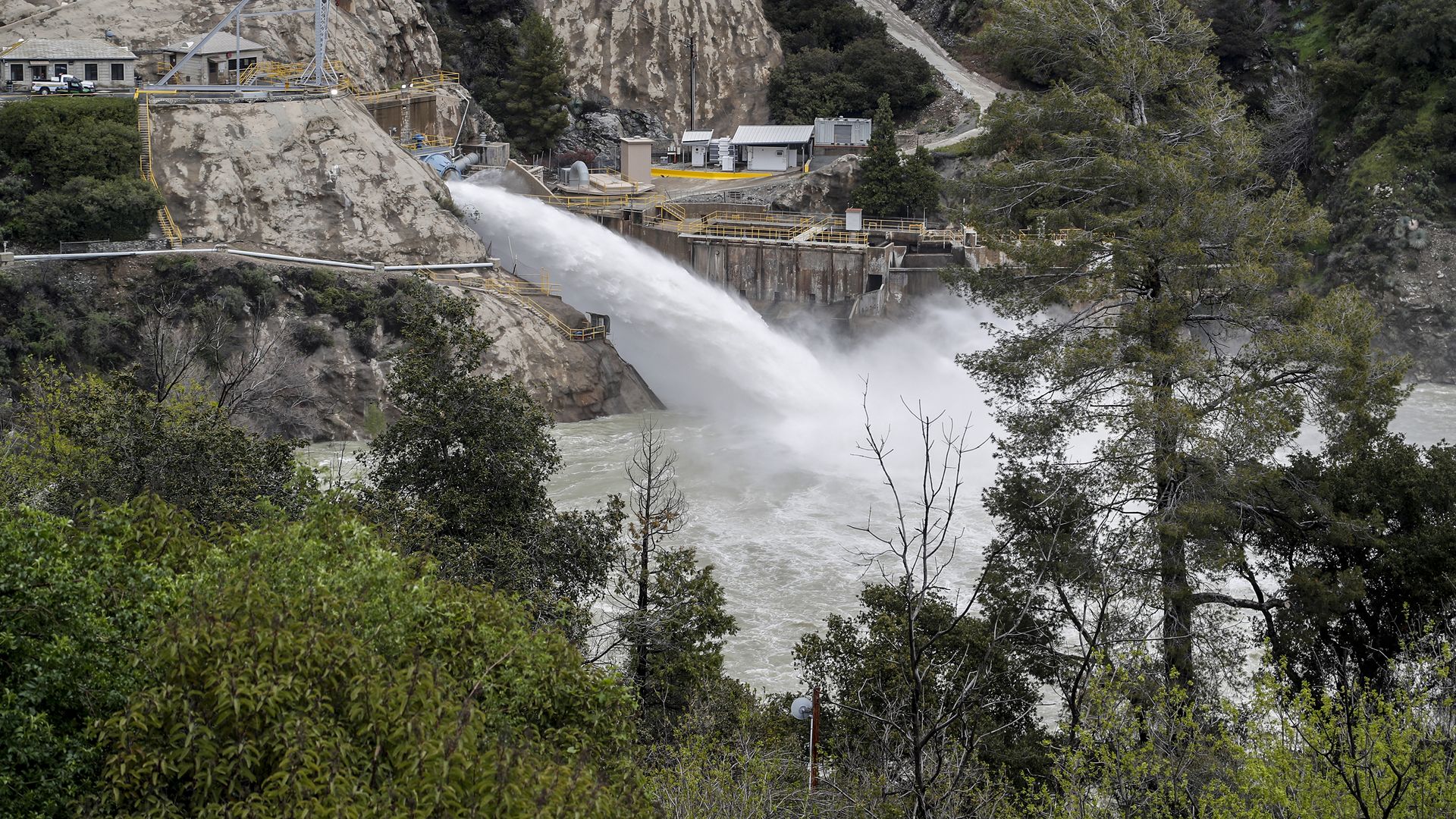 California's prolonged megadrought that helped send grocery prices soaring is finally abating, but experts warn more needs to be done to address water overuse in the state before the next dry threat arrives.
The big picture: Nowhere in the state is classified as in drought and only 5% in Northern and Southeast California is "abnormally dry," per the U.S. Drought Monitor — though it does not consider all drought factors, such as groundwater depletion.
NOAA expects wetter-than-average conditions in parts of California this winter. However, climate and water scientist Peter Gleick told Axios precipitation predictions for California's wet season, from October to April, are "notoriously unreliable" — especially when there's an El Niño event, as there is now.
"Wet year or dry year, California overpumps groundwater, with especially severe depletion during dry years," said the Pacific Institute co-founder in a Monday night email.
Thought bubble, via Axios' Andrew Freedman: There are many different types of drought, and while a recent wet winter and spring set California up well entering this rainy season, it didn't alleviate the long-term groundwater deficit the state continues to face.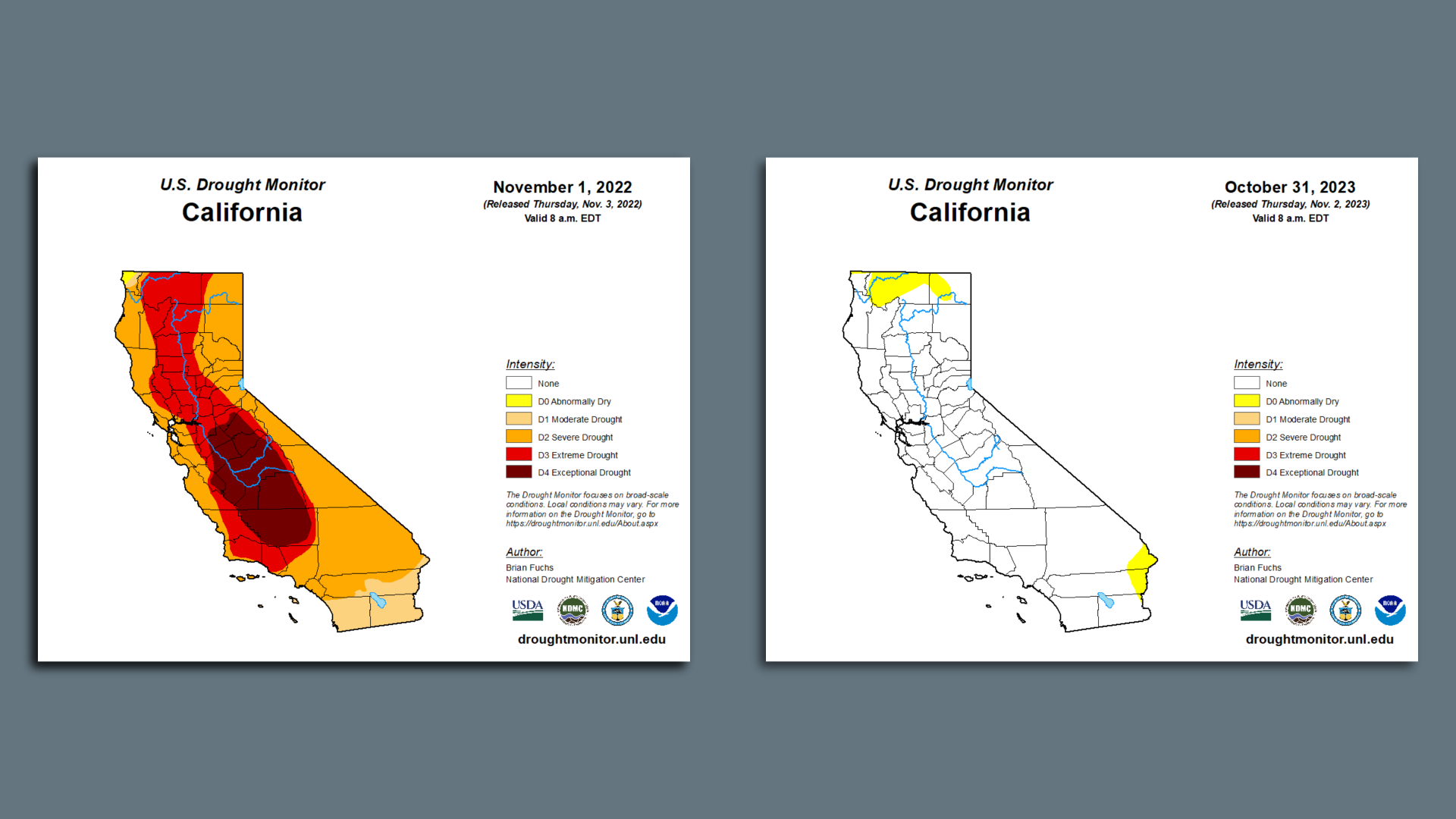 State of play: California Department of Water Resources (DWR) spokesperson Mary Fahey told Axios on Tuesday evening that groundwater aquifers, "a significant source of water for the state," remain depleted despite last winter's downpours boosting supplies.
Gleick noted that overall, "overdraft on the order of one to two billion cubic meters a year, largely in the southern part of the San Joaquin Valley. Last year, there was modest recharge because of the very large winter storms we received, but long-term trends are downward."
Jay Lund, professor of civil and environmental engineering at the University of California, Davis, told Axios in a Tuesday evening phone interview that the state overuses water "maybe 10-15%."
Be smart: Most of the depletion and groundwater overpumping is due to farming. Lund said reducing agricultural water use was key to changing this, as would modest cuts to urban water use.
California should aim to cut water overuse by about 20%, or 25% in the long run as climate change becomes a growing factor, he added.
What they're saying: Alex Stack, a spokesperson for California Governor Gavin Newsom, told Axios Monday night the administration had invested "billions of dollars to expand our water capture and storage capacities for when dry conditions inevitably return."
On Monday, Newsom "streamlined a major water storage project to build more capacity — capturing water during wet seasons to use during dry seasons."
The governor has also designated hundreds of millions of dollars to two funding announcements related to water conservation, among other initiatives, per Stack.
Meanwhile, Fahey noted that during the 2023 water year, "more than 1.2 million acre-feet of groundwater recharge was permitted by state agencies, nearly 400,000 acre-feet of flood water was recharged using the Governor's Executive Orders." And millions more acre-feet of managed and naturally occurring recharge was achieved.
"While 2023 illustrated that we can increase the pace and scale of groundwater recharge in real-time, there are longer-term efforts that are critical to reducing climate vulnerability, increasing groundwater recharge, reducing flood risks, and supporting ecosystems," she said.
"These include strategies like integrating forecast-informed reservoir operations and managed aquifer recharge and re-operating our water systems on a watershed scale," Fahey added.
"As more recharge projects are added to the state's water portfolio, long-term water reliability can be achieved."
More from Axios:
Go deeper