Winter storms end SoCal's emergency water rules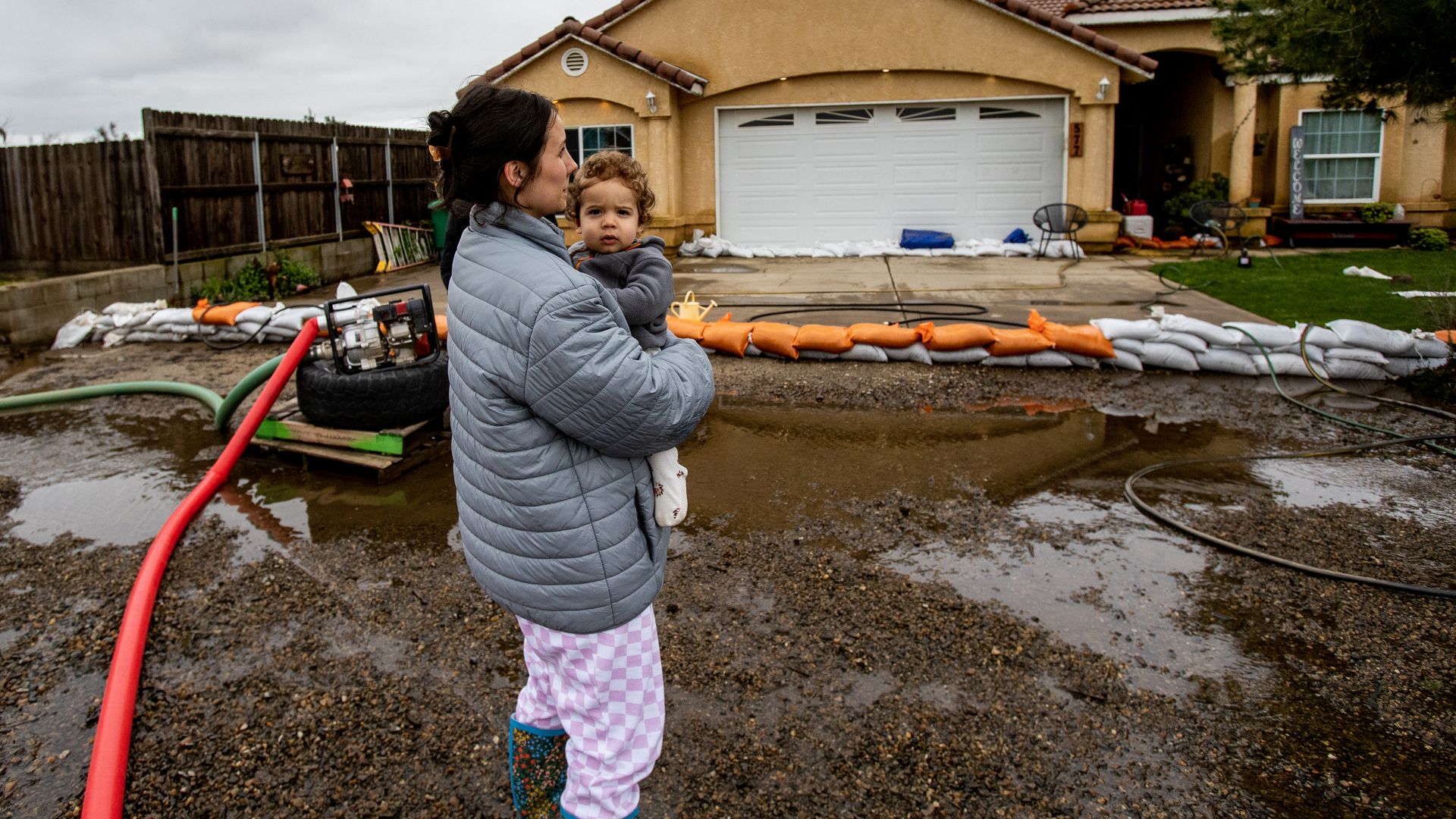 Winter storms helped alleviate water shortages in Southern California, bringing an end to emergency restrictions for some 7 million people, the Metropolitan Water District of Southern California announced on Wednesday.
The big picture: After about a dozen atmospheric rivers brought record rain and snow to the Golden State so far this season, depleted reservoirs were restored and snowpack in the Sierra Nevada boosted, allowing the state to increase available water supply to Southern California, per the district.
Yes, but while there were improvements to water supply availability, storage reserves are still "drawn down" and significant challenges remain to the Colorado River, the region's other source of imported water, the agency noted.
The region remains under a water supply alert that asks consumers and businesses to voluntarily continue to reduce their water use.
Local water providers may also still have mandatory measures in place.
Flashback: The mandated restrictions, put into place in June, required parts of Los Angeles, Ventura and San Bernardino counties to limit outdoor watering to one day a week during a severe shortage to the state's water supply.
What they're saying: "While we certainly appreciate the improved water supply conditions, I want to caution everyone that our challenges are not over. We ask everyone to remain diligent in saving water regardless of the weather," Metropolitan General Manager Adel Hagekhalil said.
"We also continue to face major uncertainties on our water supplies from the Colorado River," he added.
While surveying flood damage in Monterey County on Wednesday, California Gov. Gavin Newsom (D) cautioned that the severity of the damage from recent storms has not yet been determined structurally or financially.
"Look back — last few years in this state, it's been fire to ice with no warm bath in between," he said per AP.
The governor said the state has faced "weather whiplash," going from extreme drought and wildfires to overwhelming snow and rain in a short period of time.
"If anyone has any doubt about Mother Nature and her fury, if anyone has any doubt about what this is all about in terms of what's happening to the climate and the changes that we are experiencing, come to California," Newsom said.
Threat level: Widely scattered thunderstorms are expected to continue to bring hail, strong wind gusts and intense rain to the southeastern parts of the state late Wednesday, with the possibility of flash flooding, the National Weather Service warned.
Some 27,000 people remained under evacuation orders Wednesday amid concerns of flooding and landslides.
More than 110,000 customers in the state were without power Wednesday evening, per Poweroutage.us.
State of playNewsom extended a state of emergency Tuesday to include now more than 40 counties in storm response and relief efforts.
By the numbers: Weather Service data showed rainfall records being broken early Wednesday at airports in Santa Barbara (2.54"), Los Angeles (1.97"), Santa Maria (1.63") and Paso Robles (1.27").
The U.C. Berkeley Central Sierra Snow Lab on Wednesday reported that the total snowfall of the season so far is at 18.5 feet.
That's just 3 inches away from overtaking the winter 1982/1983 total, which was the second snowiest at the central Sierra snow laboratory — and "we should see that fall on Sunday," the lab said.
What's next: Another storm looks to be headed toward California over the weekend.
Go deeper