California moves to expand reuse of wastewater for drinking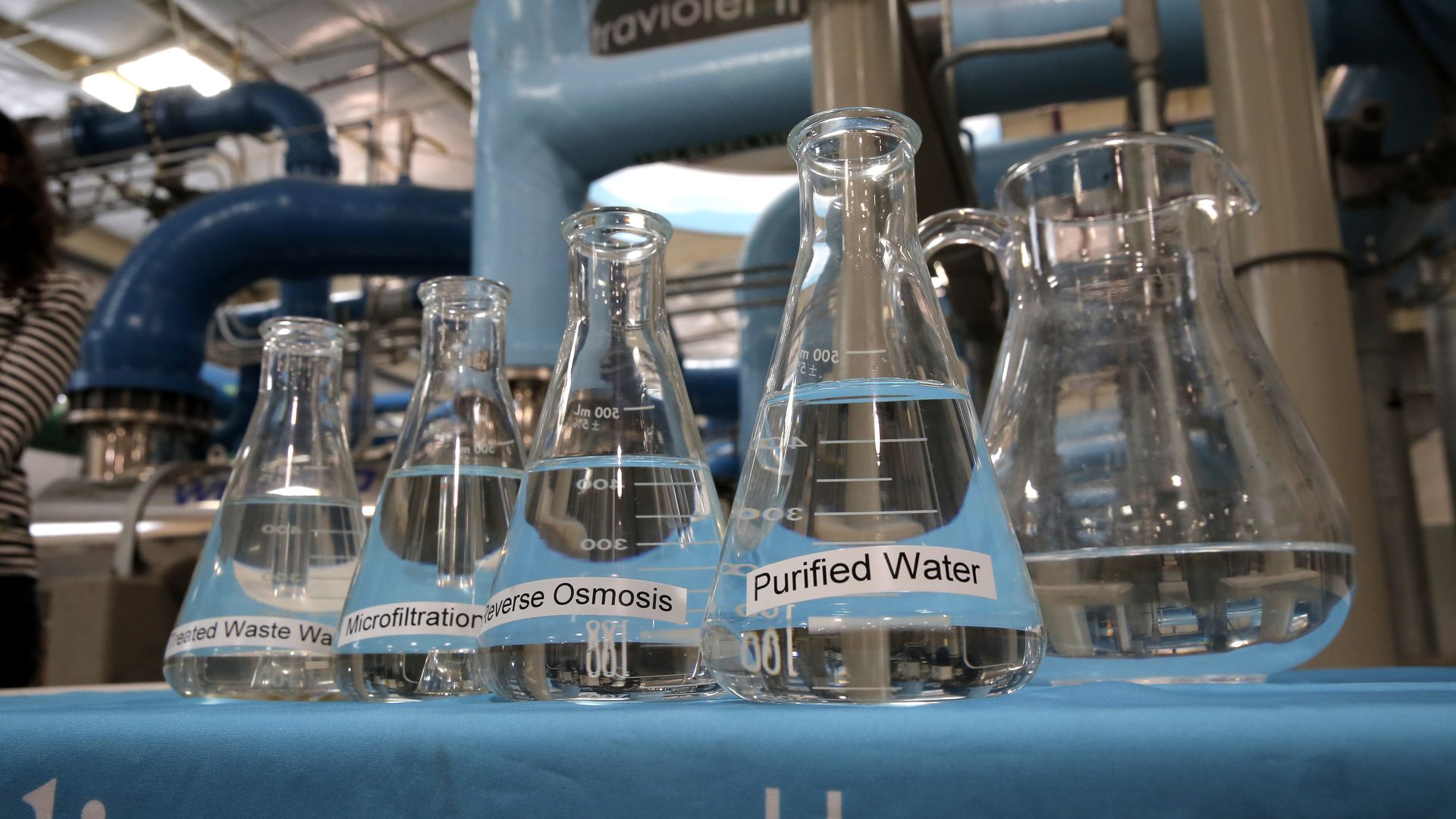 New proposed state regulations would allow cities to pipe highly purified wastewater directly into drinking water supplies.
Why it matters: The climate crisis has led to multiple droughts that have severely depleted California's water resources.
The proposal by the California State Water Resource Control Board would enable cities and counties to rely less on groundwater basins, which contribute around 41% of the state's total water supply in an average year.
How it works: Under the current system, recycled water must first go through natural filtration via a reservoir or aquifer before it reaches consumer's taps.
The draft guidelines, which were years in the making, would still require a series of treatments and monitoring for the water but would allow it to bypass aquifers and enter local water distribution systems immediately after processing.
The water would still have to meet strict regulatory standards, which already allow for recycled wastewater for non-potable uses like toilet flushing and street cleaning.
Zoom in: While Hetch Hetchy Reservoir remains San Francisco's primary source of drinking water, "we certainly aren't taking it for granted in the face of climate change or other unforeseen emergencies," Joseph Sweiss, a spokesperson for the San Francisco Public Utilities Commission (SFPUC), wrote in an email to Axios.
After getting over $3 million in grant funding from the federal government in 2016, the SFPUC installed a temporary advanced treatment system at the end of an existing water recycling system at its headquarters.
The treatment included ultrafiltration, reverse osmosis, and disinfection with ultraviolet light and advanced oxidation.
Data analyzed by third-party laboratories found that the advanced water treatment produces "consistently high-quality water" that meets or exceeds regulatory standards.
The big picture: The SFPUC is in the middle of developing a plan for two separate plants that would distribute 2 million gallons of water per day.
If implemented, it would help reduce San Francisco's demand from its main water source by 5.2 million gallons per day by 2045.
What's next: The state water board is now collecting feedback on the purified water proposal and will consider whether to adopt it by the end of the year.
More San Francisco stories
No stories could be found
Get a free daily digest of the most important news in your backyard with Axios San Francisco.