3 states agree to historic Colorado River water cuts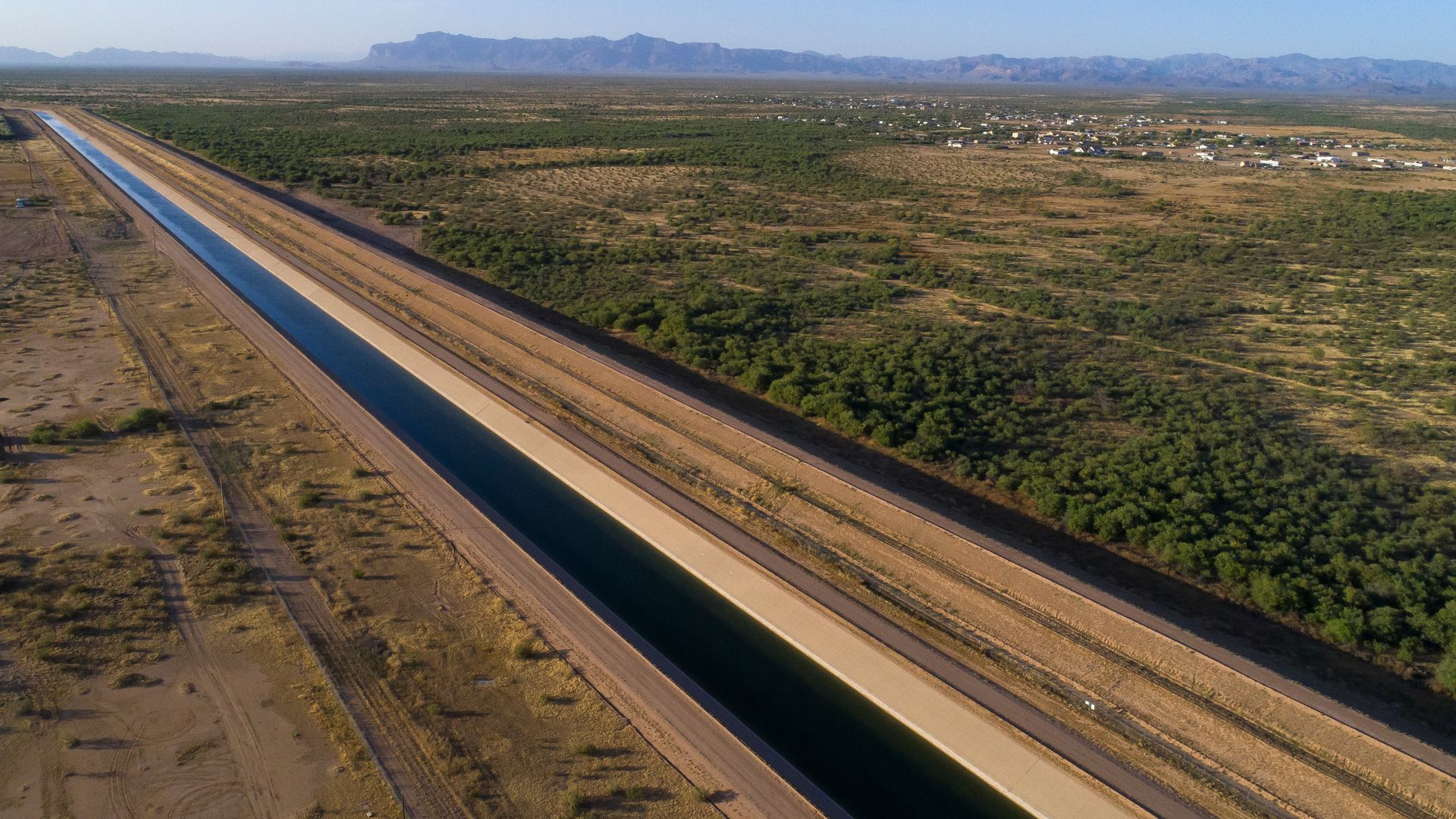 Arizona, California and Nevada struck an agreement to draw less water from the Colorado River, which has been strained by a historic climate change-induced megadrought and decades of overuse, the Department of Interior announced on Monday.
Why it matters: The agreement may temporarily keep the waterway and its reservoirs from further depleting and imperiling water supplies for millions of people and crucial agricultural regions across the Southwest.
The deal, which was first reported by the New York Times on Monday but elements of which were reported by the Washington Post last week, comes after months of negotiating to help prevent a collapse of the Colorado River system.
By the numbers: As part of the agreement, California, Arizona and Nevada will conserve at least 3 million-acre-feet of water from the river by the end of 2026.
An acre-foot is roughly 326,000 gallons, which is enough water to cover an acre of land one foot deep.
The federal government will spend $1.2 billion through the 2022 Inflation Reduction Act to compensate cities, tribes and water districts for 2.3 million acre-feet of the conserved water.
Collectively, the cuts amount to an unprecedented 13% reduction of total water use in the lower Colorado basin.
What they're saying: "Today's announcement is a testament to the Biden-Harris administration's commitment to working with states, Tribes and communities throughout the West to find consensus solutions in the face of climate change and sustained drought," Interior Secretary Deb Haaland said in a statement on Monday.
The big picture: The river provides drinking water to more than 40 million people across seven U.S. states also — Colorado, New Mexico, Utah and Wyoming — and at least 30 tribal nations.
Along with being crucial for the Southwest's agricultural and outdoor recreation industries, the river is also key to the region's power grid, as the electricity generated by dams on Lake Mead and Lake Powell provides power to millions of homes and businesses.
The river also provides drinking and irrigation water to the Mexican states of Baja California and Sonora.
Overhanging Monday's agreement was a proposal from the federal government to unilaterally assign water reductions evenly among lower basin states to boost dangerously low water levels at Lakes Mead and Powell.
What's next: The agreement must be finalized after it goes through a federal government review process, which the Interior said would begin early next month.
All seven states that draw from the Colorado River said they supported the review of the proposal.
Go deeper: Hot summer ahead for much of the U.S.
Go deeper