Hot summer ahead for much of the U.S.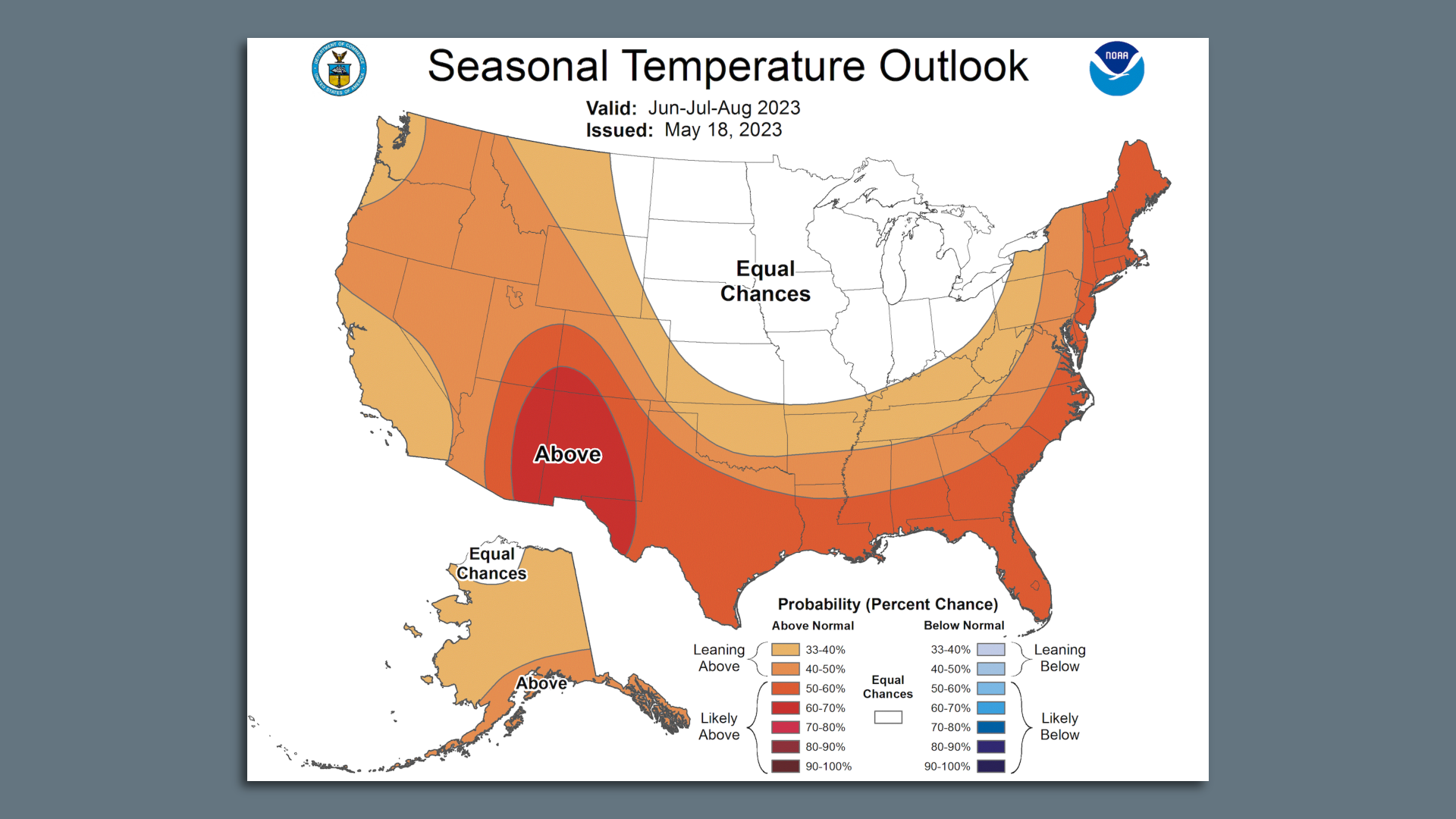 The climate outlook for June through August shows a broad swath of the Lower 48 states and Alaska are likely to see a hotter than average summer.
Why it matters: Prevailing weather conditions during the summer lead to drought or destructive wildfires.
Climate outlooks like this one can help power companies plan for higher electricity demand during heat waves.
Context: Because of human-caused climate change, average summer temperatures are on the rise across much of the U.S.
For example, this means a hotter than average summer in Phoenix now is far warmer than a hotter than average summer in a typical year during the 1970s.
Zoom in: The NOAA outlook, released Thursday, shows the highest probability of above average temperatures is across the Southwestern U.S. It's centered over New Mexico and Arizona, where there is a 60% to 70% chance of a warmer than average summer.
The odds are slightly lower, at about 50% to 60%, for warmer than average temperatures from Texas to New England.
A tilt toward drier conditions is projected for the Pacific Northwest and the Southwest, with drought hanging on in eastern New Mexico, and west Texas.
Wetter conditions are projected for the mid-and-lower Mississippi, Ohio Valley, and much of the East and Gulf Coasts.
Between the lines: The seasonal forecast is based in part on preexisting conditions, such as soil moisture which can enhance above average temperatures, as well as the predicted formation of an El Niño in the equatorial tropical Pacific Ocean.
Forecasters also factored in ocean temperatures, such as above average sea surface temperatures off the East Coast, which will influence the average weather conditions over land.
Yes, but: The outlook shows equal chances of above average, average, and below average temperatures across the Midwest and parts of the Plains.
NOAA's seasonal outlook does not depict the likelihood of extreme heat events or wildfires. Already, the Pacific Northwest has been hit with excessive heat.
The same heat wave has demolished longstanding temperature records in western Canada and helped fuel a wildfire outbreak that may last most of the summer, wafting smoke southward into the U.S.
The intrigue: Worldwide, with ocean temperatures running at or near record highs globally, heat waves on land are even more likely.
Go deeper