Atmospheric rivers force California to manage floods during drought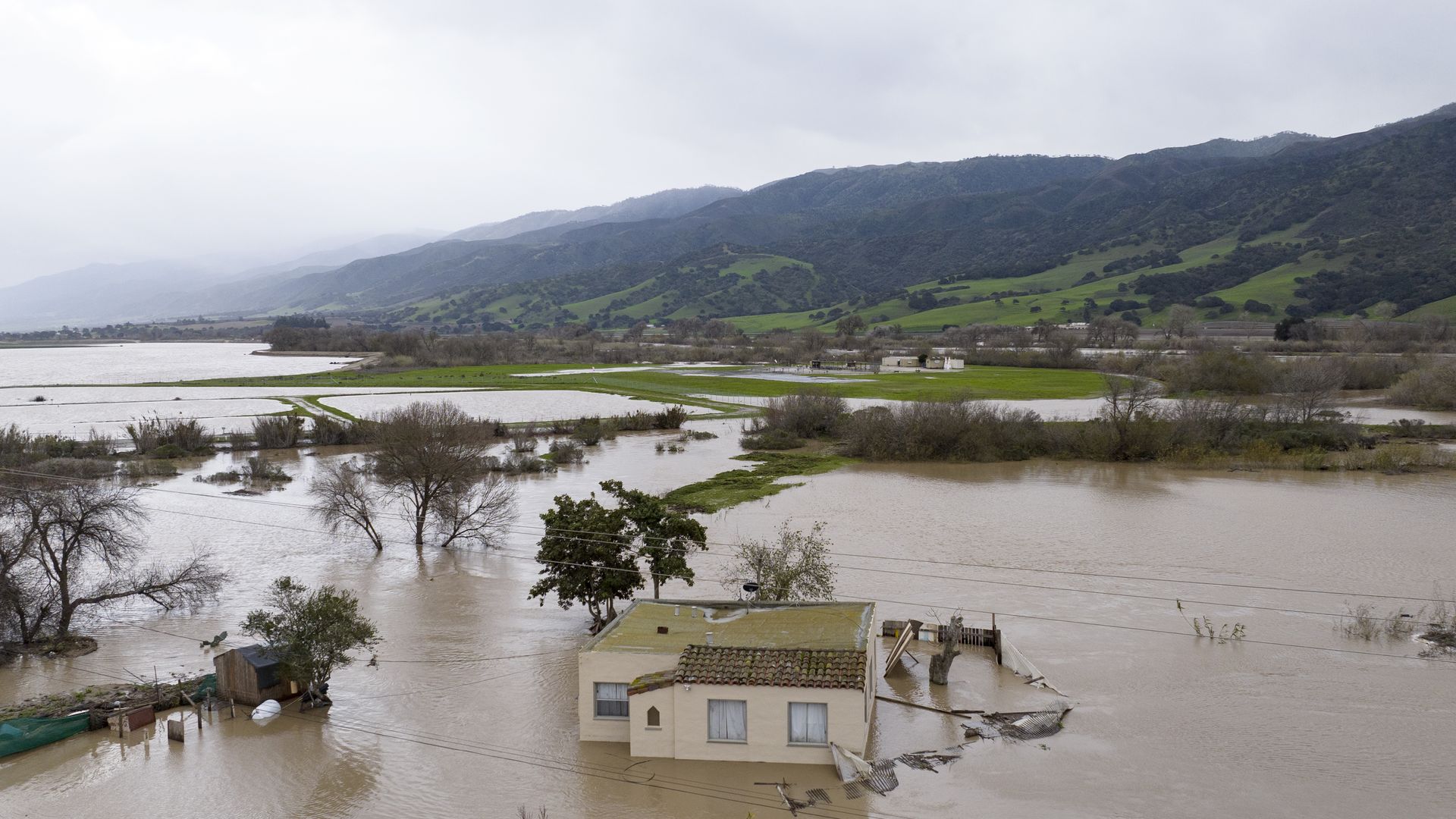 California's water management officials are rushing to capture as much runoff as possible from the state's weeks-long atmospheric river storms in an attempt to alleviate water supply concerns stemming from the ongoing megadrought.
The big picture: The massive amounts of heavy snow from the parade of storms have resulted in a statewide snowpack average of 251% for Jan. 17. Winter snow in the Sierra Nevada Mountains provides water supplies during the dry season.
State of play: The powerful storms, which are nearing a lull, have been a huge boost for California's snowpack and reservoirs and likely a big help for preventing water shortages during the dry season.
However, vast amounts of rain falling heavily on saturated soil means much of the water has been running off into rivers and eventually the Pacific Ocean, rather than filling reservoirs and recharging depleted groundwater storage.
One concern is that it's not clear how long drier conditions will last during the rest of the winter. If the weather pattern shuts off the atmospheric faucet completely, then California could end the wet season with a precipitation deficit.
What they're saying: The California Department of Water Resources (DWR) warned Monday that it is "acting with urgency to capture as much water as it can to help alleviate #drought conditions, however current infrastructure to move water through the Delta is outdated, vulnerable to earthquakes" and "limits the export of water during these long, sustained winter storms."
"We are no longer managing for just drought conditions or flood conditions, the current situation across the state demands we manage for both simultaneously," said Kris Tjernell, DWR's deputy director for its division of integrated watershed management, on Monday.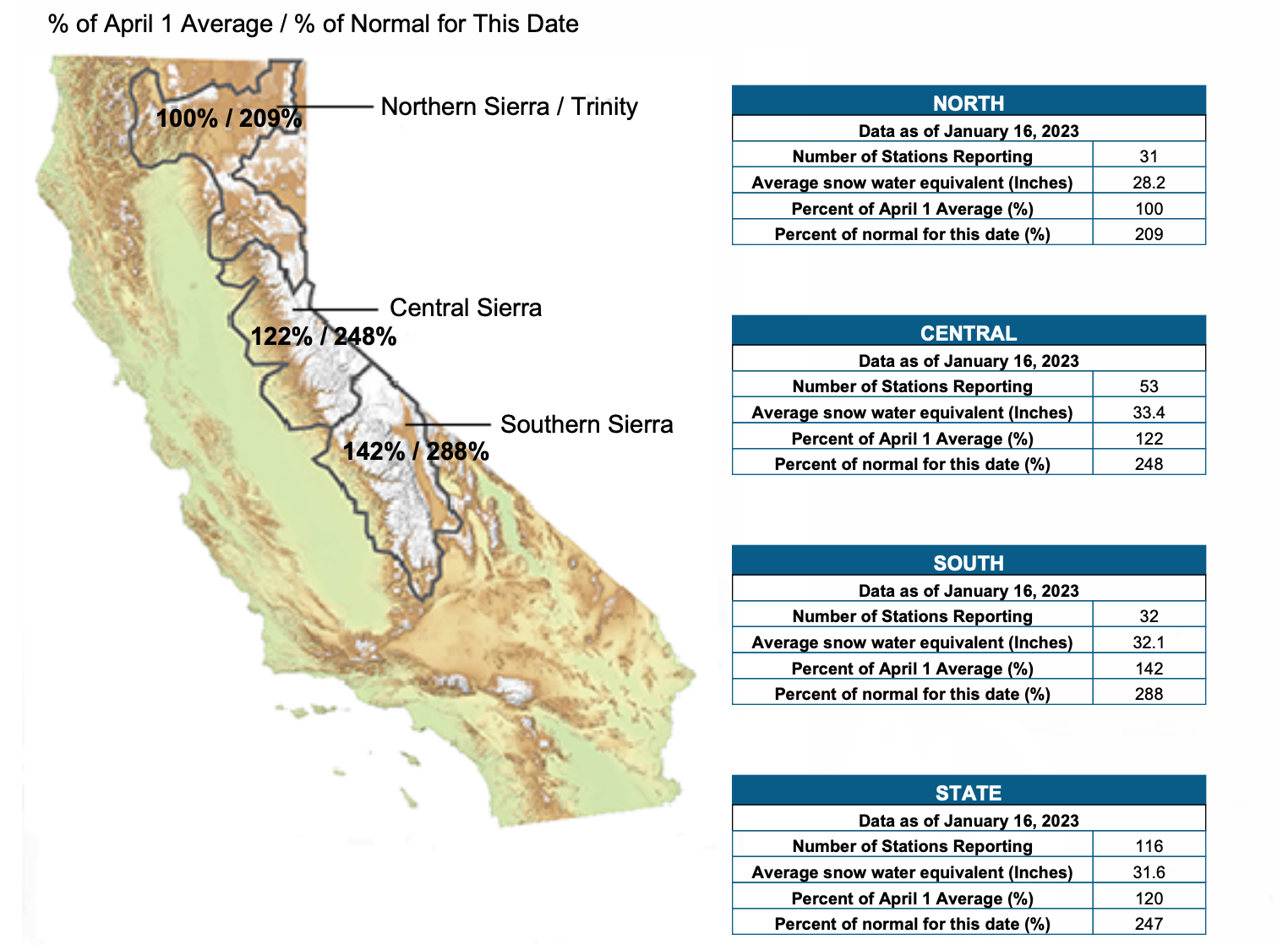 Snapshot: The latest figures show Lake Oroville, California's second-largest reservoir, at 57% of total capacity, but 101% of the historical average for this time of year.
Meanwhile, the U.C. Berkeley Central Sierra Snow Lab, near Donner Pass in the northern Sierra Nevada, reported that 165 inches of snow has fallen there in January, and 346 inches for this season so far.
The snow depth at that location is a staggering 10 feet, which is indicative of the extreme snowpack that has built up in mountain areas.
That is just 14 inches shy of the average seasonal total, which could fall in the next and far weaker atmospheric river storm this week.
Hydrological whiplash: The onslaught of atmospheric river storms, which have killed at least 19 while causing mudslides, power outages and widespread flooding, illustrates how California is now more at risk of weather whiplash episodes.
Climate change is intensifying weather whiplash events in a state where precipitation has long been variable, research shows.
In short, the dry periods are becoming drier, and the wet periods are wetter, as temperatures warm and the air carries more moisture.
In addition, the portion of California's annual rainfall that comes from atmospheric river events is expected to increase, while the amount that comes from other storms is projected to decrease over time, per Julie Kalansky of Scripps' Center for Western Weather and Water Extremes.
What we're watching: The DWR is calling for the implementation of an updated Delta Conveyance Project, a key climate adaptation strategy, "in part to improve our ability to store high winter flows like the ones we are seeing today for the hotter, drier times we will see in the future," the DWR said Monday.
Go deeper