El Niño amplifies 2023's extreme weather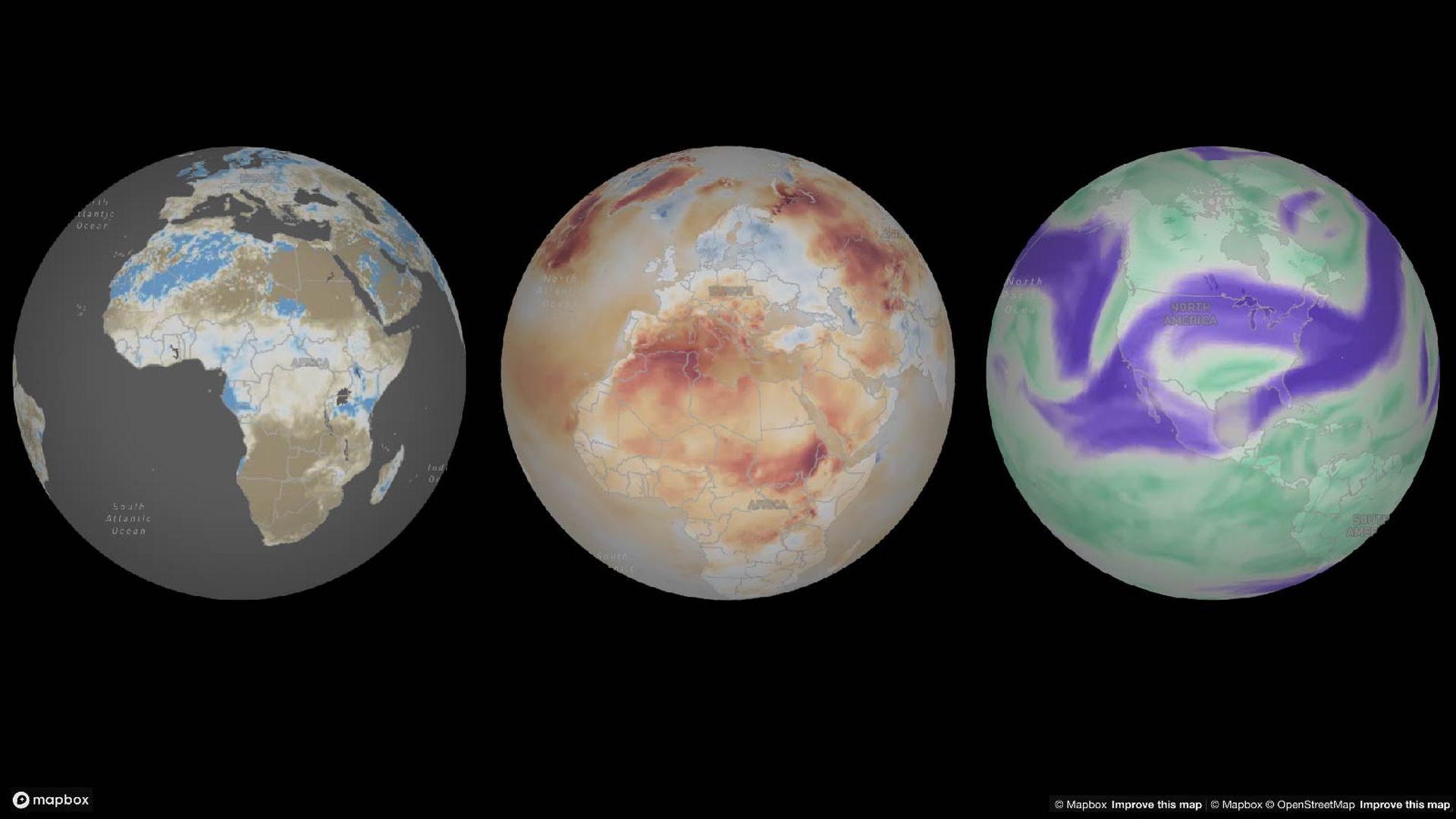 This year is on track to be the hottest year on record, marred by climate-related disasters all over the globe — and El Niño is a big part of the reason.
Why it matters: El Niño and climate change both contribute to extreme weather events like flooding, heat waves and intense tropical cyclones. When their powers combine, as they have this year, the effects can be catastrophic.
Climate change is pushing the world toward a particular set of extremes. El Niño is a temporary but intense push in the same direction, amplifying climate risks that were already growing more dire.
Deke Arndt, who directs NOAA's National Center for Environmental Information in Asheville, likens this to riding an escalator while jumping up and down. The escalator rising is akin to long-term climate change, and the jumps are the cycle of El Niño and its cold-weather counterpart, La Niña (together known as the El Niño-Southern Oscillation).
How it works: El Niño is a periodic — and predictable — climate cycle in the tropical Pacific Ocean. El Niño events add more heat and moisture to the climate system, and tend to give a natural boost to global average surface temperatures.
The last strong El Niño occurred in 2015-2016. It was associated with weather and climate extremes around the world and helped make 2016 the hottest year on record — until now.
This year is hitting harder. There has never been an El Nino, at least in the history of modern observations, that began at a time when the global oceans were already so warm.
Sea surface temperatures not only set a record for August, but the magnitude of the record itself set a new all-time benchmark for any month, NOAA reported.
This means that the addition of El Niño's climate influences this year may be yielding even more records than usual.
Threat level: In the U.S., El Niño events tend to have the greatest impacts during the fall and winter seasons. They often cause wetter winters in the West and a highway of severe storms across the Southern tier of the country.
Globally, the phenomenon tends to leave parts of Australia and Indonesia parched and prone to heightened wildfire risks.
East Africa, which has been plagued by drought, tends to see rainier conditions from El Niño's influence, while other parts of Africa see drier than average conditions.
And in South America, the warmer waters associated with El Niño can decimate fisheries along the continent's west coast, and contribute to unusually warm conditions on land as well.
What they're saying: "El Niño is one of the most predictable climate patterns on the planet. Its only real competitor is climate change," said Michelle L'Heureux, who leads NOAA's El Niño forecasting group.
"El Niño, especially stronger events, can be predicted well in advance of peak impacts," she told Axios. "Without El Niño acting as a conductor for global impacts, it would be much harder, if not impossible, to forecast seasons in advance."
Go deeper: Explore Axios Visuals' in-depth project on El Nino's global impact.
Go deeper