Report: Record heat "virtually impossible" without climate change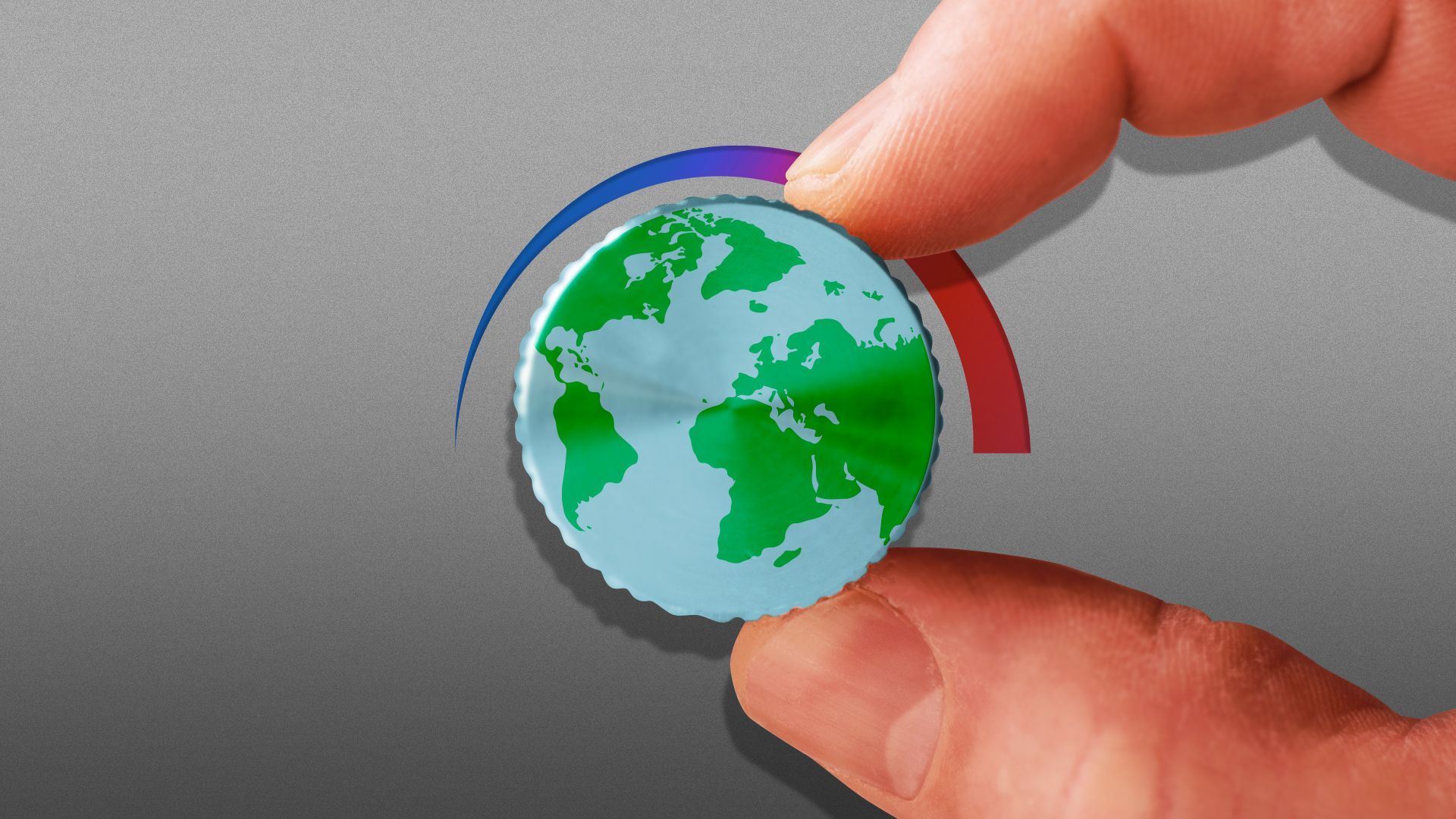 Record-breaking, deadly heat in the U.S. and Europe would have been "virtually impossible" in a world without human-driven climate change, according to new data published early Tuesday.
Why it matters: The findings show society is more vulnerable than previously thought to relatively low levels of warming.
The study also drives home the speed with which greenhouse gas emissions are transforming our climate.
The study concludes that climate change increased the odds of this month's heat wave in China, which set a provisional national record high temperature.
Driving the news: With all-time heat records falling in North America, Europe and Asia, seven members of the international group of scientists known as World Weather Attribution examined the potential that human-caused climate change is shifting the likelihood and severity of heat waves.
Reality check: Such rapid analyses are conducted and released too quickly to undergo outside peer review.
This is a tradeoff: The goal is to provide the public and policymakers with needed context for ongoing or recent extreme events.
Zoom in: The data found that the heat waves still affecting three continents have been transformed from rare events to relatively common occurrences, in a matter of just a few decades.
Without climate change, the study finds, China's heat wave would have been a 1-in-250-year event. But now, such an event has a 20% chance of occurring in any given year.
Sweltering conditions in the U.S., Mexico and southern Europe would have been "virtually impossible ... if humans had not warmed the planet by burning fossil fuels," the study says.
How they did it: Using weather observations and computer models, scientists compared the extreme heat in the context of the climate as it exists today — after about 1.2°C (2.16°F) of human-caused warming — with that of the preindustrial era.
They found that climate change has already transformed once-rare events into far more common occurrences: In southern Europe, for example, each year has a 10% chance of such an extreme heat event.
The intrigue: Climate change made heat waves both more possible, and hotter — about 2.5°C (4.5°F) degrees warmer in southern Europe, and 2°C (3.6°F) higher in the southwestern U.S.
During a press call with reporters Monday, the study's authors warned that failing to rein in the burning of fossil fuels will cause similar heat waves to occur roughly every two to five years in the U.S.
They also pushed back on the notion that these heat waves are evidence of an unexpected speeding up of global warming.
"This is absolutely not a surprise," said Friederike Otto, a climate scientist at Imperial College in London who heads the group that conducted the study, of the extreme heat.
By the numbers: The heat waves are taking place as global air and ocean temperatures smash records.
The world's average surface temperatures have been among the warmest on record for more than three weeks in a row. July is on course to set a record for the planet's warmest month.
What they're saying: Otto said fossil fuel-driven climate change alone can yield simultaneous extreme heat events, as has occurred during June and July.
"As long as we keep burning fossil fuels, we will see more and more of these extremes," she said. "The most important thing is that they kill people. And they particularly kill and hurt and destroy lives and livelihoods of those most vulnerable."
More from Axios:
Go deeper