Heat waves: Historic temperatures affect three continents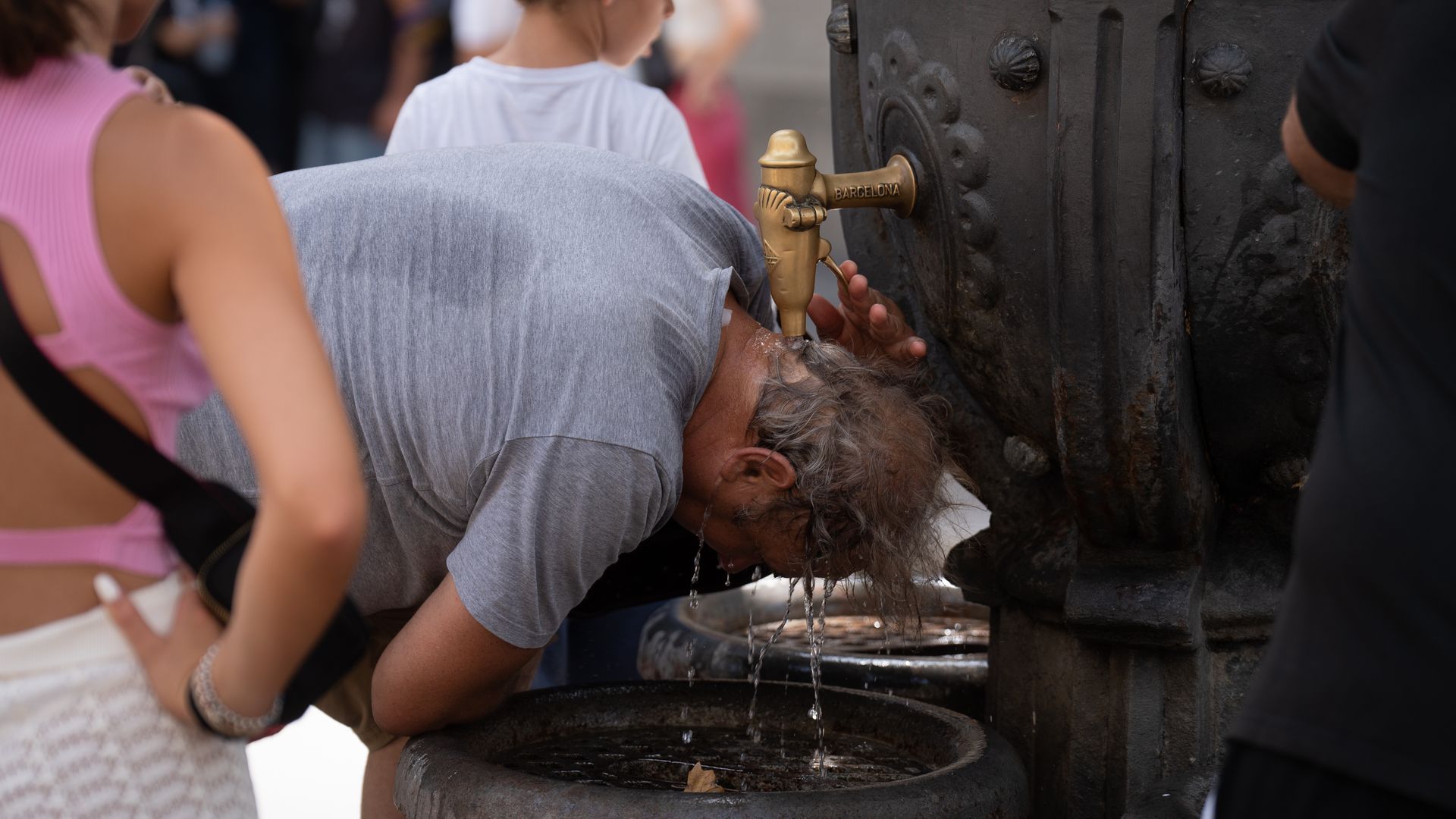 Record highs were set in the U.S., Europe and parts of Asia on Tuesday, in an example of simultaneous, compounding extreme weather and climate events — which scientists have been warning of for some time.
Why it matters: The heat waves pose an immediate risk to public health and economic output, and signal that climate change impacts are escalating faster than expected in some parts of the globe.
The big picture: In the U.S., the extreme heat has lessened in some areas, such as the Pacific Northwest, but it's ramping up in others as a sprawling heat dome remains stuck over the Southwestern states — influencing the entire southern tier of the country.
Tuesday marked a record 19th straight day that Phoenix endured temperatures of at least 110°F. The city also set a nine-day record for the most consecutive days with lows at or above 90°F, with a minimum temperature on Tuesday morning reaching 94°F.
The city's Sky Harbor International Airport hit 118°F Tuesday, which the NWS noted is "11 degrees above normal and a new record."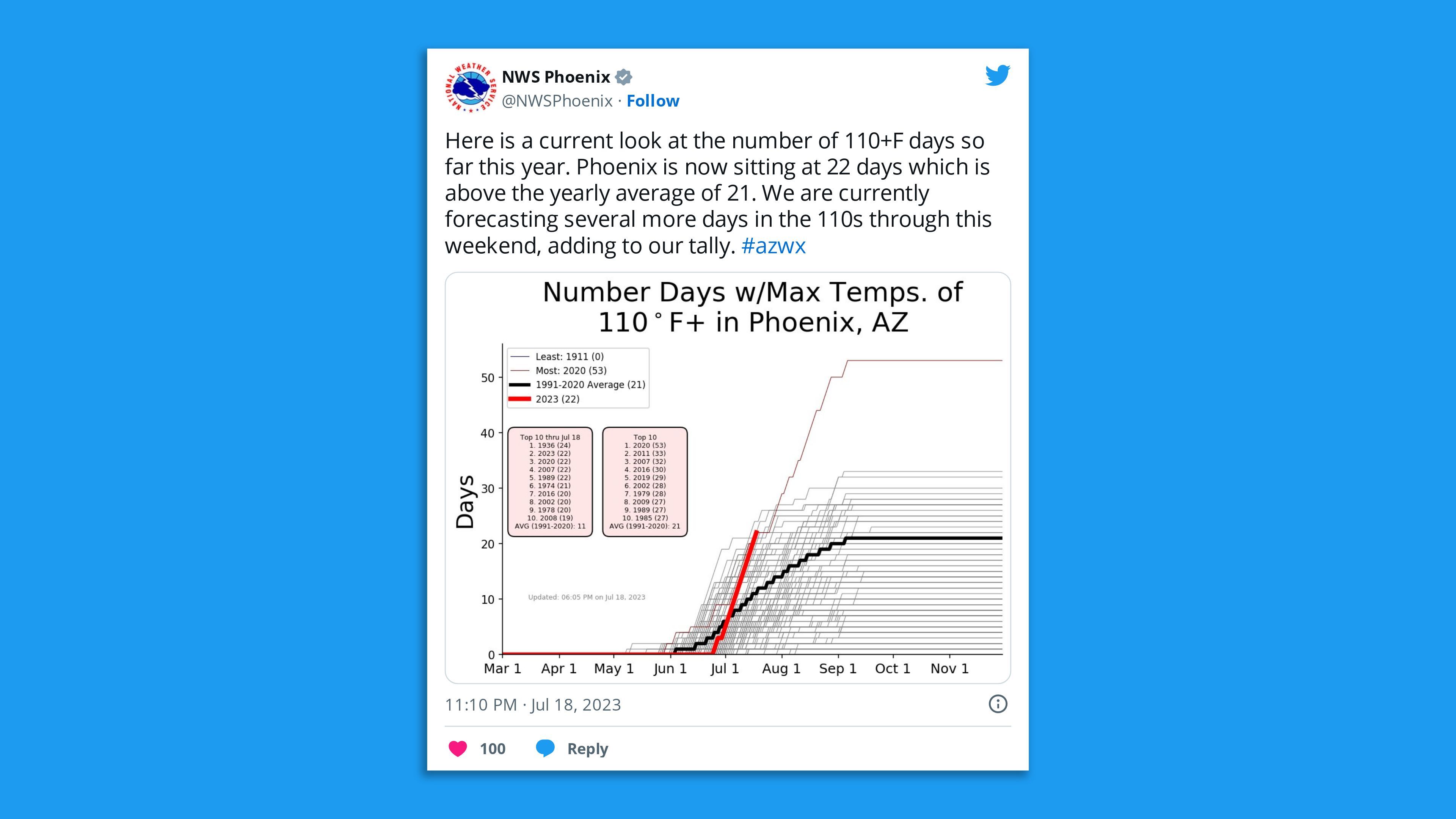 Meanwhile, in Europe, parts of France and Spain hit all-time record highs Tuesday in an extreme event known as heat wave Cerberus. Girona, in the Catalonia region, which hit 45.3°C (113.5°F) in Figueres, while Verdun in northeast France hit 40.6°C (105.1°F) for the first time on record.
The Alpine ski resort of Alpe d'Huez, at about 6,100 feet above sea level, hit a record 29.5C (85°F), per Météo-France.
"The heat event is absolutely historic and it's shattering records with huge margin [sic] in dozens [of] stations," weather record tracker Maximiliano Herrera said via Twitter.
Between the lines: The heat waves come as global average surface temperatures have hit all-time highs during July, which scientists have said are likely the highest levels in at least 125,000 years.
From July 3 through July 19, there have been 13 days that have reached or exceeded 17°C (62.6°F) for an estimated global average surface temperature.
Italy is also brutally hot, as a southern Mediterranean heat wave peaks. Rome saw a new record for the city center, at 42.9°C (109.2°F) Tuesday.
Warnings were in effect for over a dozen cities in Italy due to the public health risks of such high temperatures amid throngs of tourists, many unaccustomed to such weather.
The intrigue: The heat waves are linked. The jet stream pattern is highly amplified, with large waves diverting storms to the north or south and favoring strong areas of high pressure, or heat domes, that sit and intensify, bringing ever higher temperatures.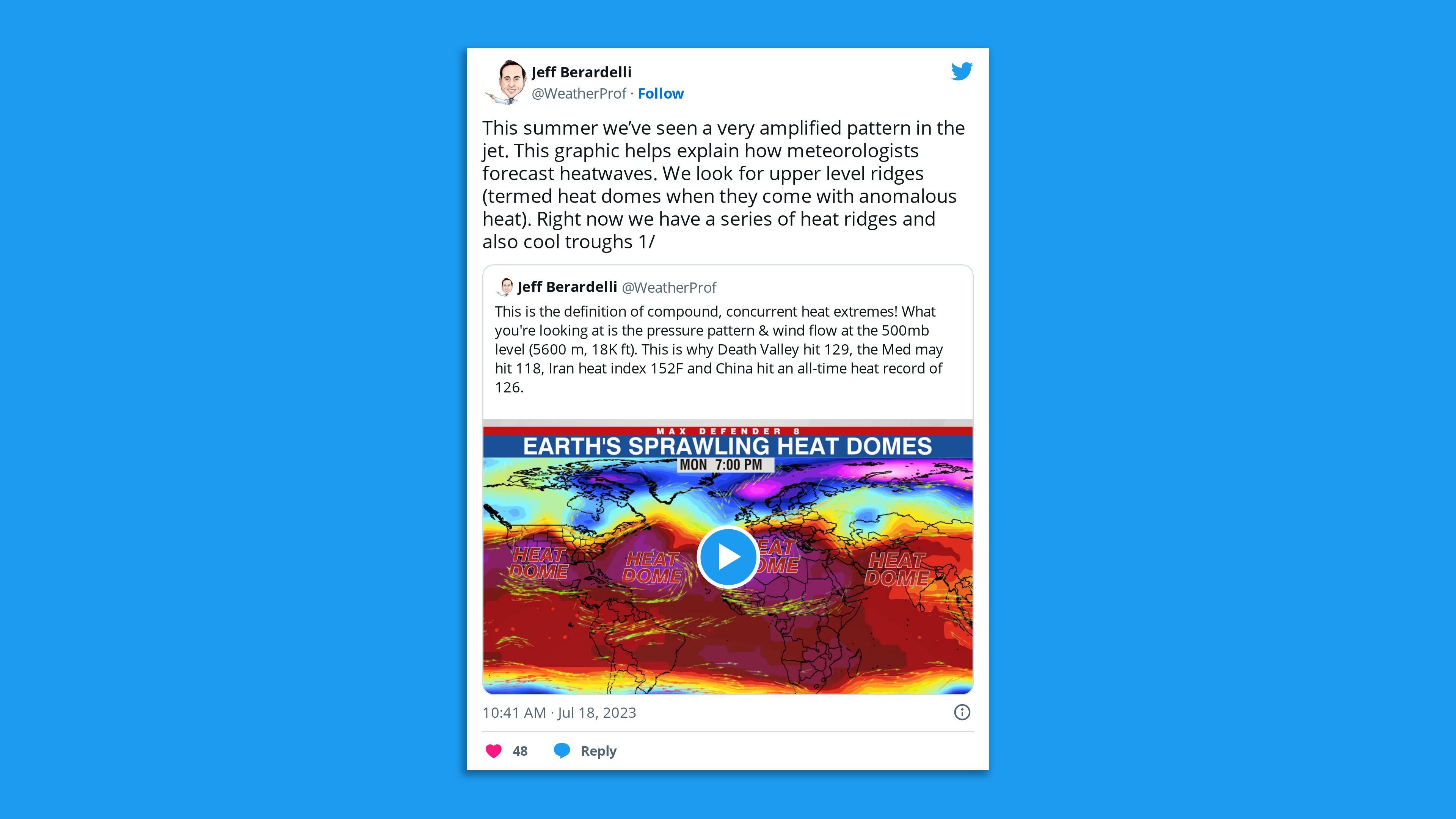 By the numbers: China set a provisional record for the highest temperature on record, with a reading of 126°F in Sanbao Sunday. Beijing, where climate envoy John Kerry was meeting with top Chinese officials to discuss joint efforts to tackle planet-warming greenhouse gas emissions, is enduring a record stretch of 95-degree days.
Monthly high temperature records have also being set in Japan, per Herrera.
As has happened more regularly in recent years, the Persian Gulf's unique combination of extreme temperatures and high humidity has led to astonishingly high heat indices, or "feels like" temperatures. An airport in coastal Iran saw a heat index of 152°F on July 16. Such temperatures are difficult for human survival.
Context: Simultaneous heat waves, coinciding with global temperature milestones, demonstrate how the climate is not a linear system, but can cross thresholds beyond which impacts are far more severe, Texas A&M University climate scientist Andrew Dessler told Axios.
What's next: Per the NOAA Climate Prediction Center, a continuation of above-average temperatures is expected through at least the rest of July and into early August across the Southwest and West. In Europe, another surge of extreme heat is expected to peak this weekend into early next week.
The excessive heat occurring now is forecast to become commonplace in future decades.
According to figures provided to Axios from ICF, which is working on the next U.S. National Climate Assessment with federal agencies, the latest generation of computer models show that Phoenix is projected to go from an average 12 days per year with temperatures at or above 110°F to 40 days by 2050.
This is based on a realistic, mid-range emissions scenario.
The bottom line: We better get used to more scorching heat.
More from Axios:
Editor's note: This article has been updated with details of new temperature records and further context.
Go deeper