Too hot to handle: What the world's increasing heat does to our bodies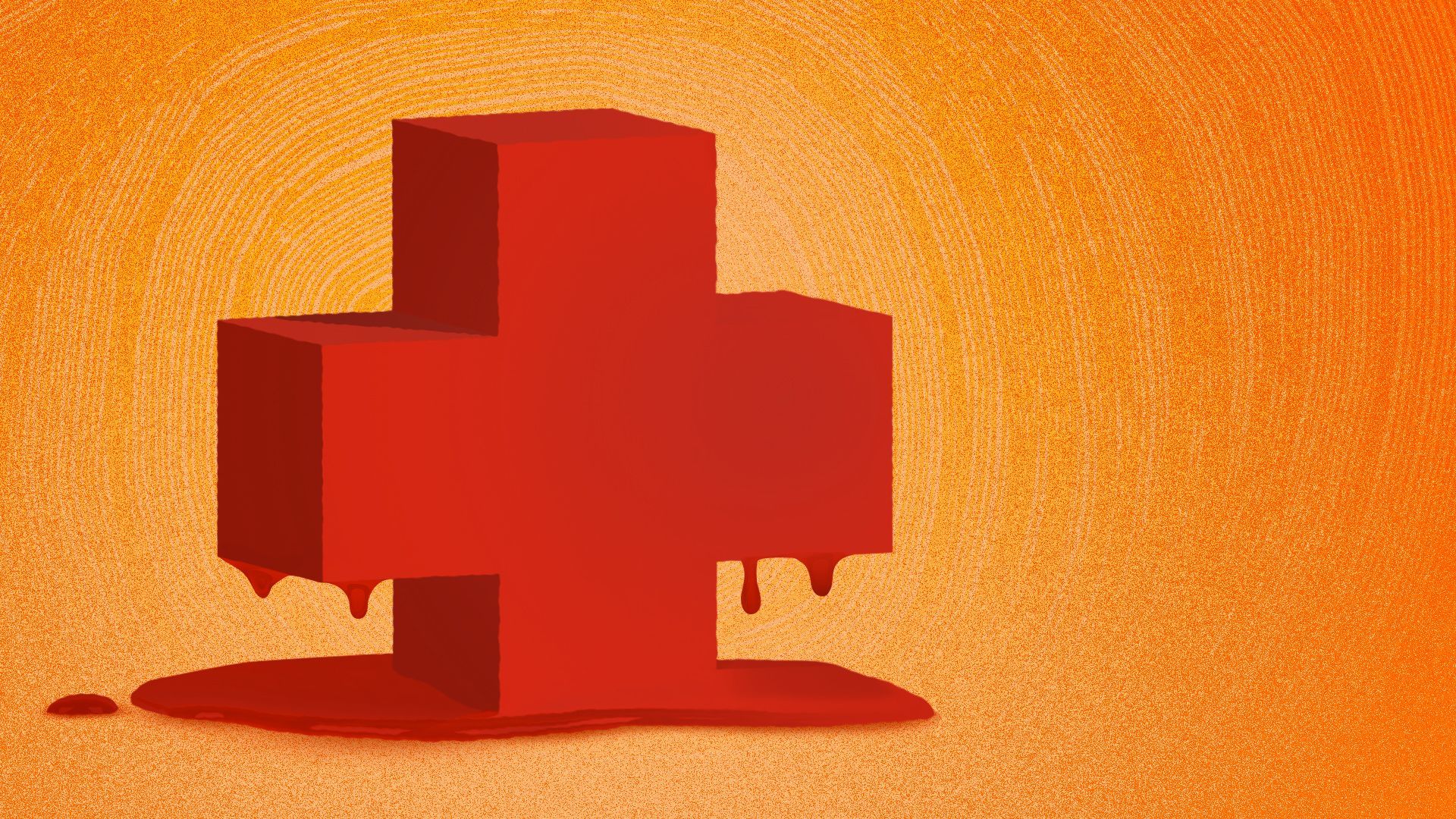 With record high temperatures becoming the norm, humans are more regularly hitting the threshold of our ability to cope with heat.
Driving the news: The Earth has hit back-to-back historic heat records in recent weeks and excessively high temperatures have lingered across many regions in the U.S.
Austin, Texas, hit an all-time high for overnight temperatures in mid-June, when its low didn't fall below 82°F.
Phoenix is in the midst of a streak of 110+°F days that could make for the longest heat wave on record.
Officials are warning Californians of soaring temperatures, saying Death Valley could even approach 130°F, close to the hottest reading ever recorded on the planet.
Danger zone: Researchers previously believed 95°F at 100% humidity, equal to about 115°F at 50% humidity, was the maximum a person could endure before losing the ability to adequately regulate body temperature over prolonged exposure.
A 2022 study from Penn State researchers found that 87°F at 100% humidity was the maximum for young healthy individuals to adequately regulate. Another recent study suggests a range between 104°F and 122°F — depending on the humidity — is the threshold, NBC News reported.
There's really no magic number for when things get too hot to handle, but a person can start developing heat illness at even lower temperatures than that depending on age, health, the ability to regularly find relief and even the medications they're on.
Why it matters: Knowing how the body responds to punishing conditions can help explain the best ways — at both the population and the individual levels — we'll need to adapt.
"Our body is extraordinary. It's able to keep our core body temperature within a few tenths of a degree. That stabilization allows us to thrive," Kevin Lanza, an assistant professor at UTHealth Houston School of Public Health, told Axios.
The body typically cools itself through a mixture of sweat and evaporation, as well as the constriction and dilation of different veins to move blood around and transport heat from the core to other parts and then be released, he said.
That's why, while it sounds obvious, water and rest are essential.
Between the lines: Heat illness can shut down or disable multiple systems throughout the body, leading to long-term injury or death. Impacts include:
Sweating a lot and losing fluids due to the heat can severely alter a person's electrolytes and cause cardiac arrhythmias and even a nervous system response that can end in a heart attack, Haitham Khraishah, a cardiology fellow at the University of Maryland, told Axios.

The best preventative measure is hydration with water or beverages with electrolytes for those engaging in activity, he said.

Metabolic systems start to shut down in response to too high of a body temperature which can impact kidney function, per the National Kidney Foundation.
Researchers studying how chronic heat stress impacts agricultural workers around the world have seen the increase in sudden extremes can take a toll even if it doesn't result in acute heat exhaustion, Richard Johnson, professor of Medicine at the University of Colorado Anschutz Medical Campus, told Axios.
"They can go out thinking it's going to be a usual day and it ends up being much much hotter and they get dehydrated and overheated," he said. "We can show them when that happens, they start showing evidence of kidney damage and muscle breakdown and other problems. Over time with repeated types of events like this, they can develop kidney disease and die from kidney failure."
Long-term impacts: Beyond acute injury, Lanza has been studying a longer-term health impact of all this heat: what the increase in physical discomfort just being outside means for our activity levels and overall wellness. His work has shown, for example, around 91°F, kids in Austin start being less active at recess, and adults start saying it's too hot to walk around outside.
"If we do find, as we're seeing through our research, that people are being less active at higher temperatures, how are they using that time they were being active? Are they engaging in unhealthy behaviors such as prolonged periods of being sedentary?" he said.
Go deeper: Listen to the Axios Today podcast, where host Niala Boodhoo and Tina Reed share what people need to know about heat stroke and how to try to prevent that.
Go deeper