Israel crisis tests GOP's growing "America First" movement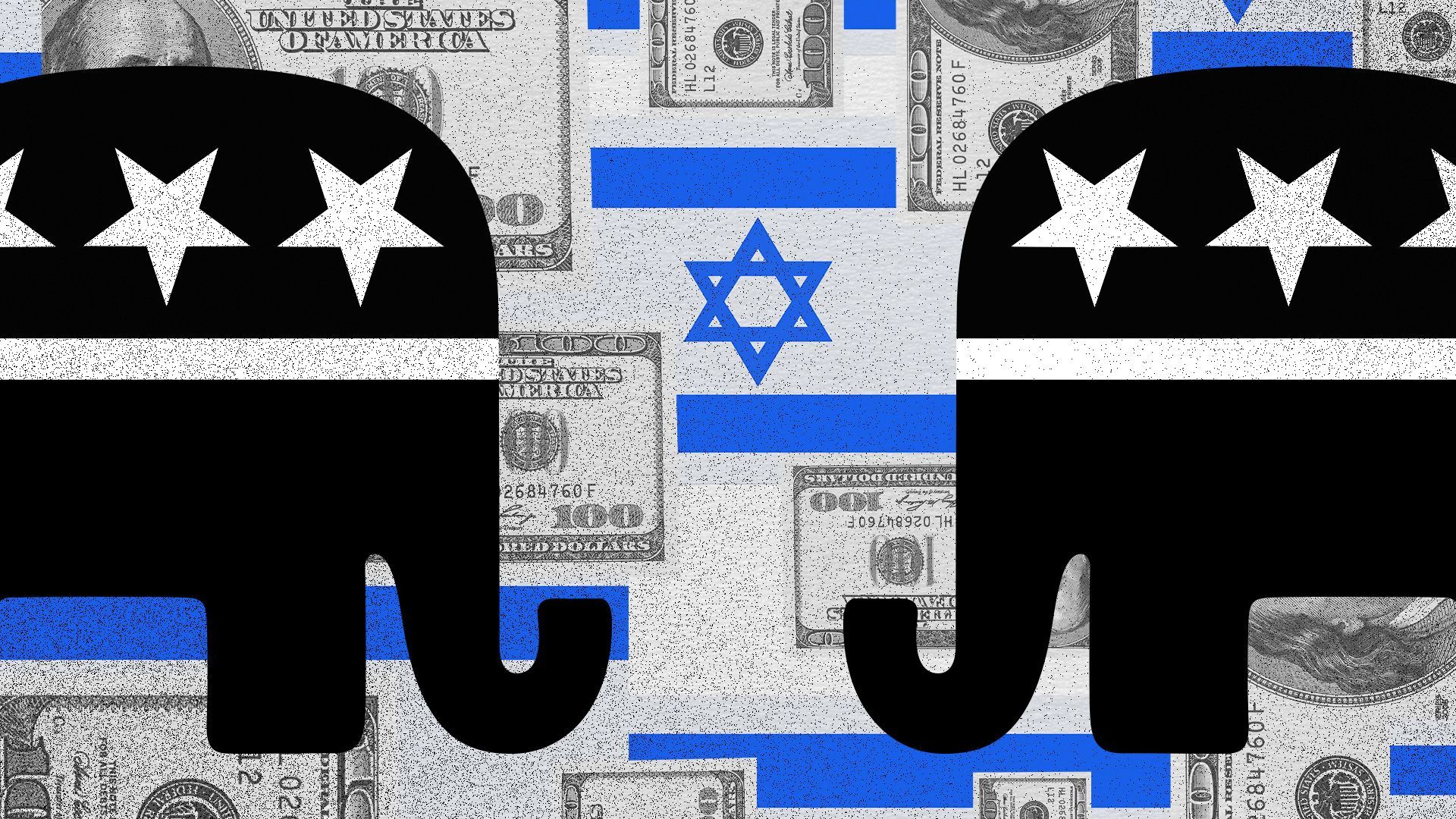 Hamas' attack on Israel is testing the "America First" movement that's shaping the GOP race for president, as the party's leading candidates —Donald Trump and Ron DeSantis — appear wary of boosting U.S. military aid abroad.
Why it matters: The crisis in the Middle East — along with Ukraine's war against Russia — have shed light on how Republicans are wrestling over what the U.S. role in world affairs should be.
Zoom in: Trump and DeSantis say they oppose sending more military aid to Ukraine — but have been less direct on how their "America First" platforms apply to war aid for Israel, one of America's closest allies.
On the other side of the coin are Nikki Haley, Tim Scott, Mike Pence and Chris Christie, who definitively support more military aid to Ukraine and boosting aid to Israel — a more traditional, hawkish Republican view of U.S. leadership on the world stage.
Trump, the Republican frontrunner, has declared that Israel has "never had a better friend in the White House" than when he was president. He said he'd "fully support" Israel in its fight against Hamas — but his campaign didn't respond to questions about whether he supports more aid.
Instead, Trump's messaging this week mostly has been a jolting reminder of how his isolationist views have realigned many Republicans' approach to foreign policy.
"We are going to take care of our people," Trump said. "We are not going to worry about the rest of the world. We will do that when necessary, but we are going to take care of our country."
He's also criticized Israeli intelligence — saying it should have done more to anticipate Hamas' attack — and repeatedly called Hezbollah, the Iran-backed militant group in Lebanon that appears to have joined the fighting in Israel, "very smart."
DeSantis, the Florida governor who's running a distant second to Trump in most polls, joined the White House and others in blasting Trump's Hezbollah comments. DeSantis said that as president he would "stand with Israel and treat terrorists like the scum they are."
But DeSantis — who's also trying to appeal to the increasingly isolationist GOP base — has been coy about U.S. aid to Israel.
When asked on the campaign trail how much aid should be sent, he said Israel "has a very robust military capability," and "I don't know that Israel has requested anything yet."
When CNN asked the same question later, DeSantis brought up state-based sanctions on Iran in Florida.
Pressed again, he relented: "Let's just do it and don't try to leverage other things," he said, referring to efforts in Congress to put Israel aid in a package that also includes Ukraine aid, border security funds and more.
Vivek Ramaswamy, the entrepreneur who touts himself as "America First 2.0" — without Trump's baggage — has said the U.S. should offer Israel intelligence support and be ready to provide military supplies.
But he's also expressed concern about getting into foreign wars that deplete U.S. munitions.
The other side: Haley, Scott, Pence and Christie have been throwing sharp jabs at the others, arguing that U.S. leadership in the world is rooted in how it supports its allies — especially Israel.
"Israel is going to need our support, they're going to need our cooperation, and they are going to need our ammo," said Scott, a senator from South Carolina.
"It's frustrating that there are people who just believe that if we just disengage, somehow that will give us the insulation and protection that we need to be safe."
Pence has pressed President Biden to assure Israel the U.S. will send military aid — and is taking aim at "voices of appeasement like Donald Trump, Vivek Ramaswamy and Ron DeSantis."
The former vice president said their positions "run contrary to the tradition in our party that America is the leader of the free world."
Haley has leveled similar criticism at those she sees as not fully supportive of Israel.
Christie, a former New Jersey governor, has focused much of his campaign on bashing Trump, and has that re-electing the former president would undermine America's standing in the world.
The big picture: Trump's big lead in early polls reflects his popularity with the GOP's base, but also the growing push within the party for the U.S. to become less involved in foreign matters.
Even if Trump loses his bid for president, the impact of his "America First" doctrine on the GOP will be evident in Congress, where some far-right Republicans oppose more aid to Ukraine — and Israel.
Go deeper