GOP rivals prepare to take on "happy warrior" Tim Scott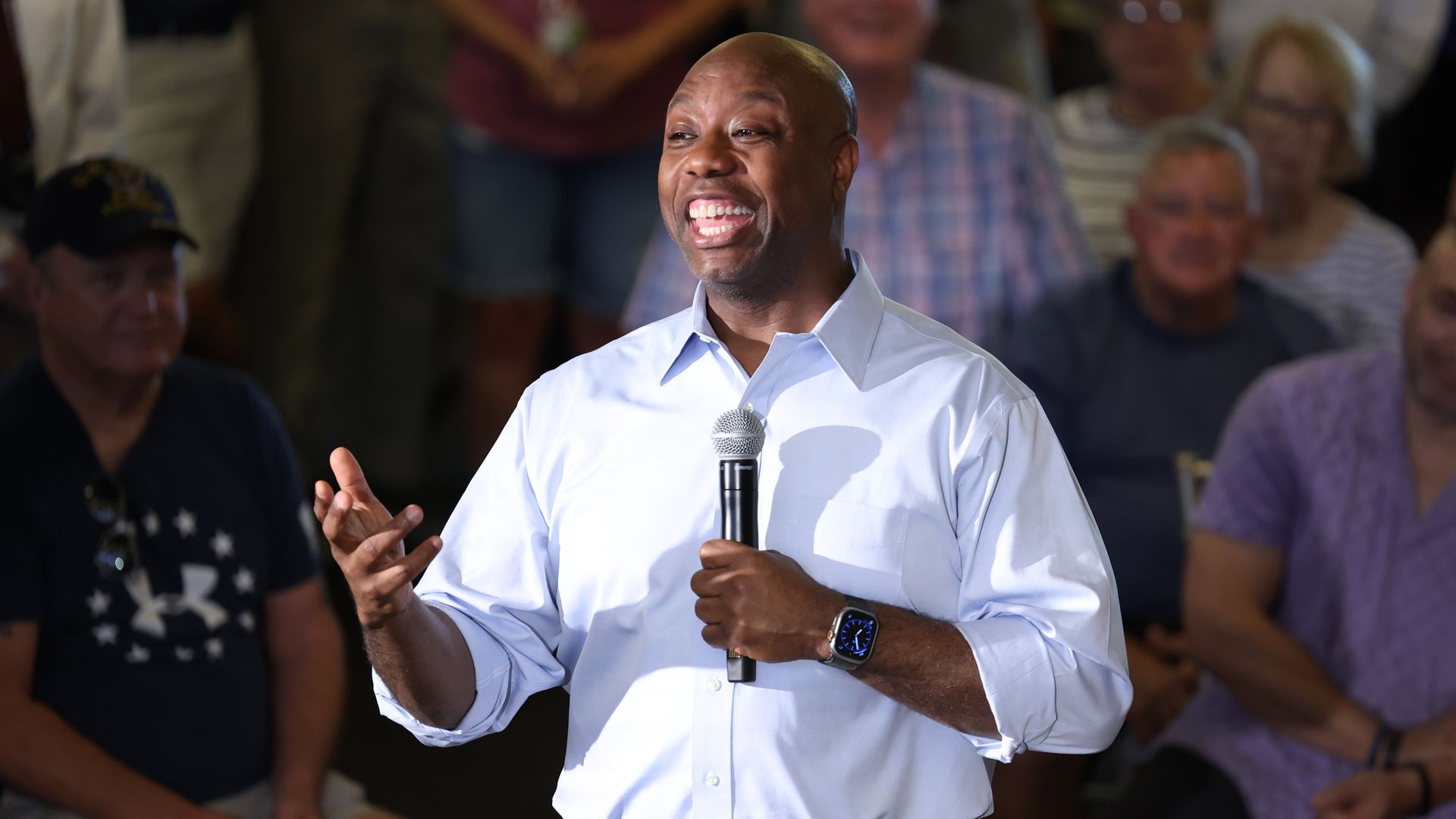 Republican presidential candidates have started to notice that Sen. Tim Scott's non-combative style is resonating — and they're zeroing in on him for more scrutiny.
Why it matters: Scott has largely stayed above the fray as many of his Republican rivals spar around him, but his recent momentum in polls is bringing him into the crossfire and will test his "happy warrior" strategy.
Driving the news: A memo from the super PAC associated with former U.N. Ambassador Nikki Haley's campaign wrote that the "only four candidates who can win the nomination" are Haley, Trump, DeSantis and Scott, per Politico.
A confidential campaign memo from the DeSantis campaign said it expects "Scott to receive appropriate scrutiny in the weeks ahead," NBC News reported.
Between the lines: Republican strategists caution that Scott's upbeat approach and message of unity may not fit in the current party.
"If Sen. Scott could turn the way-back machine to 2012, he'd be a top contender," Arizona-based Republican strategist Barrett Marson told Axios.
Scott has not engaged on the attacks relating to character from his rivals — and his campaign said his messaging is unlikely to change.
"Refreshing and compelling are the words voters across the early states used to describe his optimistic message rooted in conservative values," Scott's communications director Nathan Brand said.
Zoom out: The South Carolina Republican has bolstered his positioning in the crowded Republican primary as an antidote to the battles between former President Trump and Florida Gov. Ron DeSantis.
His campaign also sees opportunity in the crowded Republican primary to appeal to a diverse coalition of voters in the fractured party.
Scott has among the highest favorability rating of the Republican field, according to a recent Quinnipiac University poll — and a Fox Business poll of Iowa Republicans has him up to 11%.
A super PAC backing Scott earlier this month spent $40 million in ad reservations through the fall, the largest buy of the presidential race.
The other side: DeSantis' campaign dismissed the idea that Scott is gaining ground on Trump and DeSantis.
"No matter how much the media and D.C. elites try to destroy Ron DeSantis, they can't change the fact that this is a two-man race for the nomination," communications director Andrew Romeo said in a statement.
A spokesperson for Trump did not respond to Axios' request for comment on Scott's recent polling.
Go deeper: Casting himself as a fighter, Trump aligns with UFC
Go deeper