Casting himself as a fighter, Trump aligns with UFC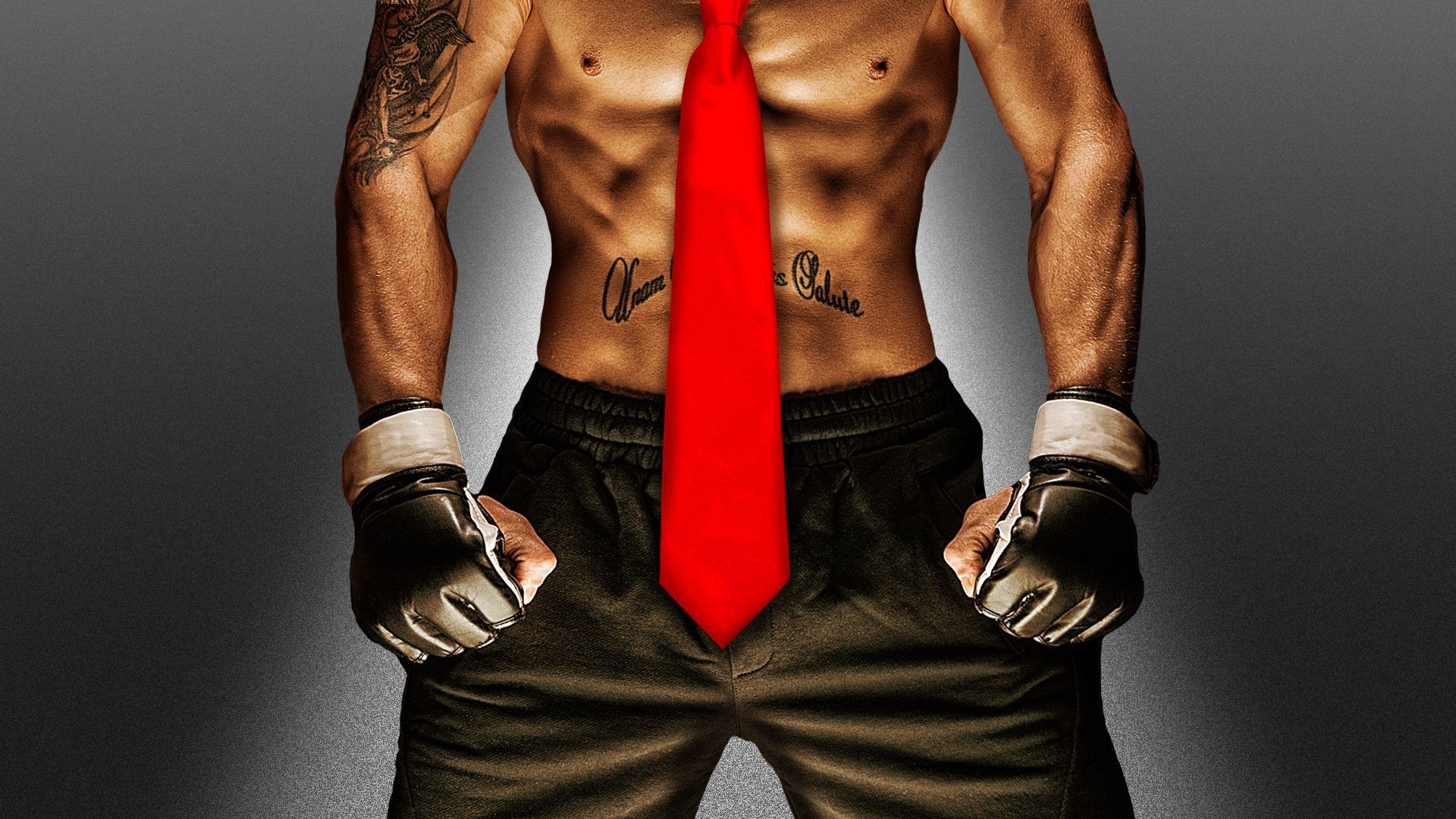 The symbolism was hard to miss: Former President Trump, fighting to return to the White House and avoid prison, dropped in on a night of UFC fights in Las Vegas this month and was a guest on a UFC podcast.
Why it matters: It was a collision of two longtime Trump obsessions — combat sports and crafting a macho image — at a time when he faces the prospect of being indicted for a third and potentially fourth time.
Trump has done his usual ranting on social media and focused on looking tough, while casting himself as a warrior for conservative causes and the working class.
Besides aligning with UFC, he's defended country music star Jason Aldean, who's been under fire from critics who say a video of his promotes violence and lynchings. Aldean denies that.
On his Truth Social platform, Trump shared a video that includes old audio of him threatening his opponents.
The big picture: Trump's working-class pitch often portrays him as a protector of those concerned about threats to their way of life.
In a jab at President Biden, Trump has seized on some auto workers' concerns about how the EVs Biden touts might affect jobs in the auto industry, urging the UAW to back Trump's campaign.
When a children's choir from South Carolina was mistakenly shooed out of singing at the U.S. Capitol last month, Trump jumped at the chance to become part of the headlines, inviting the choir to perform at a rally of his in that state.
Zoom in: Trump's affection for UFC goes back more than two decades, when his hotels hosted UFC fights back at a time when many shunned the fledgling sport as too violent.
UFC president Dana White credits Trump with being "the first guy that recognized the potential that we saw in the UFC, and encouraged us to build our business."
The intrigue: Not everyone involved in the UFC orbit world shares White's enthusiasm for Trump.
Podcaster Joe Rogan, one of the most influential voices among UFC fans and a color commentator for fights, repeatedly has turned down Trump as a guest on his popular podcast — even as he has hosted other presidential candidates, including Robert F. Kennedy Jr. (D).
"I'm not a Trump supporter in any way, shape or form," Rogan said earlier this year. "I've had the opportunity to have him on my show more than once. I've said no every time. I don't want to help him. I'm not interested in helping him."
Rogan and Trump did exchange a tight-gripped handshake before the UFC fight this month.
Between the lines: UFC — whose audience is typically young and overwhelmingly male — is a natural platform for Trump, whose campaign sees young white men as a particularly supportive group.
Trump's cage-side presence at UFC 290 on July 8 led several fighters celebrating their victories to jump on top of the cage to point at Trump or shake his hand.
Trump credits fighters such as Jorge Masvidal, who is of Cuban descent, with his success with Latino voters in Florida in the 2020 election.
"He was a big fan of mine politically. And I'll tell you, it had a difference. ... I credit a lot of that to Jorge," Trump said on the UFC podcast that premiered this week. "You know why I love him? I like people who like me."
Masvidal and Colby Covington are two of Trump's favorite fighters, a person close to Trump told Axios.
Trump calls White twice a month and the pair will talk for an hour about fights, White — who spoke at the 2016 and 2020 Republican conventions — told UFC reporters in April.
Trump also calls Ari Emanuel, whose entertainment agency owns UFC and World Wrestling Entertainment (WWE), "a very good friend. He calls me a lot. I call him a lot, and we talk."
In 2016, Emanuel — the brother of Rahm Emanuel, Biden's ambassador to Japan and a former chief of staff to President Obama — was considered for a White House post, Axios reported then.
Trump also is fond of professional wrestling, a mock combat sport he's followed since elementary school.
Former WWE CEO and chairman Vince McMahon was a top donor to the Trump Foundation, making multimillion-dollar donations coinciding with Trump's appearances at WWE events.
McMahon's estranged wife, Linda McMahon, was in Trump's Cabinet as administrator of the Small Business Administration before chairing his 2020 campaign's super PAC.
Go deeper