Democrats don't want to be McCarthy's "cheap date"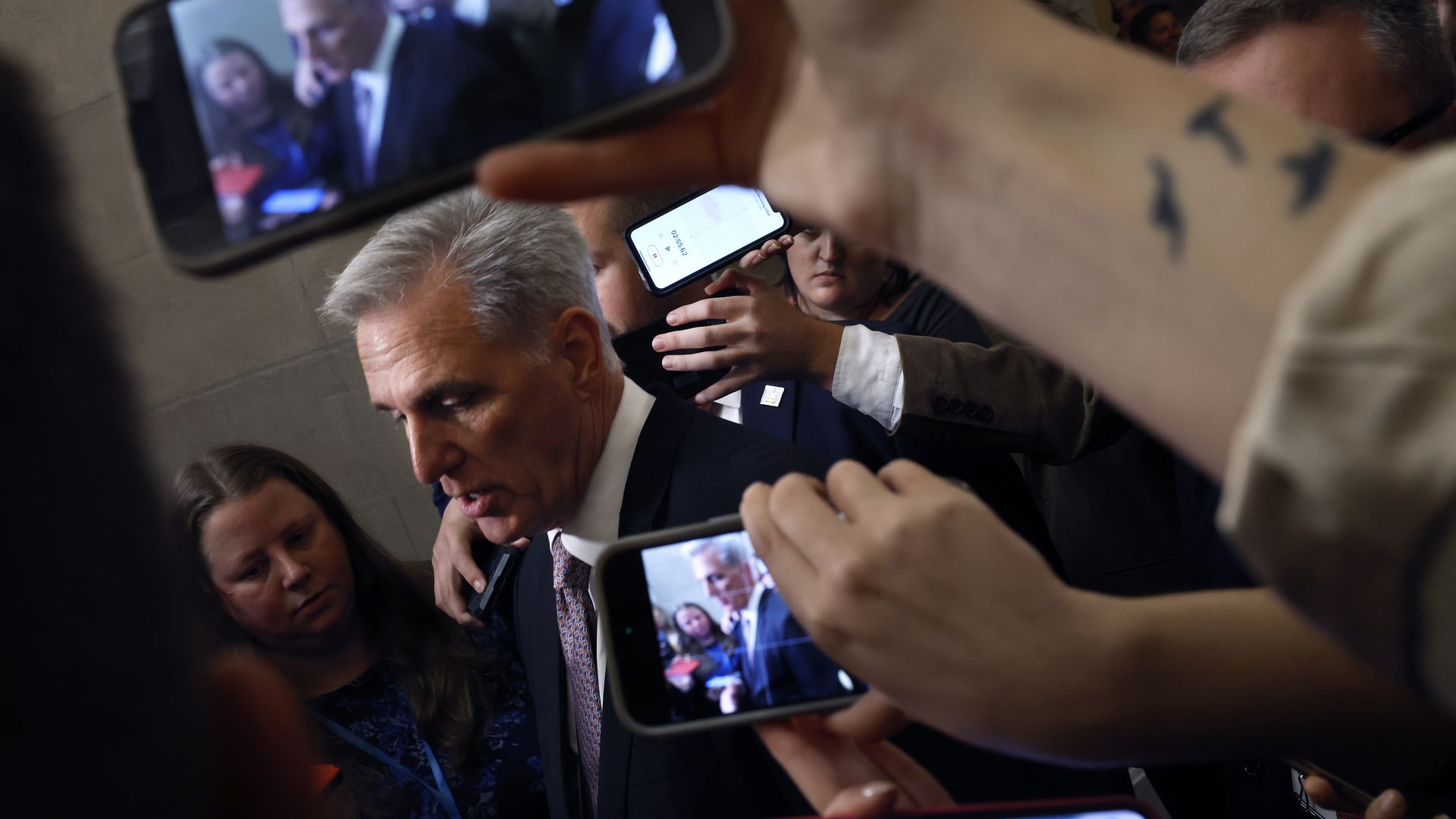 House Democrats sound like they're willing to save Speaker Kevin McCarthy from his right-wing revolt — but he'll have to pay a price.
Why it matters: Rep. Matt Gaetz (R-Fla.) on Monday introduced a "motion to vacate," meaning the House will vote this week on whether to remove McCarthy from the speakership.
If Gaetz can get just half a dozen Republicans to vote to take down McCarthy, it means the speaker would need some Democratic votes to survive.
What they're saying: "I'm not a cheap date," House Rules Committee ranking member Jim McGovern (D-Mass.) said of his vote on a motion to vacate, signaling that his support would come at a cost.
Rep. Jared Golden (D-Maine), the chair of the centrist Blue Dog Coalition, suggested the topic isn't even worth broaching until McCarthy makes an entreaty.
"If Kevin McCarthy hasn't bothered to ask me or other Democrats for support, then why would we be putting much time into talking about this," said Golden.
"Until there's ... a conversation happening, there's no reason to even pursue it," said Rep. Dan Kildee (D-Mich.), a member of Democratic leadership.
The intrigue: Some centrist Democrats are already floating ideas for possible concessions McCarthy could offer to sway their support.
Rep. Dean Phillips (D-Minn.) said what he "care[s] most about" is strengthening the discharge petition – a tool to force votes on the minority party's bills if a majority of House members sign on.
Phillips proposed eliminating the 30-day waiting period for a discharge petition to be introduced and keeping signatures "some degree of private" to eliminate the "political risk" for majority members to sign.
Rep. Wiley Nickel (D-N.C.) said he wants to see votes on bipartisan bills such as Ukraine aid and immigration reform, telling Axios: "If this whole process plays out to allow centrists to have a greater role, I think that's wonderful."
Democrats have discussed using the motion to vacate as an opportunity to fundamentally realign the House, Axios reported last week.
Specific concessions thrown out include greater Democratic representation on committees, forcing votes on Democratic bills and spiking votes on certain controversial Republican legislation.
Yes, but: It may all come down to House Minority Leader Hakeem Jeffries (D-N.Y.), who has kept his cards close to his chest.
"If he needs Democratic support, he'll have to negotiate with Leader Jeffries," said Phillips, who said he has "full faith" in Jeffries' "ability to do that thoughtfully."
"Democrats all need to be rowing in the same direction with Hakeem Jeffries at the helm," said Rep. Jake Auchincloss (D-Mass.).
Between the lines: Relations between McCarthy and House Democrats have become strained by McCarthy launching an impeachment inquiry into President Biden and marking up appropriations bills at spending levels below the caps in the bipartisan debt ceiling deal.
While McCarthy's decision to put a bipartisan stopgap spending bill to a vote last week bought some goodwill, it may have been negated by Democrats' fury at being given little time to review the measure.
"There was a lot of disappointment," said Phillips. "Things like trust and respect ... it means a lot. And they're violated constantly, but when they're violated at that level I think it's hard to recapture."
What we're watching: Democrats are scheduled to gather Tuesday morning for an "extended" version of their weekly caucus meeting with no cellphones allowed, according to an invite obtained by Axios.
Jeffries is also joining the center-left New Democrat Coalition – whose members will be key for McCarthy – at their lunch on Tuesday, according to a Democratic aide.
House GOP leadership has to bring the motion to the floor for a vote by Thursday.
The bottom line: "If they want Democratic votes, there's going to be a price to pay," said Nickel.
Editor's note: This story was corrected to reflect Rep. Nickel's full quote on bipartisan bills.
Go deeper