Democrats quietly game out McCarthy bailout as GOP tensions rise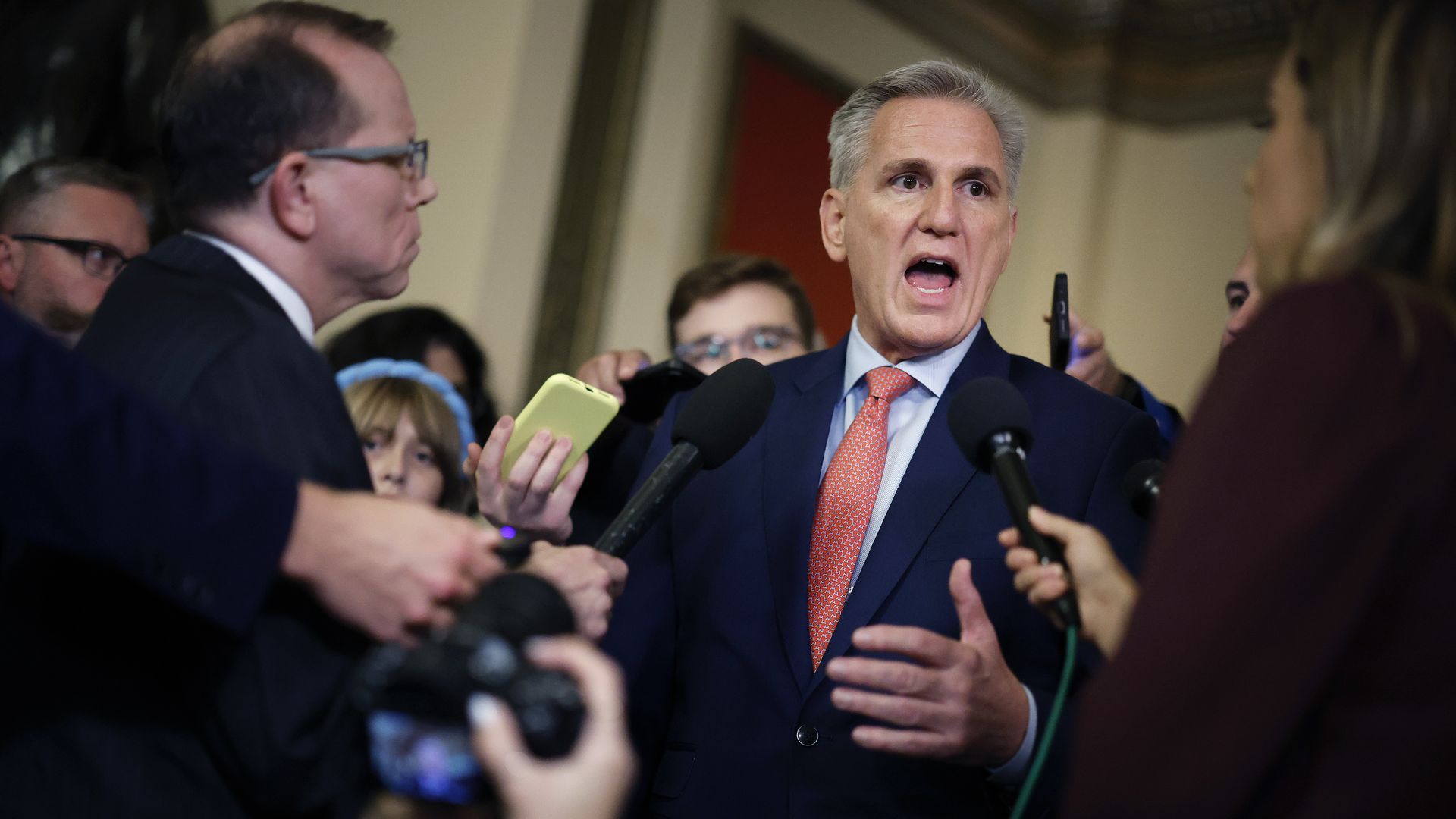 House Democrats are considering how to leverage Speaker Kevin McCarthy's (R-Calif.) struggles to avert a government shutdown to realign the lower chamber's power dynamics in their favor, Axios has learned.
Why it matters: While House Democrats have been largely cut out of the GOP's spending debate, they will inevitably have a role to play in any resolution to fund the government — and potentially save McCarthy's speakership.
State of play: Republicans are trying to unite behind a party-line solution to avert a shutdown on Sunday — but with Democrats in control of the Senate, any bill that funds the government will eventually have to be bipartisan.
McCarthy would likely need Democrats to vote not only for the bill, but for the "rule" — a procedural vote that typically falls along party lines but which GOP hardliners have proved willing to tank.
That poses a big problem for McCarthy personally, as some hardliners in his conference have warned any deal with Democrats could trigger an effort to remove him via the so-called "motion to vacate."
What we're hearing: Democrats appear willing to step in to help McCarthy pass the rule on a bipartisan, Senate-negotiated stopgap bill, just as they did for the bipartisan debt ceiling bill in May.
"Put that on the floor for an up-or-down vote, Democrats will be there to provide the votes necessary for it to succeed," House Minority Leader Hakeem Jeffries (D-N.Y.) said Thursday.
A Democratic leadership aide and several members said their side would vote based on a desire to avert a shutdown, without necessarily requiring concessions from McCarthy.
The intrigue: Where concessions might be extracted is on a subsequent motion to vacate by Republican hardliners, according to several senior House Democrats who spoke to Axios on the condition of anonymity.
Discussions among Democrats have centered on shifting the ideological balance of House operations — such as demanding more representation on committees, votes on certain Democratic bills and spiking votes on GOP bills.
"It would be a higher price than some Republicans might think or take," said one Democrat. "I had one Republican suggest ... sign-off on subpoenas for the impeachment [inquiry]. And I told him, 'Are you f-ing serious?'"
What they're saying: "I've heard members talk ... on the floor, who've come from state legislatures where Democrats will provide the margin for a particular Republican faction," said Rep. Jamie Raskin (D-Md.), ranking member of the House Oversight Committee.
"They bargain for chairmanships of committees, they bargain for certain legislative concessions," Raskin added.
Reality check: McCarthy and his office have long brushed aside suggestions that they would solicit or accept Democratic help to save his speakership, and lawmakers on both sides don't think that scenario would end well for him.
"One way to look at this is: is it just a [quick] suicide or a slow suicide," said Rep. Dean Phillips (D-Minn.).
"Maybe you can stay the speaker of the House," said Rep. Matt Gaetz (R-Fla.), who has been threatening to introduce a motion to vacate against McCarthy. "But you won't be the Republican speaker anymore."
The bottom line: At the end of the day, Democrats' gameplan all comes down to Jeffries — and the Democratic leader is not yet willing to publicly entertain the scenario.
Jeffries on Thursday rejected "the notion that any of us would be dealing with inside parlor games when we're trying to stop the extreme MAGA Republicans," adding, "I haven't given it any thought."
And many of Jeffries' members are deferring to him: "I'm going to be taking my cues from Hakeem," said Rep. Haley Stevens (D-Mich.).
Go deeper