McCarthy's personal peril intensifies funding fight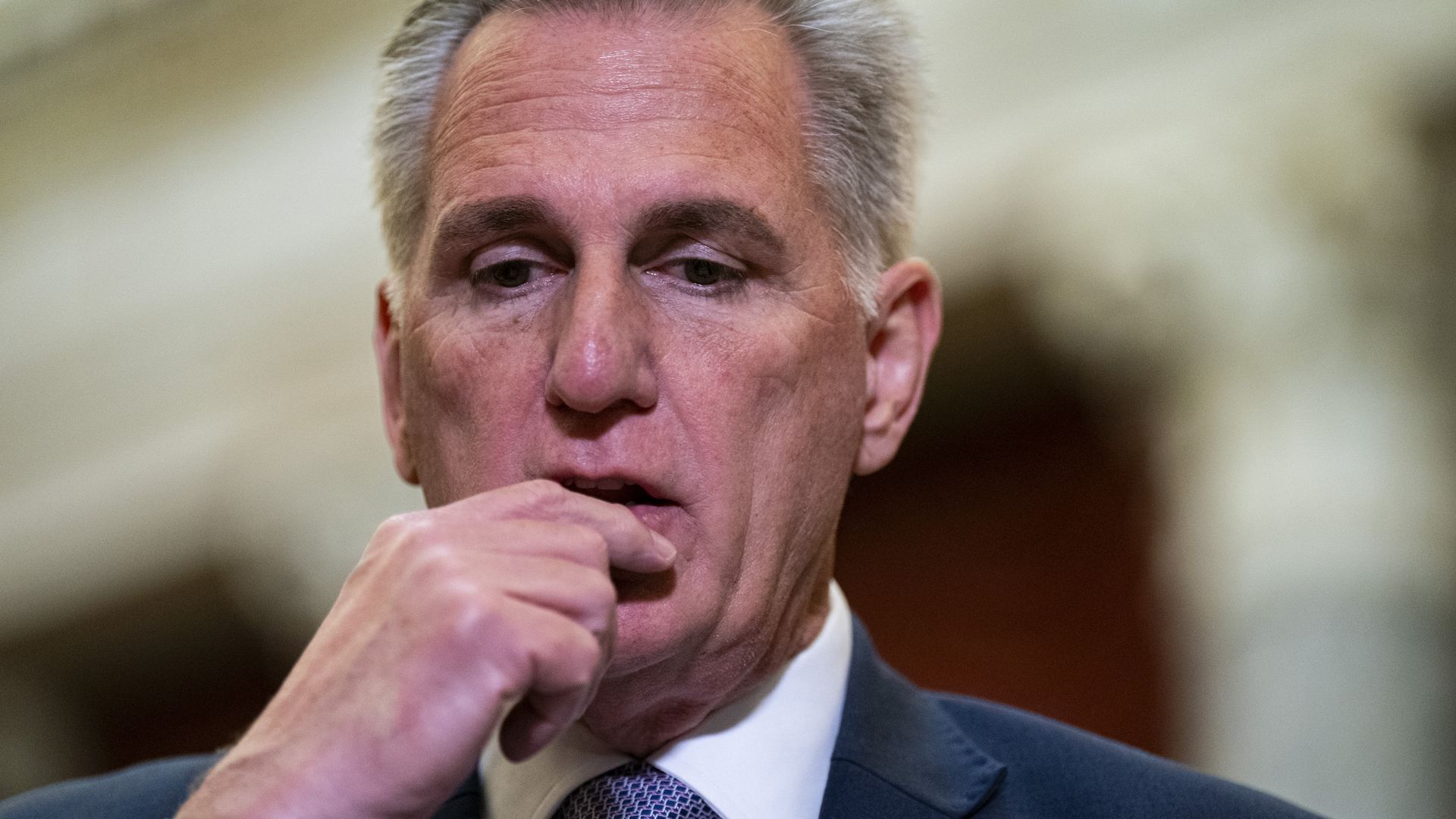 Republican hardliners are turning up the heat on House Speaker Kevin McCarthy (R-Calif.), putting his job in jeopardy as Congress closes in on Saturday's deadline to fund the government.
Why it matters: The right's escalating threats to remove McCarthy if he cuts a deal with Democrats may force the speaker to choose between the leadership position he long coveted — and heading off a government shutdown.
McCarthy may even face a damned-if-you-do, damned-if-you-don't scenario, as some GOP lawmakers say a government shutdown could be yet another trigger for an effort to remove him.
Driving the news: Rep. Matt Gaetz (R-Fla.), in a floor speech Tuesday, came as close as he has ever come to confirming plans to introduce a so-called motion to vacate the chair — a proposal to remove the speaker.
"The one thing I agree with my Democrat colleagues on is that this place has been poorly led. And we own that, and we have to do something about it," Gaetz said.
And, he added, "my Democrat colleagues will have an opportunity to do something about that ... and we will see if they bail out our failed speaker."
"Sounds like Matt Gaetz is talking about filing [a motion to vacate] every day," Rep. Ken Buck (R-Colo.) said after the speech.
State of play: McCarthy has floated several options to try to unify Republicans around a measure to temporarily hold off a shutdown and give lawmakers more time to decide how to fully fund the government.
All of those measures are non-starters with Democrats, however, and the speaker has acknowledged that he will need to cut a deal with the Democrat-controlled Senate to get anything passed.
But McCarthy's right flank is giving him little relief, demanding far more severe spending cuts and conservative policy riders than Democrats are willing to accept — and threatening to remove him if he dares to compromise.
Some Republicans have even said they won't vote for any short-term funding bill, making McCarthy all the more reliant on Democrats' votes.
What they're saying: Gaetz isn't the only hardliner voicing support for a vote to remove McCarthy.
"All hell would break loose" if McCarthy cuts a deal with Democrats to keep the government funded, said Rep. Ralph Norman (R-S.C.).
Asked about a possible motion to vacate, Norman added: "Ask Gaetz, but I think [a deal with Democrats] would trigger that."
Rep. Tim Burchett (R-Tenn.) offered another potential precondition for an ouster attempt: "I think probably a shutdown would be a trigger for that."
What we're hearing: Rank-and-file House Republicans who spoke to Axios on the condition of anonymity acknowledged that the speaker is on shaky ground and said potential replacements are quietly being discussed.
Reality check: Some House Democrats have suggested they wouldn't go along with an effort to remove McCarthy as punishment for working with them.
That means McCarthy could have the votes to beat back a motion to vacate — though his odds of long-term survival as a GOP speaker propped up by Democratic votes is another question.
What he's saying: McCarthy has projected public confidence about the risks he faces as he tries to thread the needle on government funding.
"I'm not worried about whether my speakership is placed on the line," McCarthy told reporters Tuesday afternoon. "The only thing I care about is fighting for the American people."
Between the lines: Emotions are still raw from when McCarthy cut a deal with Democrats in May to do an end-run around right-wingers in order to raise the debt ceiling.
The debt-ceiling bill passed with more Democratic votes than Republican ones, prompting hardliners to shut down floor votes for a week in retribution.
"The speaker has to figure out what coalition he's trying to form together and who he represents, that's all," said right-wing Rep. Matt Rosendale (R-Mont.). "That's going to be something he's got to decide."
Go deeper