What to know about a potential government shutdown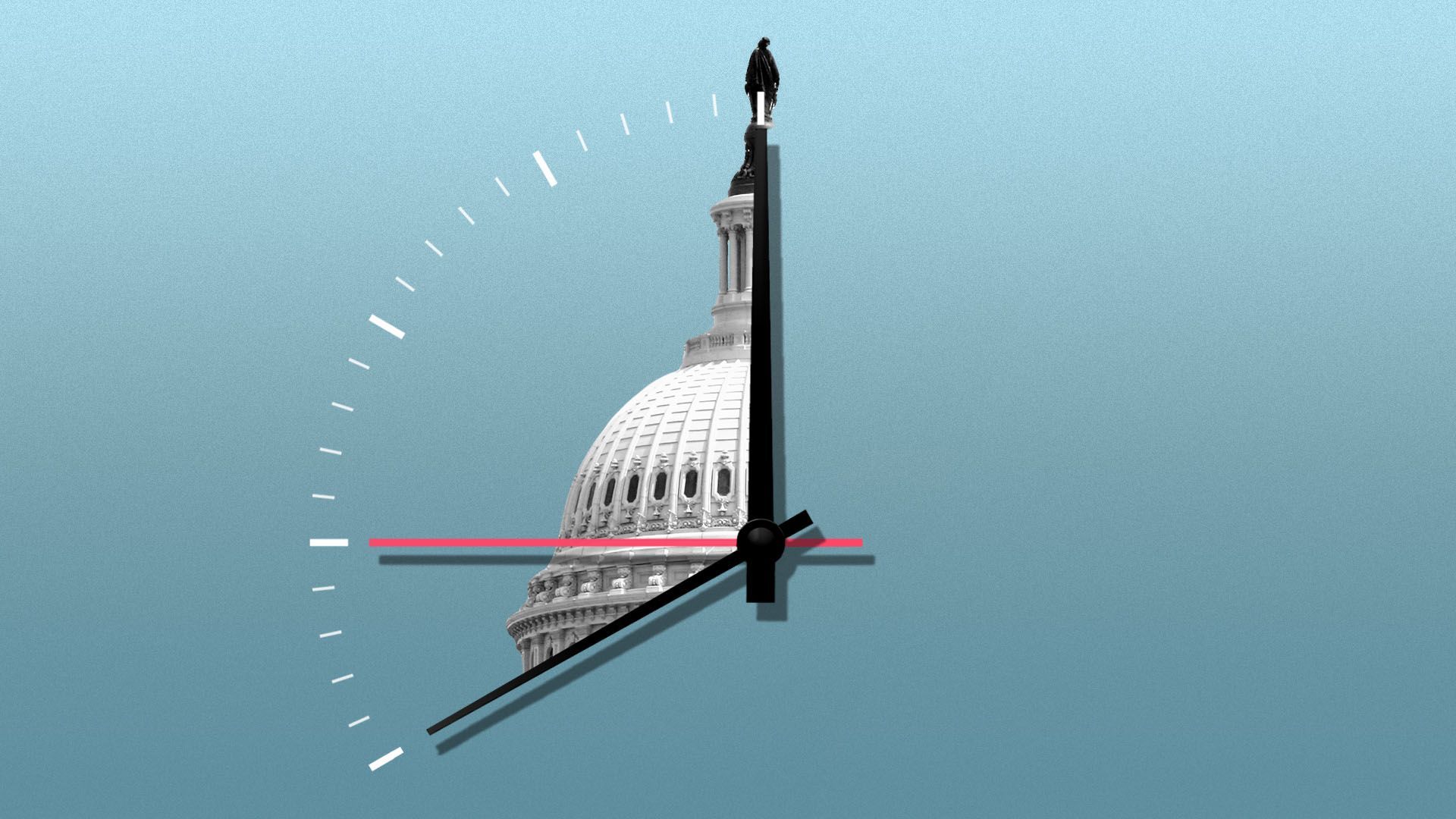 Key programs will grind to a halt and the federal workforce won't get paid on time if lawmakers don't reach an agreement by Sept. 30 to avert a government shutdown.
Why it matters: Non-essential federal functions will be suspended if a divided House does not pass 12 appropriation bills before the end of the month— a prospect that looks increasingly unlikely.
State of play: Conservatives have been pushing for significant spending cuts in appropriations bills and more border security measures, but some frustrated centrist Republicans are more open to cutting a deal with Democrats.
Here's what a government shutdown would mean:
Who stops working?
Non-essential federal employees would stop working during a shutdown.
The last time the federal government shut down (from December 2018 to January 2019), 420,000 federal employees were required to work without pay and another 350,000 were furloughed without pay, per the American Federation of Government Employees, a federal employee union. At 34 days, it was the longest government shutdown.
"Excepted" employees, or those who continue working, have responsibilities such as emergency work involving the safety of human life or the protection of property, according to the U.S. Office of Personnel Management.
Active-duty military personnel and many federal law enforcement officers would continue working. In-hospital medical care, traffic control and power grid maintenance are other essential services, per the Committee for a Responsible Federal Budget.
Who doesn't get paid?
After the shutdown ends (and funding is appropriated), all employees who were required to work through the shutdown and those who were furloughed from work will be paid.
Some furloughed employees would be eligible for unemployment compensation, depending on state requirements.
California, Washington, D.C., Virginia, Texas and Maryland have the biggest shares of federal employees in the country, according to the U.S. Office of Personnel Management.
Federal retirees will still receive payments.
How could it affect me?
Social Security and Medicare checks will still be sent out, but benefit verification and card issuance would cease, according to the Committee for a Responsible Federal Budget.
Supplemental Nutrition Assistance Program (SNAP) funding is mandatory, but the ability to send out food stamp benefits could be affected.
"Stores are not able to renew their Electronic Benefit Transfer (EBT) card licenses, so those whose licenses expire would not be able to accept SNAP benefits," per the committee.
Health: A government shutdown could affect several health programs that phase out at the end of the month without congressional action, including:
The Community Health Center Fund, which provides about 70% of federal funding for health centers, is due to expire Sept. 30.
Some provisions within the Pandemic and All Hazards Preparedness Act would expire. Other pandemic efforts can be funded through the annual appropriations cycle.
Some provisions within the President's Emergency Plan for AIDS Relief sunset at the end of the fiscal year.
Children: Up to 10,000 children would lose access to Head Start, a free early childhood education program, the White House said.
Travel: Travelers could see longer wait times and delays at airports, per the White House. Air traffic controllers and TSA officers would be asked to work without pay.
Food safety: FDA inspections could be delayed for products around the country.
The economy: A government shutdown would not be as big of a threat for Wall Street as the risk of U.S. government debt default was earlier this year, but it could make an impact. For example, the Small Business Administration would not review or approve new business loans.
Go deeper: Centrists plot shutdown Plan B as House GOP flails on spending bills
Go deeper