Scoop: House Republicans warn of McCarthy leadership challenge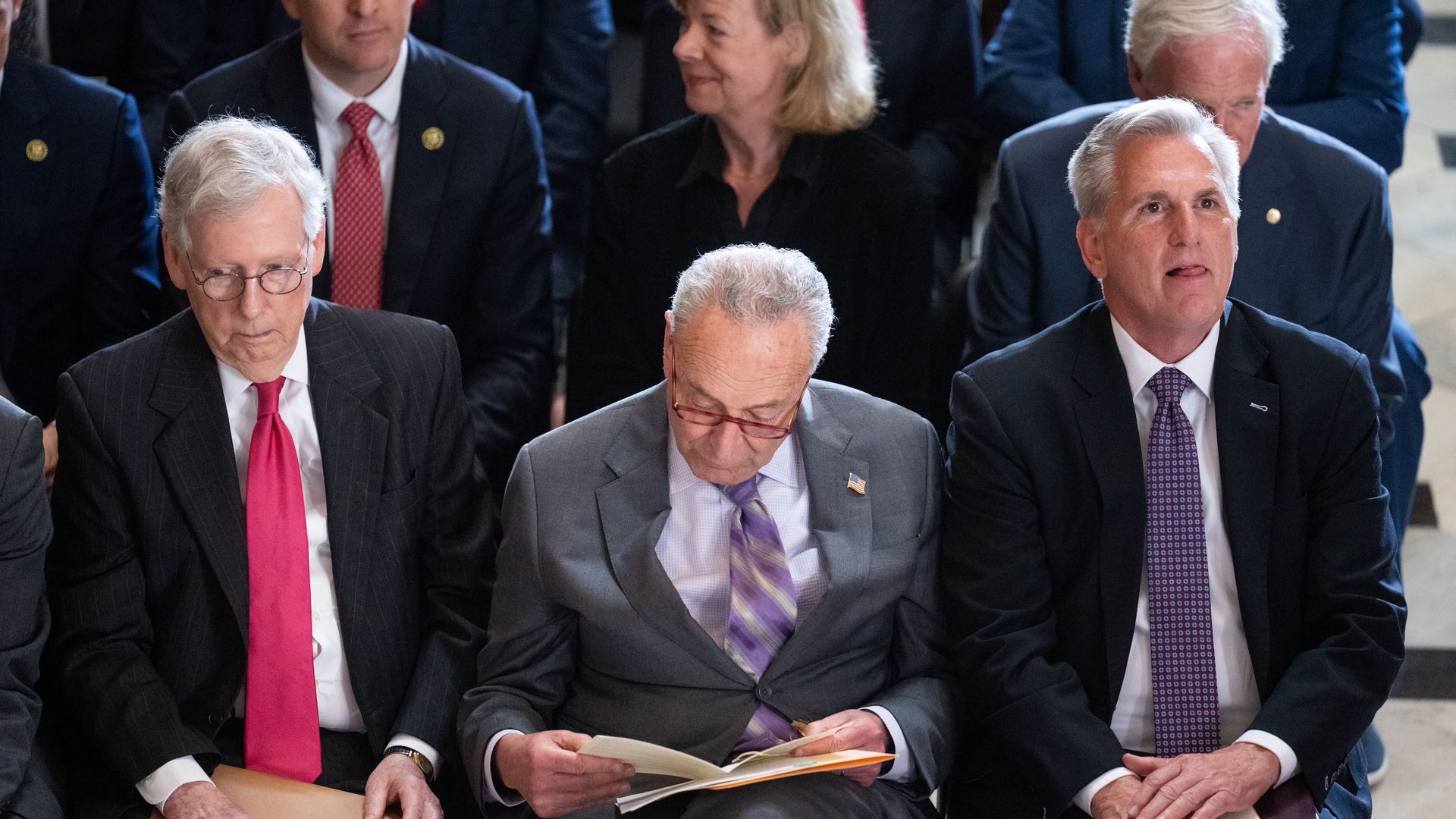 House GOP lawmakers are signaling potential moves against Speaker Kevin McCarthy during leadership's frantic September push.
Why it matters: McCarthy is going to have to dodge multiple landmines to retain his gavel, with Congress having until Sept. 30 to pass legislation to avoid a government shutdown.
Pressure is rising against McCarthy himself, with renewed suggestions that a motion may be called for a floor vote on his speakership.
Rep. Tim Burchett (R-Tenn.) told Axios: "I think it's [motion to vacate] in the back of everybody's mind … If somebody brings that it wouldn't take much, you know, it just takes a couple of votes."
A single member can call a motion to vacate, and only a few Republicans would have to vote with Democrats to remove McCarthy with a majority vote.
Some House Republicans are using these threats as leverage to launch an impeachment inquiry against President Biden.
"When we get back to Washington in the coming weeks, we have got to seize the initiative. That means forcing votes on impeachment. And if Kevin McCarthy stands in our way, you may not have the job long," Rep. Matt Gaetz (R-Fl.) said during an appearance on The Todd Starnes Show.
Between the lines: Multiple GOP sources told Axios that not all conservatives are on the same page on a spending plan, with some supportive of a stopgap funding bill — called a continuing resolution (CR) — if certain concessions are met, including funding for border security.
"I'm not seeing a coherent strategy," a senior GOP lawmaker told Axios.
"I've been picking up chatter that they want to do a motion to vacate if we do a CR, but a lot of people want a CR to get more time and to attach HR 2."
HR2 is the sweeping border security legislation House Republicans passed earlier this year.
The big picture: Senate Minority Leader Mitch McConnell (R-Ky.) has cautioned that the cuts proposed by House conservatives are unlikely to make it through the upper chamber.
"The Speaker and the president reached an agreement which I supported in connection with raising the debt ceiling to set spending levels for next year," he said last week.
"The House then turned around and passed spending levels that were below that level. Without stating an opinion about that, that's not going to be replicated in the Senate."
Health issues faced by lawmakers and their relatives have also begun to spark concerns among members that personal crises could hinder their ability to pass legislation.
"We've got a four seat majority and we've got some other people that have family health problems, some that have their own health problems," one member noted on the difficulties of getting bills passed.
Go deeper