Republicans fear revolt over House budget stopgap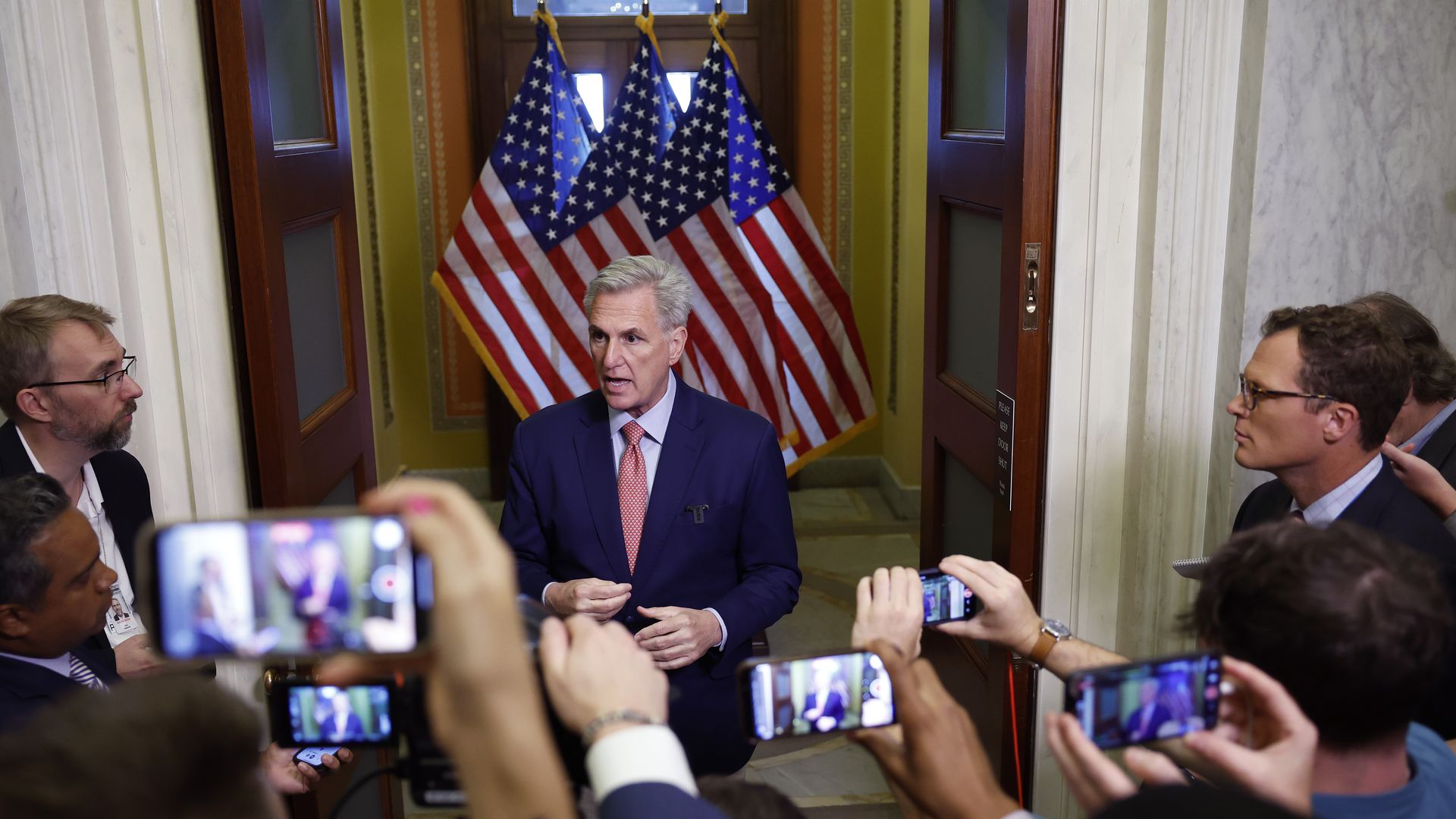 Top House Republicans are worried they'll need Democratic help just to pass a stopgap spending bill by Sept. 30 to avoid a government shutdown, Axios has learned.
Why it matters: One GOP lawmaker told Axios that passing the measure would be "a cluster," despite House Speaker Kevin McCarthy's (R-Calif.) assertion — backed by Senate Majority Leader Chuck Schumer (D-N.Y.) — that it's their best option.
A continuing resolution would extend the existing budget, passed by the Democratic-controlled House in 2022, with discretionary spending levels at roughly $1.7 trillion.
"I'm not sure we have the votes. Would likely needs Ds," the lawmaker said, projecting that some members will go "nuts because it's going to be [former House Speaker Nancy] Pelosi's budget."
State of play: The debt ceiling deal struck by President Biden and McCarthy in May set discretionary spending caps of $1.59 trillion. Conservatives want spending levels to be much lower.
Zoom in: Conservatives in the House have expressed strong reservations over passing a continuing resolution that would fund the government through early December, citing a multitude of reasons.
"I WILL NOT vote for any continuing resolution that doesn't smash Biden's DOJ into a million pieces. The DOJ has very rapidly become the enemy of the American people, and if nothing is done soon, our rights will be GONE. We MUST defund it!!" Rep. Ronny Jackson (R-Texas) tweeted.
A second lawmaker noted members of the House Freedom Caucus could tank the procedural vote that would allow such a reolution to come up for a floor vote.
Zoom out: Multiple sources said it's nearly impossible that both chambers pass all of their appropriations bills ahead of their Sept. 30 deadline.
They cited the short timeline, as well as struggles ahead of August recess in garnering the votes needed to pass the Agriculture appropriations bill due to language on abortion access.
One senior GOP source noted there still isn't agreement among top House Republicans on which appropriations bill to bring up first.
While the House faces potential issues with a continuing resolution, one Senate GOP leadership aide said they expect a smoother path in the upper chamber.
The big picture: Passing bills to fund the government is likely to be one of McCarthy's most daunting tasks yet, potentially putting his gavel in jeopardy if conservatives' demands for spending cuts aren't met.
And selling a continuing resolution to conservatives will not be an easy lift for leaders as they brace for a chaotic September.
Go deeper