Scoop: Abortion threatens House spending fights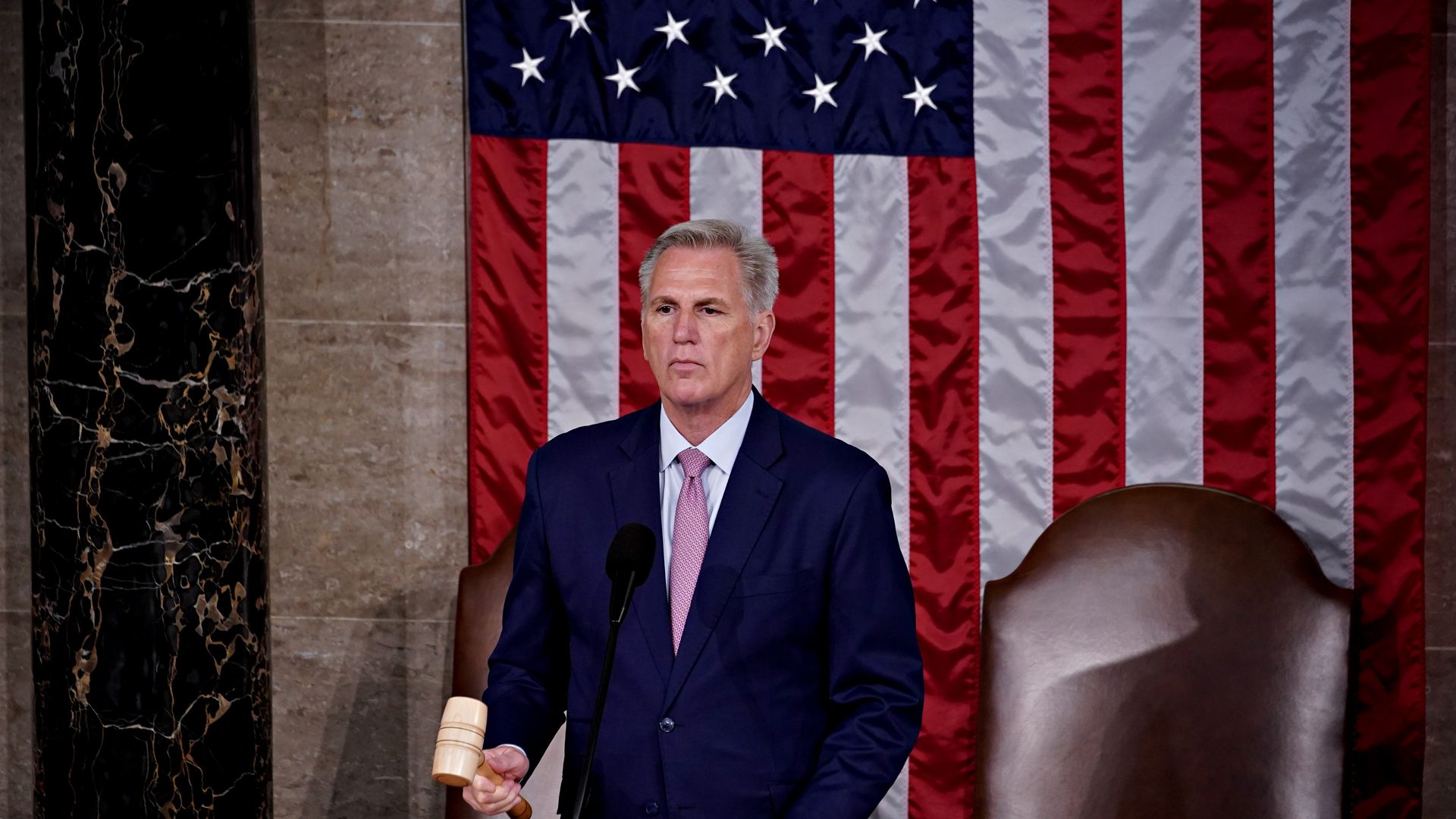 Anti-abortion measures are complicating House Speaker Kevin McCarthy's (R-Calif.) efforts to pass spending bills before a government shutdown, Axios has learned.
Why it matters: McCarthy's struggles to unify his fractious conference in spending fights, even before tough negotiations with the Senate, means funding the government by the Sept. 30 deadline will be a tall order.
Driving the news: Rep. Marc Molinaro (R-N.Y.) told Axios he opposes a bill funding the Department of Agriculture over a provision reversing FDA guidance that allows the abortion pill mifepristone to be sent by mail and dispensed at retail pharmacies.
"There are several issues I have with the Agriculture Appropriations bill. If it's brought to the House Floor in its current form, I cannot support it and will vote no," he said in a statement.
What we're hearing: Rep. Anthony D'Esposito (R-N.Y.) suggested the concern is shared by freshman Republicans from New York, most of whom represent districts President Biden won in 2020.
"The New Yorkers have been in conversation about it," he told Axios. "The conversations are continuing, we're going to express our displeasure to leadership and go from there."
Molinaro and D'Esposito both spoke out against a judge's ruling in April banning mifepristone, as did Rep. Lori Chavez-DeRemer (R-Ore.), another Biden-district freshman, and Rep. Nancy Mace (R-S.C.), who has warned of the electoral consequences of her party's abortion moves.
The big picture: Spending bills that fund the Departments of Defense, State, Health & Human Services, Veterans Affairs and Homeland Security also have provisions that would ban the use of federal funds for abortion.
The HHS bill includes a provision that completely eliminates funds to clinics such as Planned Parenthood that provide family planning services.
State of play: The Ag-FDA bill was passed out of the Appropriations Committee in June along party lines.
Like other House GOP appropriations bills, it sets spending below the caps laid out in the bipartisan debt ceiling deal.
Because of their narrow majority, House Republicans can only afford a handful of defections on party-line floor votes.
Yes, but: The National Defense Authorization Act passed last week despite concerns of a moderate revolt over a measure blocking a Pentagon policy reimbursing service-members for abortion-related expenses.
Moderate Reps. John Duarte (R-Calif.) and Brian Fitzpatrick (R-Pa.) voted against including the abortion amendment but ultimately ended up voting for the final bill.
But restricting mifepristone goes much further than restricting federal funds for abortion, putting a larger group of Republican moderates from blue and purple districts in a bind.
What we're watching: House Appropriations Ranking Member Rosa DeLauro (D-Conn.) told Axios that she may submit an amendment to the Ag-FDA bill that would strip the mifepristone rider, setting up a potential floor fight.
Many of the abortion provisions, if they manage to pass the House, would likely be stripped out in negotiations with the Democratic-controlled Senate.
But the stark divide between the two chambers on both spending levels and controversial policy riders will make make funding the government on time far more difficult.
Go deeper