House GOP passes key defense bill with abortion restrictions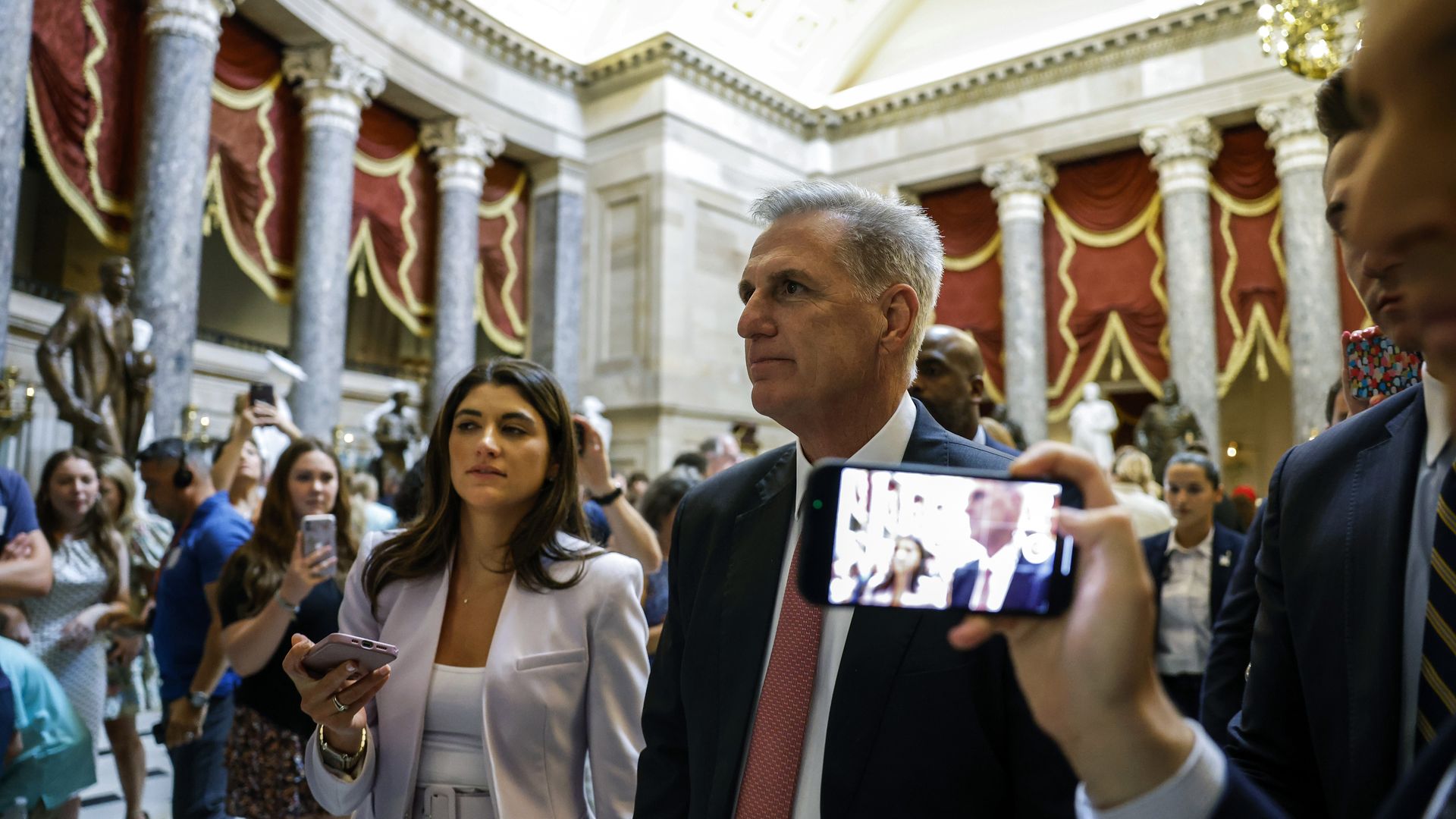 The House on Friday voted largely along party lines to pass key legislation setting military spending levels and policy.
Why it matters: The bill was amended to include controversial conservative language on abortion, transgender care, diversity programs and book bans.
Driving the news: The House voted 219-210 to pass the National Defense Authorization Act.
Reps. Andy Biggs (R-Ariz.), Ken Buck (R-Colo.), Eli Crane (R-Ariz.), all Freedom Caucus members, voted against the bill along with conservative Rep. Thomas Massie (R-Ky.).
Reps. Don Davis (D-N.C.), Jared Golden (D-Maine), Marie Gluesenkamp Pérez (D-Wash.) and Gabe Vasquez (D-N.M.), all moderates from swing districts, voted for it.
The bill typically passes by wide bipartisan margins.
The backdrop: The bill passed out of the Armed Services Committee by a lopsided 58-1 vote.
But Democrats, incensed by Republicans passing an amendment to block a Biden administration policy allowing the Pentagon to cover abortion-related expenses, largely came out against the final bill.
Some Freedom Caucus members were upset their amendments restricting aid to Ukraine failed, but most came around to supporting the bill.
What's next: Senate Majority Leader Chuck Schumer (D-N.Y.) said Thursday that the upper chamber will begin voting on their version of the NDAA next Tuesday, with votes on a "reasonable number" of amendments.
The Senate's product is likely to be markedly more moderate than the House's version.
The bill will then go to a conference committee, where negotiators from the two chambers will hammer out a compromise measure.
The big picture: This could end up putting House Speaker Kevin McCarthy (R-Calif.) in a similarly difficult situation as the debt limit.
Editor's note: This article has been corrected to reflect that Rep. Thomas Massie is not a Freedom Caucus member.
Go deeper