House tees up "poison" votes on must-pass defense spending bill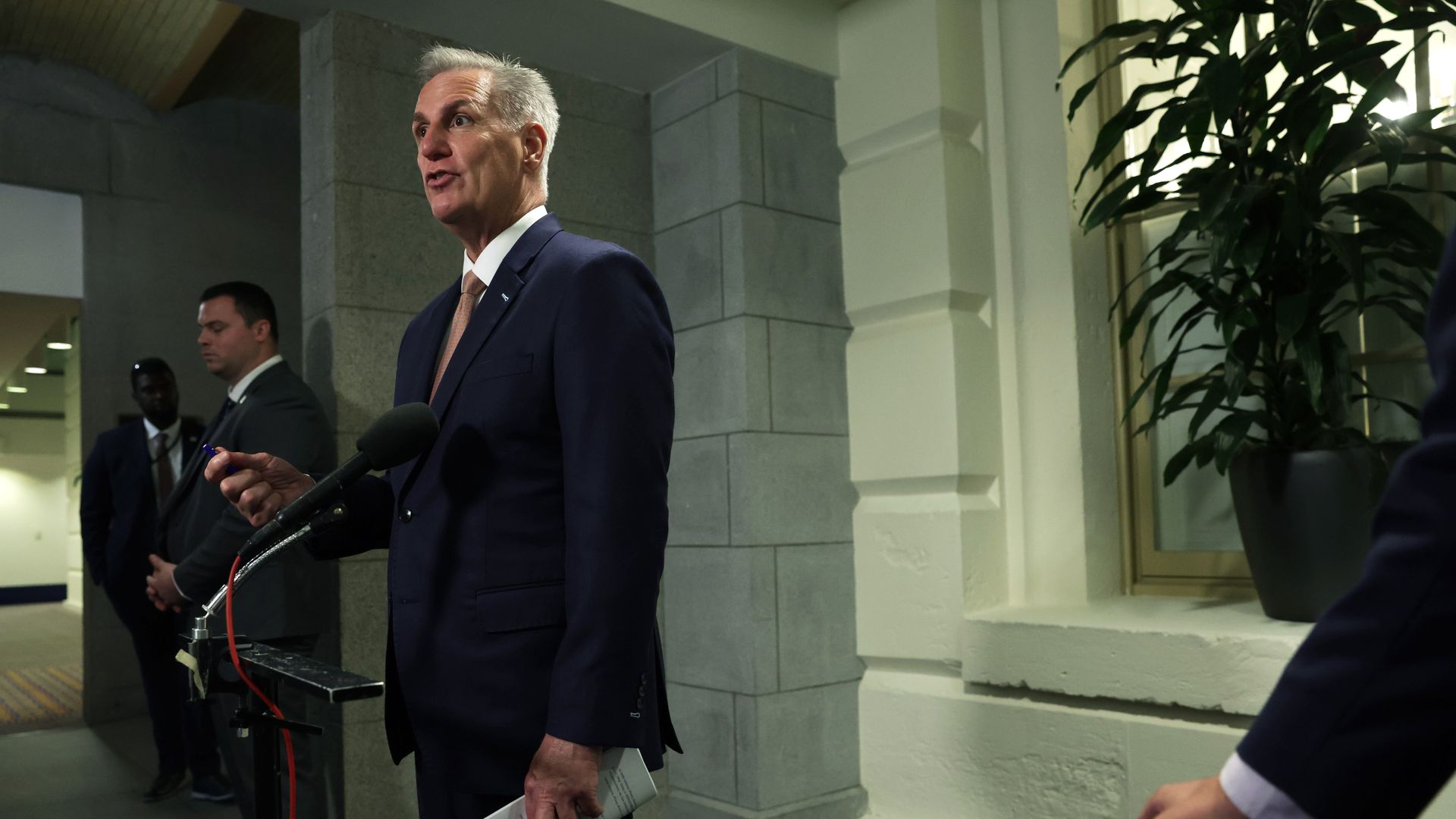 House Republicans are preparing for a precarious tightrope walk on a must-pass defense bill as they try to balance hardliners demands for controversial amendment votes with a narrow margin for error.
Why it matters: It doesn't just put passage of the defense legislation in jeopardy – it also highlights the difficult dynamic the House will face in just a few months in trying to avert a government shutdown.
Driving the news: The House Rules Committee voted early Thursday morning to allow floor votes on a raft of right-wing amendments to the National Defense Authorization Act on hot button social issues.
They include:
Blocking a Pentagon policy reimbursing service members who travel out of state to seek an abortion.
Prohibiting the Pentagon or military health care programs from providing gender affirming care to transgender service members.
Removing $300 million in aid to Ukraine from the bill and prohibiting military assistance to the country.
Eliminating any military diversity, equity and inclusion programs or training.
Blocking the Pentagon from enforcing President Biden's climate change executive orders.
Prohibiting mask mandates at military bases or punishment for refusing the COVID vaccine.
The state of play: Many of these amendments could zero out potential Democratic support for the bill.
"It's very simple," one senior House Democrat told Axios. "Such pills will poison America's national defense capabilities by stalling the NDAA."
That would leave House Speaker Kevin McCarthy (R-Calif.), who attempted to fend off these votes, to try to pass the bill along party lines with just a 10-seat majority.
Between the lines: Some conservatives, including McCarthy-aligned Rep. Marjorie Taylor Greene (R-Ga.), threatened to block the bill on a procedural vote if they didn't get their desired amendment votes.
That would have been a repeat of the embarrassing episode for McCarthy when hardliners ground the House floor to a halt in protest of his debt ceiling deal with Democrats.
What we're watching: All eyes are on moderate and swing-district Republicans, some of whom have expressed hesitance about bogging the bill down with culture-focused amendments.
Rep. John Duarte (R-Calif.) told Axios "these social amendments don't belong in the NDAA," adding that "there's a concern" about final passage of the bill if any make it through.
"I do have concerns about some of the amendments that may be coming through," Rep. Nancy Mace (R-S.C.) said on Wednesday.
"The amendments which would cause the NDAA to fail put our military's lethality at risk and should be debated outside of the NDAA," said Rep. Nick LaLota (R-N.Y.).
Some also have more specific objections. "I don't support the radical DEI agenda, but to say we should defund ALL diversity training isn't smart," said Rep. Don Bacon (R-Neb.). "We can't throw the baby out with the dirty bath water."
Reality check: Even if the bill passes with the hardliners' amendments, it would still need to make its way past Senate Democrats and President Biden.
Bacon said some amendments may pass "initially," but, just as when Democrats controlled the House and Republicans the Senate, "by the time the process works we'll have bipartisan bill."
Go deeper