McCarthy moves to punt culture wars past defense fight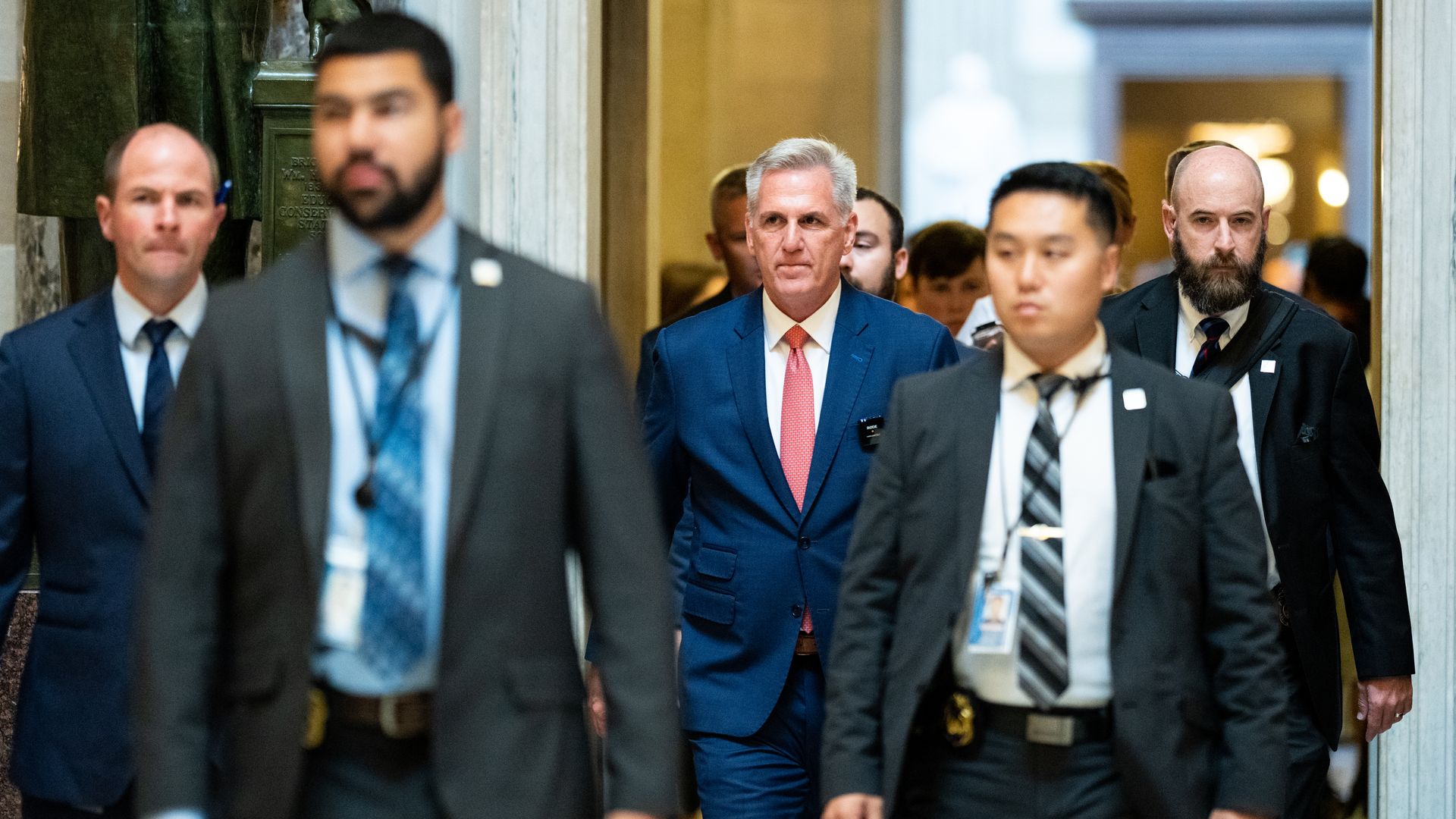 House Speaker Kevin McCarthy (R-Calif.) is attempting to keep votes on hot-button cultural issues from complicating Congress' efforts to pass a key bill setting military spending levels and policy.
Why it matters: The right-wing House Freedom Caucus members who are pushing for those votes have proven willing to obstruct McCarthy's agenda.
Driving the news: McCarthy, in a closed-door GOP conference meeting on Wednesday, made the case against a so-called "Christmas tree" bill bogged down with amendments only tangentially related to defense, according to several members in the room.
He got backup from an unlikely ally – Rep. Matt Gaetz (R-Fla.), a habitual McCarthy antagonist and Armed Services Committee member who spoke "strongly" in favor of the bill, according to two members.
"He said it's the most conservative [National Defense Authorization Act] since he's been in Congress," said one member in the room.
Other Freedom Caucus members left the meeting voicing saying they expect the bill to pass. "I think we're going to get there," said Rep. Byron Donalds (R-Fla.).
Yes, but: Donalds said there are still other members of the caucus who don't sit on Armed Services who want to see "additional work" done on the bill.
Still looming is the threat of hardliners tanking a procedural vote to advance the bill, as they did with different legislation in June.
"I think everything's on the table and the Freedom Caucus is talking to leadership," said Rep. Ben Cline (R-Va.).
The backdrop: The Armed Services Committee passed the bill 58-1 last month despite adding in GOP language targeting so-called "woke" military policies.
The bill, as written, would ban drag shows on military bases, protect service members who refuse to get the COVID vaccine, create an inspector general for Ukraine aid, eliminate the Pentagon's chief diversity officer and block the teaching of critical race theory at service academies.
Conservatives want more, including amendments blocking the Pentagon from reimbursing service members who travel for abortions and prohibiting the military's facilitation of gender affirming care.
Between the lines: Some Republicans say they are worried that including too many poison pill amendments will weaken House Republicans' hand in negotiations with Senate Democrats on the NDAA.
"I'm highly skeptical of weaving non-defense issues into a defense bill," Biden-district Rep. John Duarte (R-Calif.) told Axios. "Our conference needs to ... focus on military lethality and not get lost on a bunch of distractions that are going to cause us to negotiate away that lethality."
"Do you really want to be the guys who break a 62-year streak [of passing NDAAs]?" said House Rules Committee Chair Tom Cole (R-Okla.) – though he said the abortion amendment is likely to get a vote.
What's next: Republican leadership is aiming to get the bill done by the end of the week so they can move onto passing appropriations bills – the process to which many of the most potent NDAA amendments are being punted.
That could be the true test for McCarthy, with hardliners threatening to vote down any bill that doesn't sufficiently cut government spending.
Go deeper