House GOP leaders float new plan to avert government shutdown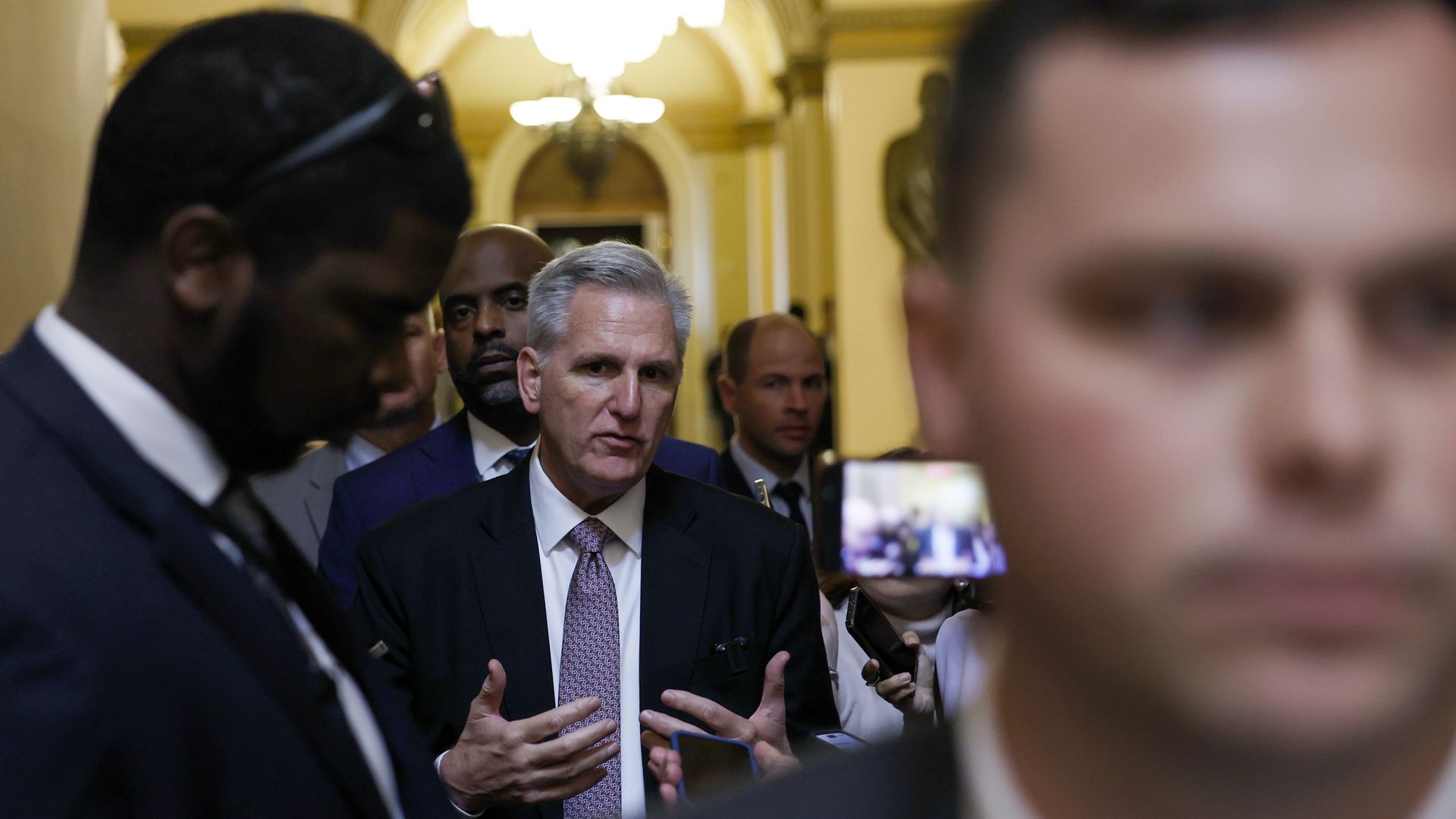 House Republican leaders floated a new proposal to avert a government shutdown Wednesday evening that appeared to win over some hardline GOP detractors — the first sign of progress in weeks.
Why it matters: House Speaker Kevin McCarthy (R-Calif.) suffered a series of setbacks this week in his quest to keep the government funded past Sept. 30 while pacifying his right-wing critics, some of whom have openly speculated about forcing a vote to oust him.
McCarthy's latest plan would involve:
A 30-day stopgap funding bill (or continuing resolution) setting the current government spending level at $1.471 trillion a year.
Attaching Republicans' border security legislation to the continuing resolution.
An agreement to set full-year spending levels at $1.526 trillion for the 12 appropriations bills Congress must pass.
A bipartisan commission to address U.S. national debt.
Driving the news: Several Republicans who helped tank a Pentagon funding bill on Tuesday agreed to reverse course, teeing up a vote for Thursday while GOP leadership continues to work on the short-term spending plan.
Leadership plans to bring the new continuing resolution proposal to the floor on Saturday, according to two sources.
The bill is similar to the deal negotiated by leaders of the moderate Main Street Caucus and the right-wing Freedom Caucus, but proposes slightly lower spending levels in an effort to appease some conservative rebels.
The proposal comes after moderates began to float working with Democrats to keep the government funded — the worst possible scenario for many Republicans — and as conservatives dug in their heels on calls to establish topline spending levels before proceeding.
Behind the scenes: Multiple sources inside the 2.5-hour meeting told Axios there were moments of tension, but felt the discussion was overall productive in finding a solution that can pass the House.
Rep. Matt Gaetz (R-Fla.), arguably McCarthy's most vocal critic, claimed that there were enough members to tank any measure funding the government a short-term basis.
Rep. Bob Good (R-Va.), a fellow hardliner, clapped back that the number of defections was lower than Gaetz was stating, per two sources in the room.
Moderates, including Rep. Mike Lawler (R-N.Y.) voiced frustrations with conservatives' tactics, including tanking a procedural vote on Pentagon funding traditionally expected to receive party-line support.
The intrigue: Leaders were able to flip two of the five lawmakers — Reps. Ken Buck (Colo.) and Ralph Norman (S.C.) — who sank the Pentagon bill, leading to an announcement that the vote would be rescheduled for Thursday.
While Buck and Norman agreed to vote to advance the bill, it remains unclear whether it has enough votes for final passage, one lawmaker told Axios.
Republicans will be helped at least slightly by attendance, with at least one member who was absent during the vote on Tuesday – Rep. Dan Crenshaw (R-Texas) – now back in D.C.
What they're saying: Members appeared more optimistic about the odds of avoiding a shutdown, but bubbling frustrations with the process continue to plague the GOP conference.
"This isn't how you fund the government," Rep. Tim Burchett (Tenn.), who opposes leadership's plan for short-term funding, told reporters.
Some moderates also aren't yet sold on the lower spending levels, with Rep. Marc Molinaro (R-N.Y.) telling reporters that working with Democrats is "always an option."
The big picture: Most members are in agreement that there will be a shutdown on Oct. 1.
It's still unclear whether the new plan has the votes to unite the House GOP conference, with some conservatives including Gaetz, Rep. Cory Mills (R-Fla.) and Rep. Paul Gosar (Ariz.) vowing not to vote for any continuing resolution.
Even if McCarthy musters enough GOP support for his proposal, it would be dead on arrival in the Democratic-controlled Senate. Eventually, bipartisan negotiations to fund the government will need to take place.
Reality check: "Of course, we know that will go to the Senate, and then the Senate will have an opportunity to adjust it and and then send it back," said Rep. Steve Womack (R-Ark.). "It's really what we will do at the end that makes the difference."
Still, the senior Appropriations Committee member added, "if you don't have something across the floor of the House, you've got a really weak hand" in negotiations with the Senate. "In fact, you don't have a hand."
Go deeper