McCarthy and Gaetz spar in heated meeting ahead of government shutdown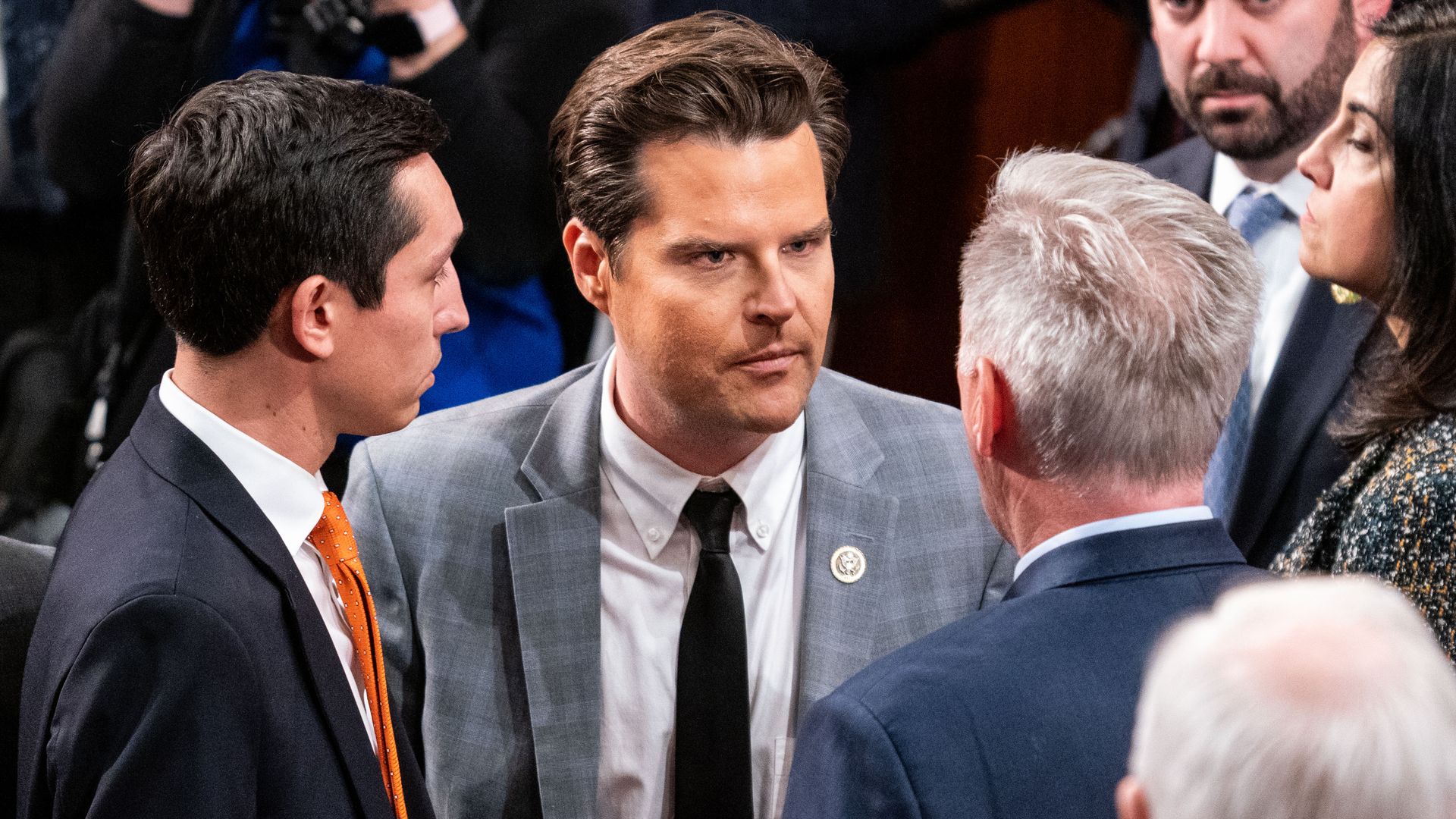 Speaker Kevin McCarthy (R-Calif.) and Rep. Matt Gaetz (R-Fla.) got in a heated exchange during a Thursday morning conference meeting, with the Florida Republican accusing the speaker of paying influencers to attack him on social media.
Why it matters: The confrontation comes while Gaetz is threatening to introduce a motion to vacate — a mechanism to oust a speaker — if McCarthy backs a bipartisan stopgap funding bill to avert a government shutdown.
Gaetz has been vocal in his criticisms of McCarthy's leadership in recent days, arguing that a bipartisan short-term spending bill would be a breach of the deal McCarthy made with conservatives to obtain the gavel in January.
During the Thursday meeting McCarthy made the case that they need to send a stopgap that includes border security to strengthen their hand in negotiations with the Senate.
Inside the room: Tensions between the two lawmakers and Gaetz critics were evident, according to multiple sources in the meeting.
During the open mic portion of the conference meeting, Gaetz asked McCarthy "if he was behind the effort to get 'MAGA influencers' to attack him," one lawmaker told Axios.
McCarthy shot back saying that "he wouldn't waste his time or money on him. Matt said he was "willing to give (Kevin) the benefit of the doubt," the source added.
McCarthy's outside legal council sent a cease and desist notification on Tuesday to an individual leading the push for influencers to come out against Gaetz, according to materials viewed by Axios. That individual had allegedly claimed they were acting on behalf of McCarthy.
The big picture: Congress remains at an impasse on finding a path forward to keep the government open that doesn't put McCarthy's speakership on shakier ground ahead of their Sept. 30 deadline.
McCarthy is pushing for a vote on a stopgap resolution with conservative priorities attached on Friday, which is unlikely to receive enough support to pass the lower chamber.
Moderates in the House are weighing procedural tactics to force a vote on a bipartisan measure.
The Senate has taken a more bipartisan approach, hoping to force the House's hand in passing a measure to avert a shutdown.
Go deeper