Republicans grasp at straws to stop government shutdown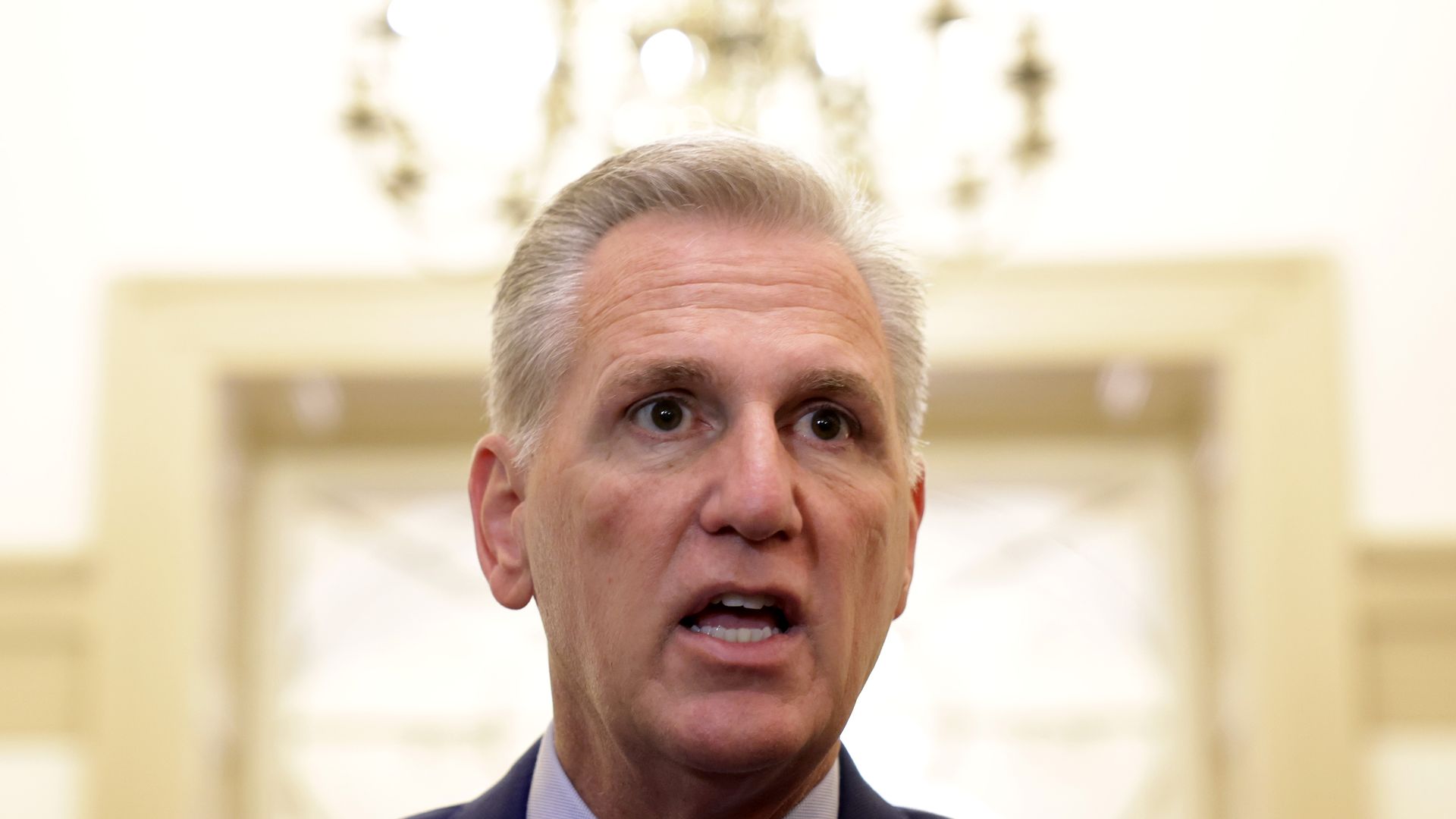 U.S. House members are expecting a chaotic week of late nights as they struggle to work through a conservative blockade of funding bills that has all but ensured the government will shut down this weekend.
Why it matters: It's unclear whether House Republicans can finish passing the funding bills on their own terms, while McCarthy is calling for a meeting with President Biden to discuss a path forward.
The two agreed to $1.59 trillion for discretionary spending in the debt ceiling deal, but House conservatives have demanded deeper cuts.
One option on the table includes Republicans teaming up with Democrats to use a parliamentary tool referred to as the previous question, which, if defeated, would allow Democrats to effectively force a vote on a bipartisan funding stopgap.
The bipartisan measure — led by Reps. Jared Golden (D-Maine), Don Bacon (R-Neb.), Brian Fitzpatrick (R-Pa.) and Ed Case (D-Hawaii) — would fund the government in addition to providing funding for Ukraine, disaster relief and border security.
"There's several parliamentary avenues," one lawmaker told Axios, "this is one of them."
Between the lines: The move could spark conservative backlash, as members including Rep. Matt Gaetz (R-Fla.) are threatening to force a vote to remove House Speaker Kevin McCarthy from his leadership position.
Hardline conservatives also continue to threaten McCarthy's job if he allows a vote on a continuing resolution to maintain current funding in some parts of the federal budget.
Zoom in: Legislation to fund the Defense Department faces pushback from GOP hardliners over its call for Ukraine funding.
There are still problems with proposals to fund Homeland Security and Agriculture, language related to the Cyber and Infrastructure Agency (CISA) in the Homeland Security funding bill causing problem, and issues with the Agriculture appropriations bill — which was previously pulled in July — two sources with knowledge confirmed to Axios.
Two of the appropriations bills — Labor-HHS-Education and Commerce-Justice-Science measures — have not yet passed committee, further complicating the House's ability to pass all 12 appropriations bills ahead of their Sept. 30 deadline.
Between the lines: Moderates asserted that Republicans can't allow for a shutdown, arguing it would hinder the party's ability to keep the majority.
Conservative hardliners have made the case that McCarthy promised them they would complete all 12 appropriations bills and not "kick the can down the road."
Multiple GOP sources said they felt McCarthy ally Rep. Garret Graves' (R-La.) was "not helpful" when he told CNN that he has a motion to vacate drafted in an attempt to stop conservative threats.
The big picture: With just days to go, the Senate is looking to pass its own stopgap measure in an effort to strong-arm the House into taking action, which also places McCarthy in a difficult position.
Go deeper: What to know about a potential government shutdown
Go deeper