McCarthy dares GOP detractors to try removing him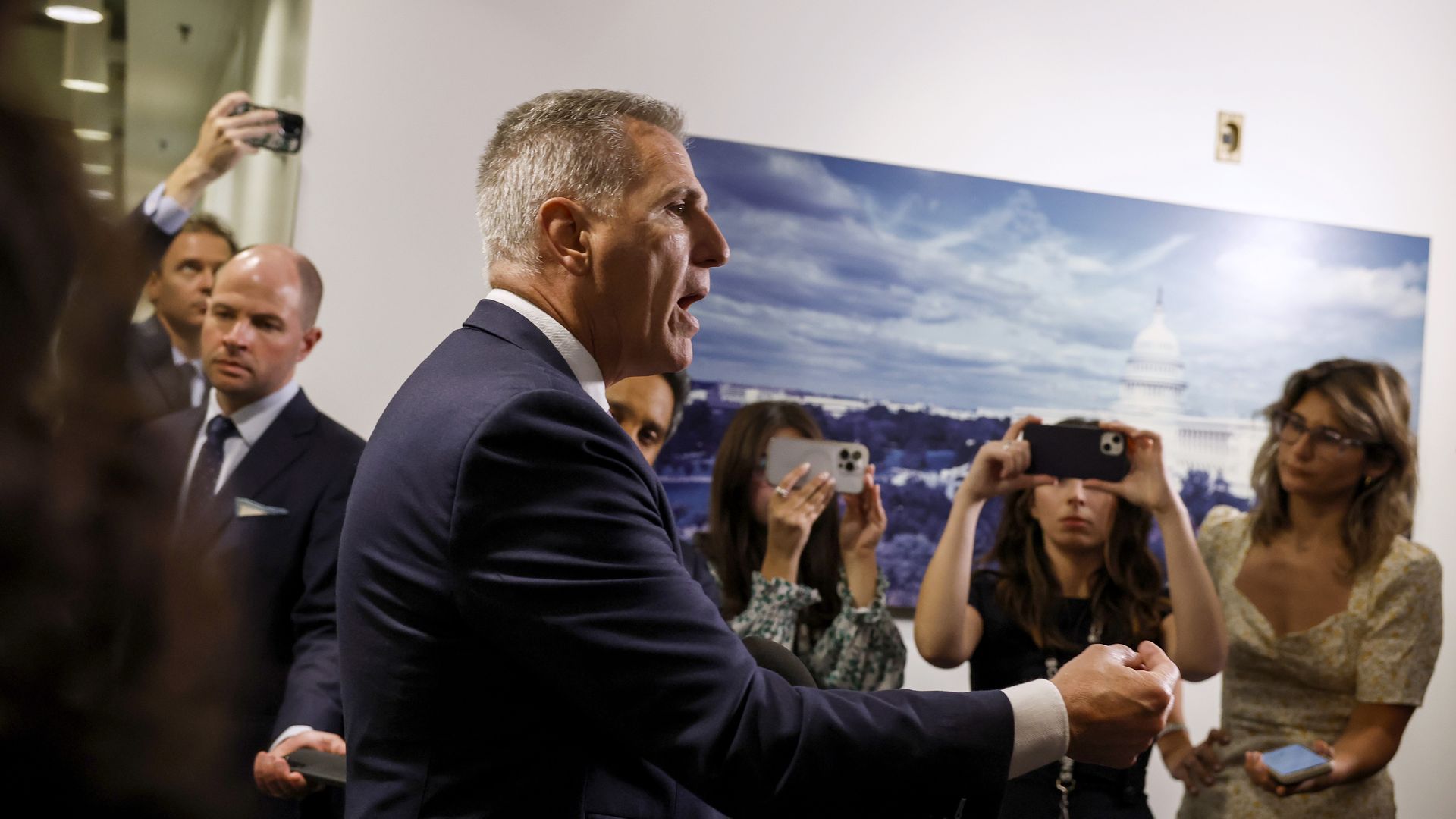 House Speaker Kevin McCarthy (R-Calif.), increasingly vexed with hardliners in his party blocking his efforts to pass government funding bills, is challenging his detractors to make good on their threats to try to remove him.
Why it matters: Tensions are rising in the House GOP conference after yet another appropriations bill was shelved this week as the deadline to avert a government shutdown looms at the end of the month.
What we're hearing: Speaking during a closed-door GOP conference meeting Thursday morning, McCarthy vented and issued a challenge to members who have threatened to remove him with a "motion to vacate," according to a GOP lawmaker and another source in the room.
"If you want to file the motion," a frustrated McCarthy said to a room of his Republican colleagues, "file the f***ing motion."
The meeting was nominally about the recently launched impeachment inquiry into President Biden, but McCarthy talked at length about the government spending dilemma.
McCarthy told reporters in a subsequent press conference that he "showed frustration" in the meeting because he is "frustrated with some people in the conference."
The other side: "Sounds like [Speaker McCarthy] is having a total normal one — not rattled at all," Rep. Matt Gaetz (R-Fla.), who has been the most vocal proponent of a potential push to oust McCarthy, said in a social media post.
State of play: The House has passed just one of 12 appropriations bills ahead of the Sept. 30 government funding deadline.
A vote to advance Department of Defense funding was shelved on Tuesday because of opposition from members of the right-wing Freedom Caucus, who are demanding greater clarity on overall spending levels.
McCarthy has acknowledged the need to pass a stopgap funding measure, even as Gaetz has warned that could trigger a motion to remove McCarthy as speaker.
This is a developing story and will be updated.
Go deeper