Biden's team rushes to assure allies on Ukraine aid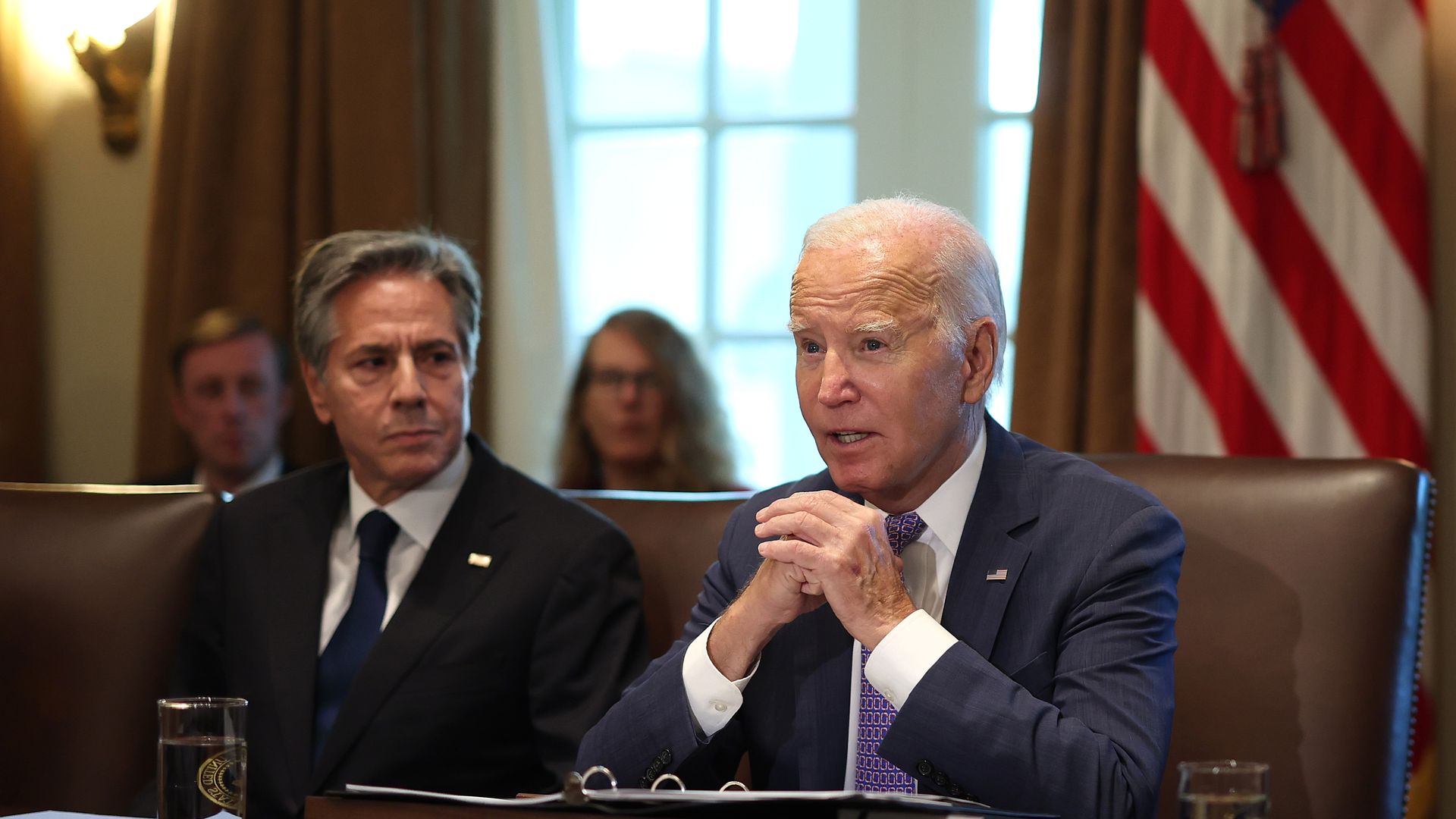 The Biden administration is scrambling to try to assure U.S. allies that war aid to Ukraine will continue despite the growing number of Republicans in Congress who oppose it, four sources tell Axios.
Why it matters: Ukraine's government, U.S. allies in Europe and NATO officials are increasingly worried that if the aid doesn't continue, Ukraine's ability to resist Russian forces could be weakened dramatically.
Zoom in: A U.S. official, two senior European diplomats and a source with direct knowledge of President Biden's outreach tell Axios that it's aimed at easing concerns that GOP opposition to the aid could give Vladimir Putin a tailwind in his push to take over Ukraine as winter approaches.
The outreach will continue Tuesday, as Biden and Secretary of State Antony Blinken plan to call several of their counterparts in Europe.
Biden is scheduled to hold a conference call with the leaders of the G7 countries and several other European allies.
One European diplomat said Biden's team is telling allies that it's working on an agreement with Congress to allow continued military aid to Ukraine.
Sunday and Monday, Biden administration officials at various levels spoke with their counterparts in Europe and in NATO member states, reiterating Biden's weekend comments that U.S. aid will continue.
U.S. Secretary of Defense Lloyd Austin spoke late Sunday with his Ukrainian counterpart, Rustem Umerov, and reiterated U.S. support, the Pentagon said.
Driving the news: The continuing resolution Congress passed Saturday funded the U.S. government until mid-November, but didn't include money for additional military assistance to Ukraine.
Ukraine aid wasn't included largely because of pressure from far-right House Republicans.
At one point during the talks to avoid a government shutdown, 93 of the 221 Republicans in the House voted to end all military aid to Ukraine. A second proposal — to cut assistance by $300 million — got 104 GOP votes.
In the end, 91 House Republicans opposed the resolution that passed the House and the Senate — after Speaker Kevin McCarthy (R-Calif.) took Ukraine aid out of the temporary funding package.
The votes signaled how Republicans' views have shifted negatively toward Ukraine aid in the past several months, driven partly by former President Trump's opposition to it.
The big picture: On Monday — less than 48 hours after Congress approved the temporary funding measure — the foreign ministers of all 27 member states of the European Union met with Ukraine President Volodymyr Zelensky in Kyiv.
Zelensky and several of the ministers expressed concern about the future of U.S. aid but said they remain hopeful the issue will be resolved favorably, a European diplomat who attended the meeting said.
Lithuanian foreign minister Gabrielius Landsbergis echoed those concerns, saying that some of the messaging from Washington raised questions.
"We are approaching a critical juncture with our support to Ukraine," Landsbergis said.
"If very clear political commitments are not made, a doubt can arise whether we truly mean it when we say that we are with Ukraine."
What they're saying: "Our message to the world is … we will continue to help Ukraine for as long as it takes," White House Press Secretary Karine Jean-Pierre said Monday.
"There is bipartisan support … and we are confident that it is going to continue."
Kremlin spokesman Dmitry Peskov said Monday the fact that Congress didn't approve more funding for Ukraine is evidence of U.S. "fatigue" on the issue.
"If Putin thinks he can outlast us, he is wrong," Jean-Pierre said in response.
State of play: State Department spokesman Mathew Miller said Monday the Biden administration has exhausted most of the approved funding for military aid to Ukraine.
He added that a military assistance package that's already funded will be rolled out within a few days, but stressed that over the long term, aid will stop unless Congress approves more funding.
The bottom line: Michael McFaul, a former U.S. ambassador to Russia, told Axios that stopping U.S. military assistance to Ukraine would not end the war.
"Ukrainians fought the invading Russians without our weapons at the beginning of the war. They will continue to fight without our help," McFaul said, adding that he was in Kyiv a few weeks ago and heard that sentiment often.
"What would change is that more Ukrainians would die — and the war would drag on for longer, as Putin would see our withdrawal of assistance as a signal that time is on his side."
Go deeper: Zelensky met with cold shoulder from D.C. Republicans
Go deeper