Matt Gaetz introduces motion to oust McCarthy as speaker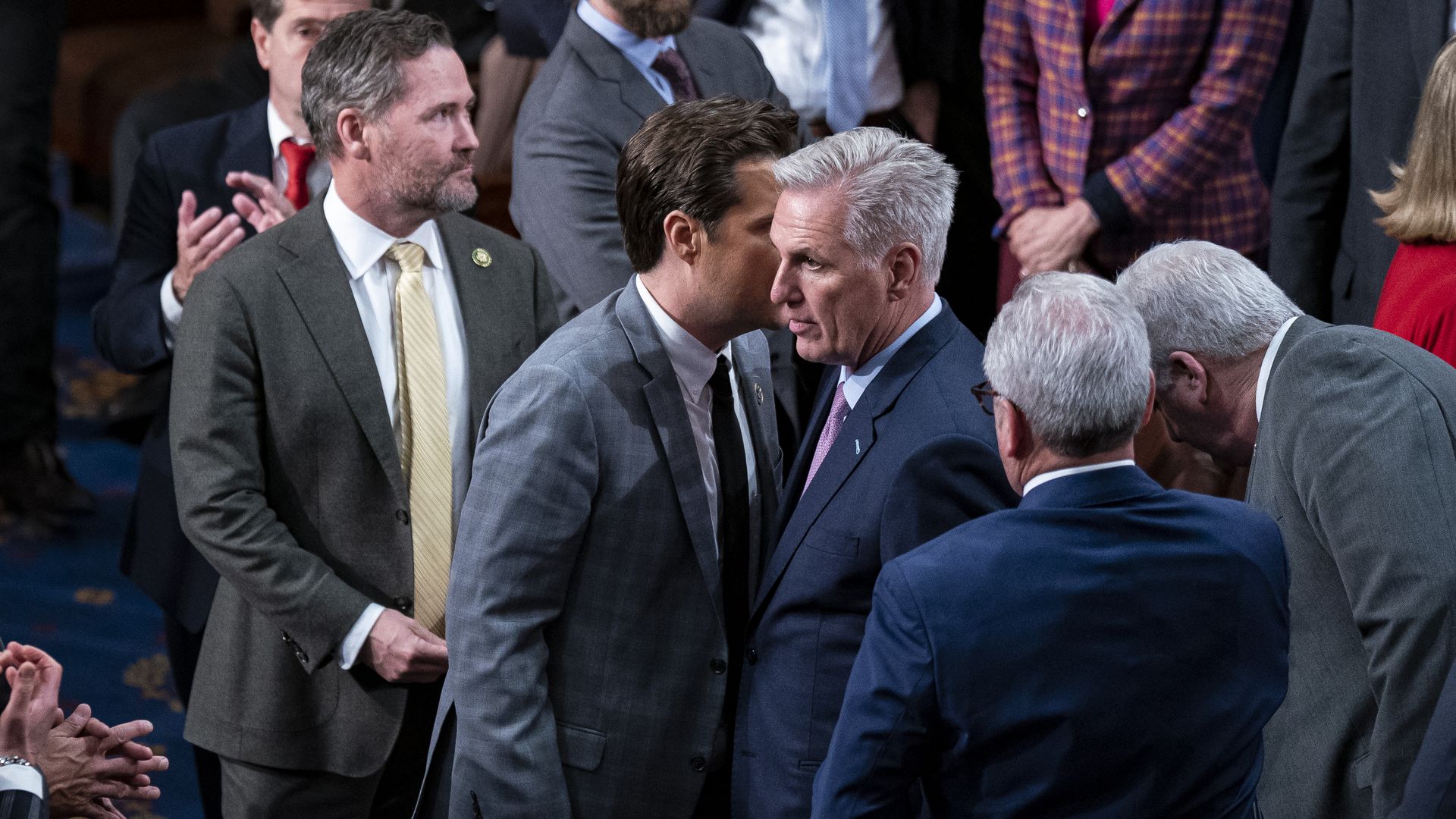 Rep. Matt Gaetz (R-Fla.) introduced a motion on Monday to remove Speaker Kevin McCarthy (R-Calif.) from his leadership position after the House passed a stopgap measure aimed at avoiding a government shutdown this weekend.
Why it matters: No speaker has ever been removed by a motion to vacate, which can be triggered by a single member but requires a majority of the House to succeed.
Gaetz had been threatening the motion for weeks, asserting a clean short-term spending bill would be a breach of the agreement McCarthy made with conservatives to obtain the gavel in January.
After its introduction and request for a vote, the privileged resolution is required to be brought to the floor within two days.
What they're saying: "I have enough Republicans where at this point next week one of two things will happen," Gaetz told reporters after introducing the resolution.
"Kevin McCarthy won't be the speaker of the House or he'll be the speaker of the House working at the pleasure of the Democrats, and I'm at peace with either result because the American people deserve to know who governs them."
McCarthy said in a short online statement after the motion was introduced: "Bring it on."
Between the liness: Gaetz's removal plan is meeting a mixed reception from some Democrats, Axios' Andrew Solender reported on Sunday.
McCarthy plans to aggressively push back on Gaetz's removal push, and said Sunday on CBS' "Face the Nation" that "I'll survive."
McCarthy told reporters on Monday he "didn't know" if Democrats would save him, adding that he hasn't spoken with House Minority Leader Hakeem Jeffries (D-N.Y.) about it.
The intrigue: Conservative hardliners are furious about McCarthy's decision to bring a bill that didn't include spending cuts or border funding, with members across the conference acknowledging he is in the more perilous position he's faced since his initial struggles to obtain his position.
Those included including Republican Study Committee Chair Kevin Hern (R-Okla.), House Budget Chair Jodey Arrington (R-Texas), House Rules Chair Tom Cole (R-Okla.), House Financial Services Chair Patrick McHenry (R-N.C.) and House Majority Whip Tom Emmer (R-Minn.).
Multiple members have voiced that a "caretaker speaker" could be put in place while House Majority Leader Steve Scalise (R-La.) undergoes cancer treatment.
McCarthy and Gaetz have long had a contentious relationship, with tensions escalating in recent days with the two lawmakers publicly sparring.
The big picture: It is unclear which, if any, member can attract 218 votes without Democratic support, and whether any of the options would take the position due to the narrow majority and tensions within the conference.
Editor's note: This article has been updated with comment from Rep. Matt Gaetz and Speaker Kevin McCarthy.
Go deeper: Gaetz taunts McCarthy over motion to vacate
Go deeper