Gaetz's plan to oust McCarthy meets chilly Dem reception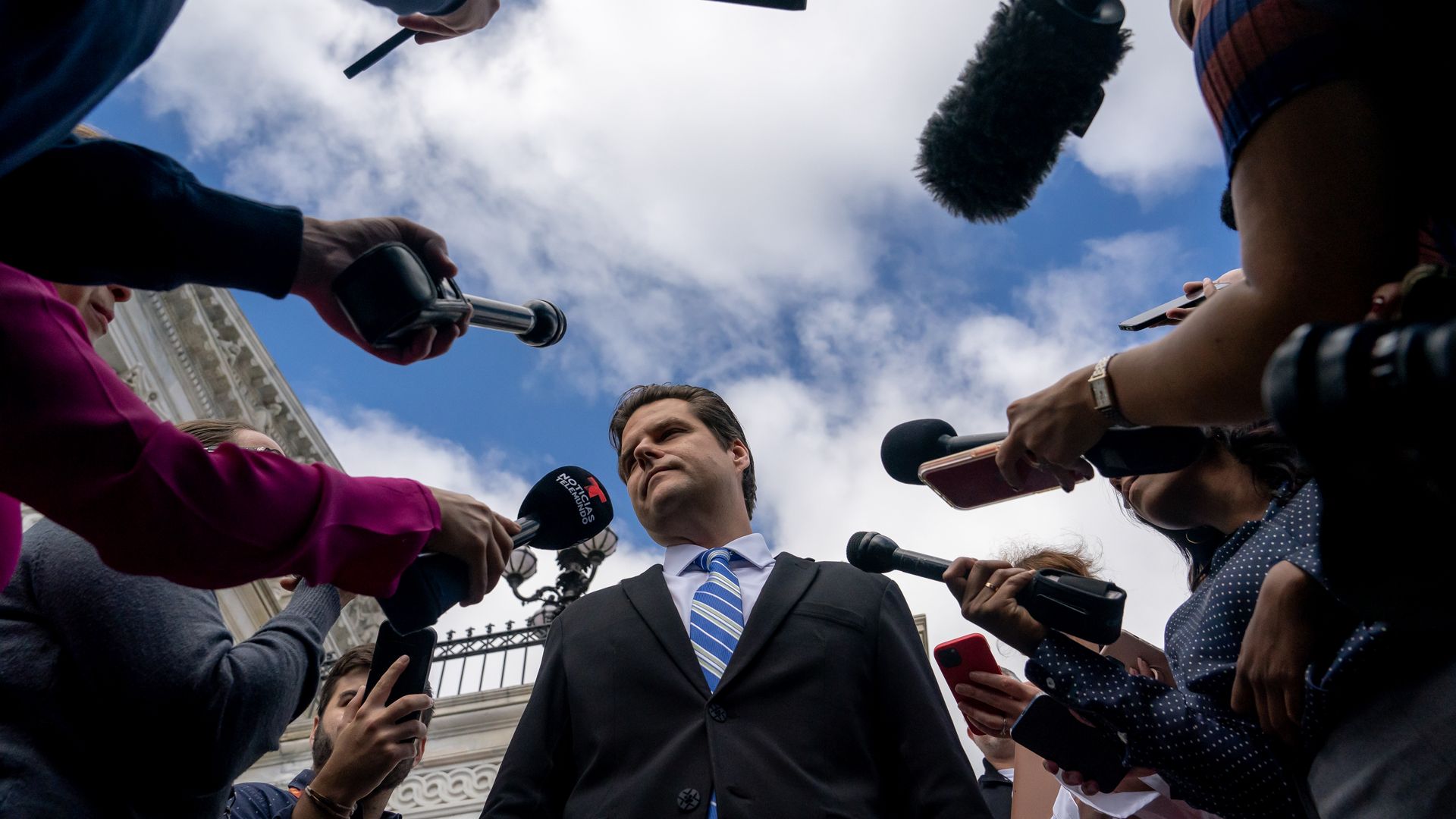 Rep. Matt Gaetz (R-Fla.) wants to remove House Speaker Kevin McCarthy (R-Calif.) for working across the aisle to stop a government shutdown — but some Democrats are not on board.
Why it matters: As Axios has previously reported, Gaetz will likely need the vast majority of Democrats to vote with him, barring an unprecedented GOP uprising against McCarthy.
Driving the news: Gaetz said during an appearance on CNN's "State of the Union" on Sunday that he planned to file a motion to vacate against McCarthy this week.
McCarthy responded in a CBS News interview that he will "survive," calling Gaetz's effort "personal."
What they're saying: "I'm not going to follow Matt Gaetz to Peter Luger's Steakhouse," said Rep. Steve Cohen (D-Tenn.), a member of the Progressive Caucus.
Cohen said McCarthy "shouldn't be put out" for putting a bipartisan stopgap funding bill on the floor: "He did the right thing … and I'll definitely vote not to vacate. I expect a good number of Democrats will as well."
"Every time we work together, he loses his mind," Rep. Greg Landsman (D-Ohio) said of Gaetz in a statement, adding: "This is all about TV appearances for him … just let us govern."
"I see almost no way that Matt gets most of the Dems," said one senior House Democrat, speaking on the condition of anonymity. "Many will vote present if they don't vote No on [House Minority Leader Hakeem Jeffries'] recommendation."
Yes, but: Jeffries has so far declined to weigh in on a motion to vacate, and some moderate Democrats who might be inclined to save McCarthy are keeping their powder dry for the moment.
"I'm withholding any comment or speculation until the hypothetical becomes the real," said Rep. Dean Phillips (D-Minn.). "So far, we've seen a lot of hat but no cattle."
"I'm waiting," said Rep. Jared Moskowitz (D-Fla.).
Many Democrats are expected to follow Jeffries' lead: "Most will do whatever Hakeem tells us to do," said the senior House Democrat.
What we're watching: House Minority Whip Katherine Clark (D-Mass.), in a letter to her caucus on Sunday, said if Gaetz introduces the motion "we will have a Caucus wide discussion on how to address the motion to best meet the needs of the American people."
"Please ensure that your schedule remains flexible so that you may be present for these important votes should they occur," she added.
At least one Democrat will likely vote with Gaetz to take down McCarthy: Rep. Alexandria Ocasio-Cortez (D-N.Y.), one of the most left-leaning members of Congress.
Ocasio-Cortez said on "State of the Union" that she would "absolutely" vote for the motion to vacate, calling McCarthy a "very weak speaker" who has "clearly lost control" of the GOP conference.
The other side: "The Speaker has the support of 200 [Republicans] and perhaps more," said Rep. Don Bacon (R-Neb.), a McCarthy ally. "Gaetz has no plan or alternative, other than chaos."
Only one Republican, right-wing Rep. Eli Crane (R-Ariz.), had voiced support for Gaetz's plan.
Rep. Ralph Norman (R-S.C.), one of 20 Republicans who rebelled against McCarthy during the speaker election in January, said he has "no comment until I speak directly with Matt and our Republican caucus."
Between the lines: Some top Democrats have floated potentially trying to extract concessions from McCarthy as part of a deal to save him, as Axios previously reported.
But McCarthy has previously rejected the notion that he would seek out Democrats' votes to save his speakership, and lawmakers in both parties think that a bipartisan win on a motion to vacate could doom him in the long run.
"Next week, if Kevin McCarthy is still the speaker of the House, he will be serving at the pleasure of the Democrats," Gaetz said on Sunday.
Go deeper: McCarthy sets up GOP showdown after his Saturday surprise
Go deeper