Congress delays government shutdown deadline until November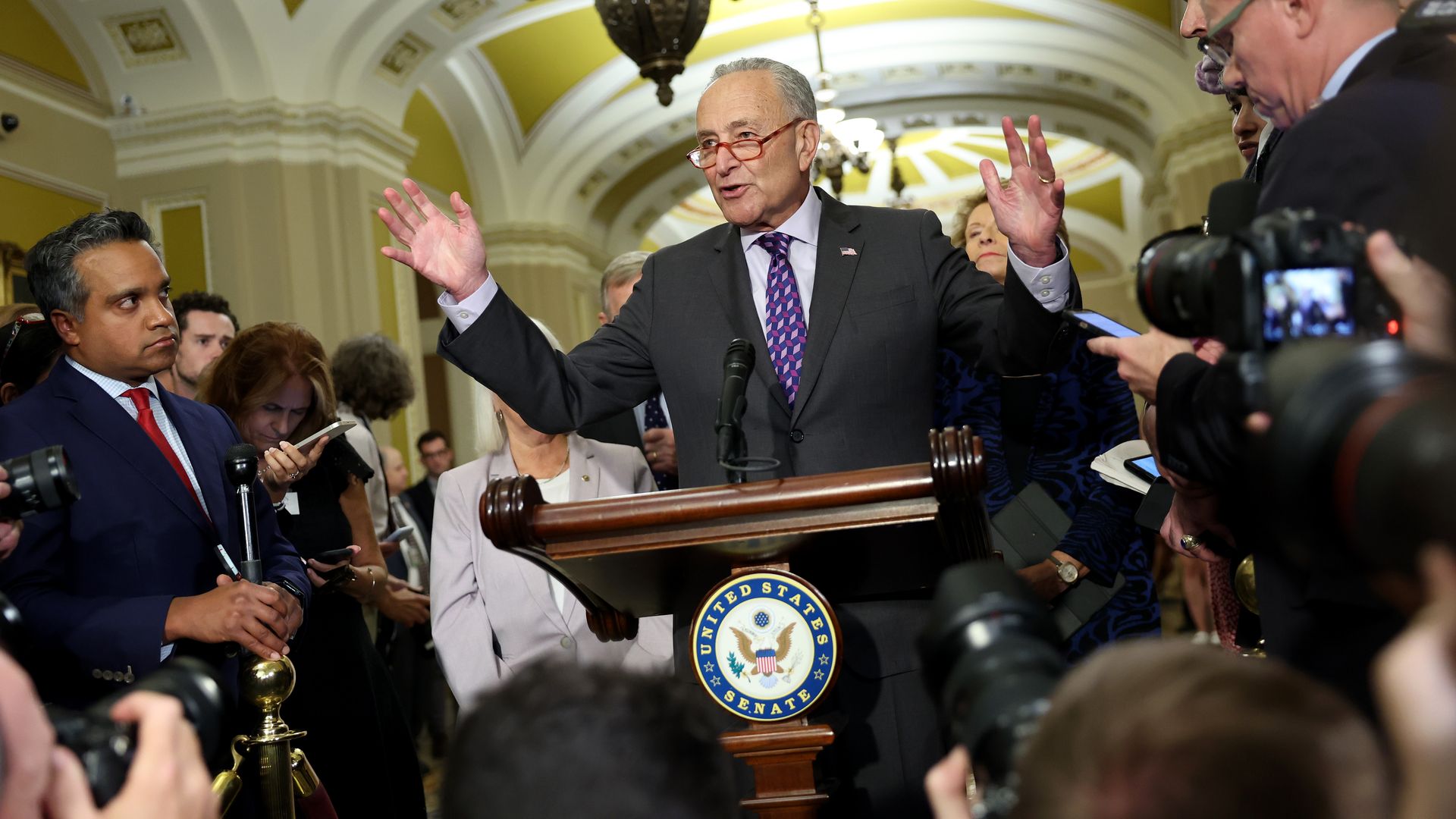 The Senate on Saturday passed a House bill to delay a government shutdown for the next month and a half.
Why it matters: Congress started the weekend on track to be unable to extend federal funding come midnight on Saturday, but lawmakers now have until mid-November to reach agreement on annual spending bills.
Driving the news: The Senate voted 88-9 to pass the bill, with nine Senate Republicans voting against it.
Sens. Marsha Blackburn (R-Tenn.), Mike Braun (R-Ind.), Ted Cruz (R-Texas), Bill Hagerty (R-Tenn.), Mike Lee (R-Utah), Roger Marshall (R-Kan.), Rand Paul (R-Ky.), Eric Schmitt (R-Mo.) and J.D Vance (R-Ohio) voted against the measure.
The bill passed the House 335-91 earlier on Saturday, with 90 Republicans and one Democrat voting against it.
The details: The measure keeps the government funded until Nov. 17 at 2023 levels, includes $16 billion for disaster relief.
It extends authorization for the Federal Aviation Administration and the National Flood Insurance Program.
The intrigue: Several Senate Democrats were furious that the measure didn't include aid to Ukraine, with Sen. Michael Bennet (D-Colo.) delaying a vote on the measure by several hours to secure a commitment on a vote on a supplemental Ukraine aid package.
Senate Republicans blocked a vote on a bipartisan Senate bill with $6 billion in Ukraine aid earlier in the day to clear the way for the House bill.
"Most Senate Republicans remain committed to helping our friends on the frontlines," said Senate Minority Leader Mitch McConnell (R-Ky.) in a floor speech just before the vote on the House bill.
"I'm confident the Senate will pass further urgent assistance to Ukraine later this year."
The big picture: While Saturday offered a brief glimpse of coordination between the House and Senate, the two chambers remain far apart on spending levels and policy in the 12 appropriations bills.
The Senate has marked up their bills at 2023 levels and wants to fulfill President Biden's request for $20 billion in aid to Ukraine.
The House is moving bills that set spending at 2022 levels – below the caps in the bipartisan debt ceiling deal – and packing them with potent right-wing policy on abortion, transgender care, affirmative action and more.
What we're watching: House Speaker Kevin McCarthy (R-Calif.) could face an immediate threat to his job when the House returns from session next week to continue work on their appropriations bills.
Nearly twice as many Democrats voted for the continuing resolution as Republicans, which GOP hardliners have suggested could be a trigger for an effort to remove him via the "motion to vacate."
What's next: The stopgap bill now heads to President Biden's desk. He is expected to sign it before government funding runs out at midnight.
Go deeper