Biden's Ukraine request sets stage for GOP showdown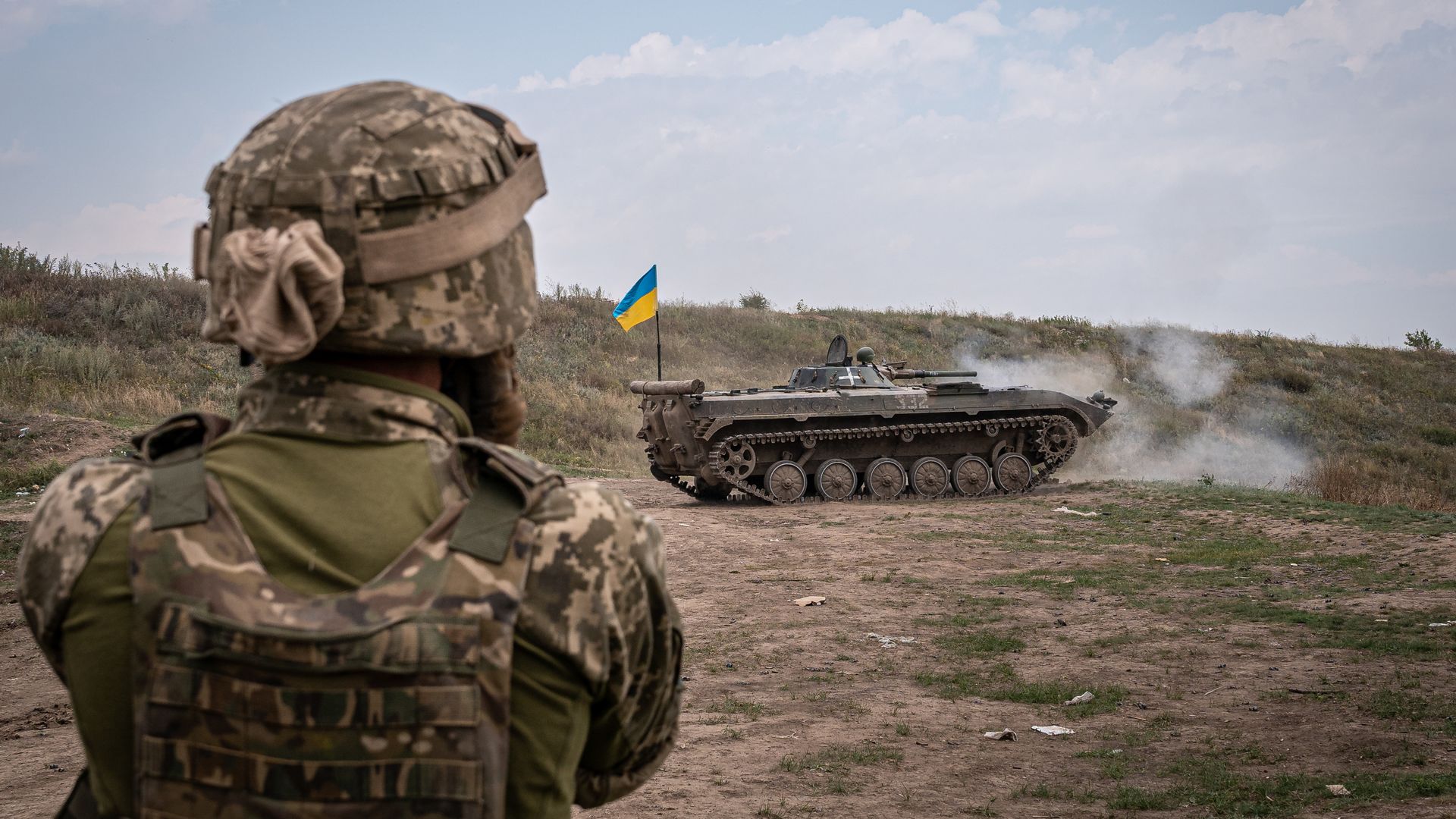 President Biden's request for $20 billion in additional funding for Ukraine has teed up the first major test of the anti-interventionist sentiment coursing through the GOP — with real-world implications for Kyiv's existential war.
Why it matters: House Speaker Kevin McCarthy (R-Calif.) told Punchbowl News in June that a supplemental aid package for Ukraine is "not going anywhere" in the House, signaling that extra funding would have to come through an appropriations process already plagued by GOP infighting.
What they're saying: "A Republican-led House will not rubber-stamp any blank-check funding requests; rather, the Administration's emergency funding requests must be reviewed and scrutinized on their merits consistent with the practice and principles of our majority," a McCarthy spokesperson said in a statement.
Driving the news: Biden's request today paired new Ukraine aid with $12 billion for emergency disaster relief and nearly $4 billion for border and migration-related programs.
Under the debt ceiling deal negotiated between Biden and McCarthy, the Pentagon's budget cannot exceed $886 billion — a cap that infuriated Republican hawks in the Senate and spurred calls for a supplemental bill.
A senior House Republican told Axios that a standalone Ukraine bill would be "an absolute disaster" for Republicans, 89 of whom voted to cut $300 million in aid just last month.
By the numbers: A recent CNN poll found 55% of Americans do not believe Congress should authorize more funding for Ukraine, including 71% of Republicans.
The record levels of skepticism represent a stark shift from the early days of Russia's invasion, when just 7% of Americans believed the U.S. was providing "too much" support to Ukraine, according to Pew.
Former President Trump has called on Republicans to "refuse to authorize a single additional shipment" of weapons to Ukraine until "the FBI, DOJ and IRS hand over" evidence in the House's Biden family investigation.
The big picture: Ukraine's high-stakes counteroffensive this summer has produced fewer territorial gains than anticipated, darkening the mood in a country that has been under assault for 18 months, the Washington Post reports.
The use of U.S.-made cluster munitions has fueled recent breakthroughs in Russian lines, however, and the first batch of Abrams tanks are expected to arrive in Ukraine by early fall.
A senior administration official told reporters that existing funding for Ukraine will last through September, and that the supplemental package will "get us through" the first quarter of 2024 if the war is still ongoing.
The bottom line: A House vote on Ukraine aid would likely pass with the support of Democrats and Republican hawks. Whether it gets to the floor will depend on McCarthy's appetite for yet another right-wing uprising.
Go deeper