Lawyer's notes show Trump was warned FBI could search Mar-a-Lago: report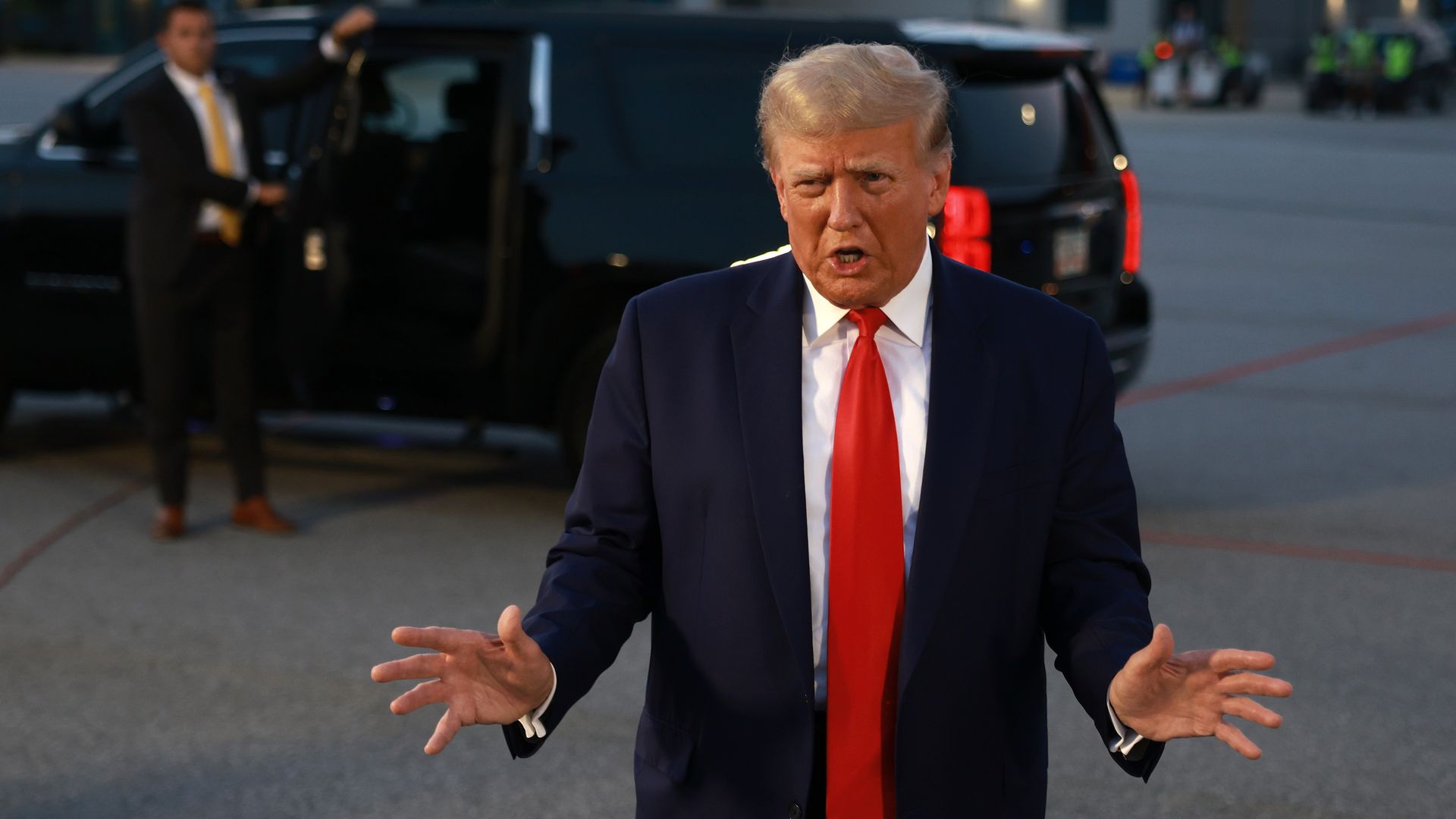 Former President Trump was warned by his attorney that the FBI could search Mar-a-Lago if Trump refused to comply with a subpoena for classified documents, according to contemporaneous notes reviewed by ABC News.
Why it matters: Trump expressed outrage after the FBI's execution of a search warrant at his Florida estate last August, calling it a "shocking BREAK-IN" while insisting he had been cooperating with investigators. The ensuing GOP backlash led to a fundraising surge for Trump.
Driving the news: Trump's lawyer Evan Corcoran met with the former president last May at Mar-a-Lago to discuss their response to a subpoena from the Justice Department, which believed Trump was still hanging on to classified documents even after he reluctantly returned 15 boxes.
"We've got a grand jury subpoena and the alternative is if you don't comply with the grand jury subpoena you could be held in contempt," Corcoran recalled telling Trump, according to a voice note the lawyer made memorializing the conversation.
"What happens if we just don't respond at all or don't play ball with them?" Trump reportedly asked — a line that appears in the indictment.
"Well, there's a prospect that they could go to a judge and get a search warrant, and that they could arrive here," Corcoran recalled responding, according to ABC News' review of his recordings.
Corcoran's notes indicated Trump repeatedly suggested it might be better if they did not cooperate with the subpoena, insisting he did not want anyone looking through his boxes.
Another Trump lawyer, Jennifer Little, warned Corcoran that Trump would "go ballistic" if he was pushed to comply with the subpoena — "that there's no way he's going to agree to anything, and that he was going to deny that there were any more boxes at all," Corcoran recalled.
The indictment against Trump unsealed in June alleges he went on to mislead Corcoran about the location and number of documents in his possession, including by allegedly directing Mar-a-Lago employees to move boxes from the storage room Corcoran was set to search.
The big picture: Voice memos and other detailed notes by Corcoran were turned over to special counsel Jack Smith after a judge found Trump likely used his lawyer in furtherance of a crime, piercing standard attorney-client privilege.
Evidence from Corcoran's notes was used in the federal indictment brought against Trump in Florida, which charged the former president with illegally retaining classified documents and obstructing justice.
Trump pleaded not guilty to the 37 charges at his arraignment in June. Corcoran has recused himself from the classified documents case due to his role as a witness, but he attended Trump's arraignment last month on charges related to the 2020 election.
What they're saying: "The attorney-client privilege is one of the oldest and most fundamental principles in our legal system, and its primary purpose is to promote the rule of law. Whether attorneys' notes are detailed or not makes no difference -- these notes reflect the legal opinions and thoughts of the lawyer, not the client," Trump campaign spokesman Steven Cheung said in a statement to ABC.
Cheung added that Trump "offered full cooperation with DOJ, and told the key DOJ official, in person, 'Anything you need from us, just let us know.'"
Go deeper