Here are the harshest punishments yet for Jan. 6 rioters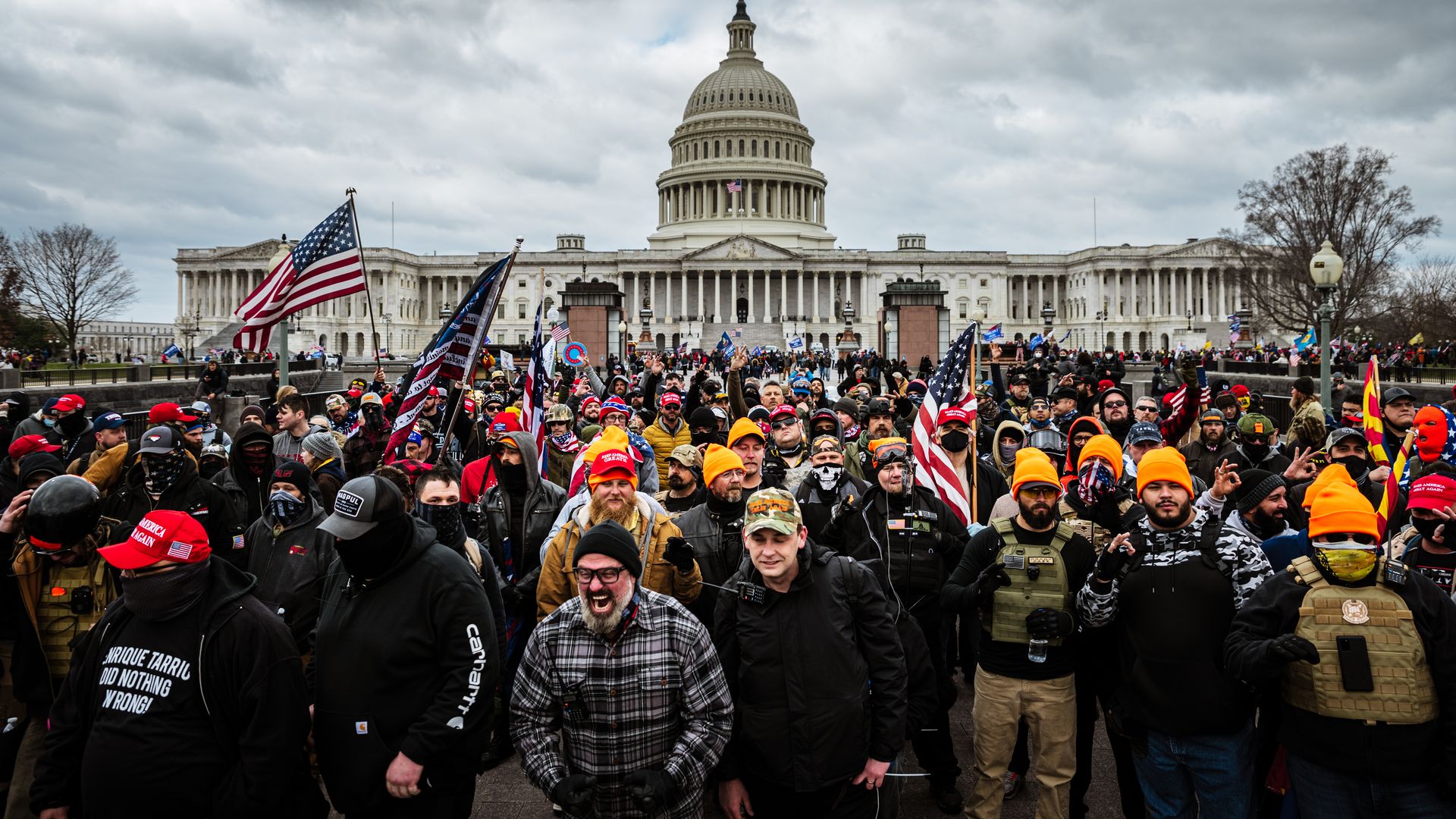 In the more than two years since the Jan. 6, 2021, insurrection took place, the consequences for participants have been piling on, with some of the longest sentences yet handed down this month.
The big picture: More than 1,100 people — including — have been charged in connection with the U.S. Capitol riot.
This includes more than 350 individuals charged with assaulting or impeding law enforcement.
Here's a look at the longest sentences individuals have received so far in relation to the insurrection:
1. Henry "Enrique" Tarrio, former leader of the right-wing extremist group Proud Boys, was sentenced to 22 years in prison for his role in the Capitol insurrection — the longest sentence yet in the Jan. 6 cases.
Tarrio was found guilty in May of seditious conspiracy related to Jan. 6, alongside other Proud Boys members.
He wasn't at the Capitol riot because he was arrested days earlier, but prosecutors argued that Tarrio maintained command over the Proud Boys and cheered on the group as its members stormed the Capitol.
Prosecutors noted Tarrio took credit for the riot on behalf of the group.
2. Stewart Rhodes, the founder of the far-right militia group Oath Keepers, is serving one the longest sentences thus far with an 18-year prison term.
A jury last November found Rhodes guilty of seditious conspiracy in one of the landmark cases the Department of Justice brought against participants in the Capitol riot.
Federal prosecutors said Rhodes and a group of Oath Keepers led a plot to halt the certification of the 2020 election results in an effort to keep Trump in power.
3. Ethan Nordean, a U.S. military veteran who led the Seattle chapter of the Proud Boys, was also sentenced to 18 years in prison on Friday.
Nordean, accused of helping plan the group's march, was part of the extremist group's "national rally planning" effort, per the DOJ.
He was found guilty earlier this year of seditious conspiracy for his role in the attack. Prosecutors were seeking a 27-year prison sentence.
4. Joseph Biggs, a former leader of the Proud Boys, was sentenced to 17 years in prison this week after being found guilty of seditious conspiracy in May.
5. Zachary Rehl, who was the president of the Proud Boys' Philadelphia chapter, was sentenced alongside Biggs this week to 15 years in prison.
He was found guilty of multiple felonies, including seditious conspiracy and conspiracy to obstruct an official proceeding.
6. Peter Schwartz was sentenced in May to 14 years in prison after being found guilty on 10 charges, including four felony charges of assaulting, resisting or impeding officers while using a dangerous weapon.
He was convicted by a jury for throwing a chair at officers and spraying them with pepper spray.
7. Kelly Meggs was sentenced to 12 years in prison after being found guilty of seditious conspiracy and other felonies in a November 2022 trial.
Meggs, who was one of Rhodes' top deputies, was sentenced alongside him.
Editor's note: This article has been updated with details of former Proud Boys leader Henry "Enrique" Tarrio's sentencing.
Go deeper