Proud Boys who allegedly smashed Capitol window, planned group's march sentenced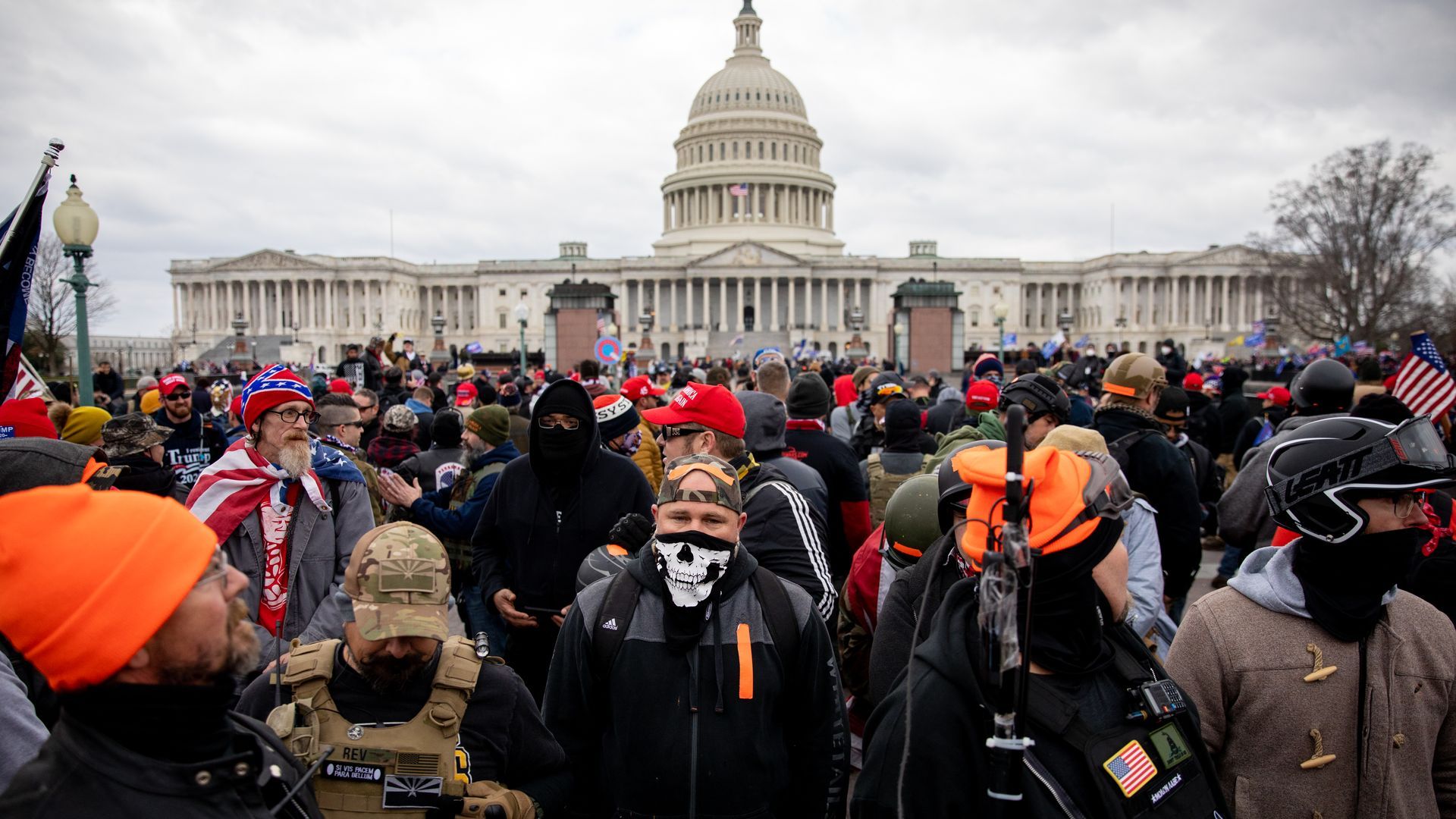 Two Proud Boys were sentenced for their roles in the Jan. 6 Capitol riot, with more t0 come for members of the right-wing extremist group.
Driving the news: Dominic Pezzola was sentenced Friday to 10 years for multiple felony convictions, multiple outlets reported. Ethan Nordean, accused of helping plan the group's march, was sentenced to 18 years, outlets reported.
Pezzola, a member of the group from Rochester, N.Y., was accused of breaking the first window at the Capitol after allegedly stealing a police riot shield.
Nordean, who led the Seattle chapter of the Proud Boys, was part of the extremist group's "national rally planning" effort, per the DOJ.
Of note: Nordean's sentence matches the longest sentence handed down in the Jan. 6 cases so far.
Context: The majority of Proud Boys members who were indicted for sedition for violence during the Jan. 6 attack were U.S. military veterans, including both Nordean and Pezzola.
Earlier this year, Nordean was found guilty of seditious conspiracy for his role in the attack. Prosecutors were seeking a 27-year prison sentence.
Pezzola was found not guilty of seditious conspiracy, but guilty of obstruction of an official proceeding, conspiracy to prevent Congress and federal law enforcement from their duties, and destruction of government property.
Meanwhile, prosecutors are seeking a 33-year prison term for Henry "Enrique" Tarrio, the former leader of the Proud Boys. His sentencing was delayed until next week.
Two former Proud Boys leaders, Joseph Biggs and Zachary Rehl, were sentenced on Thursday to 17 and 15 years, respectively. The DOJ had asked for their sentences to be longer.
Zoom out: More than 1,100 people had faced criminal charges for their roles in the Capitol riot as of Aug. 9.
Go deeper: Ex-Proud Boys leader gets one of the longest Capitol riot sentences
Go deeper