Proud Boys leader Enrique Tarrio found guilty of seditious conspiracy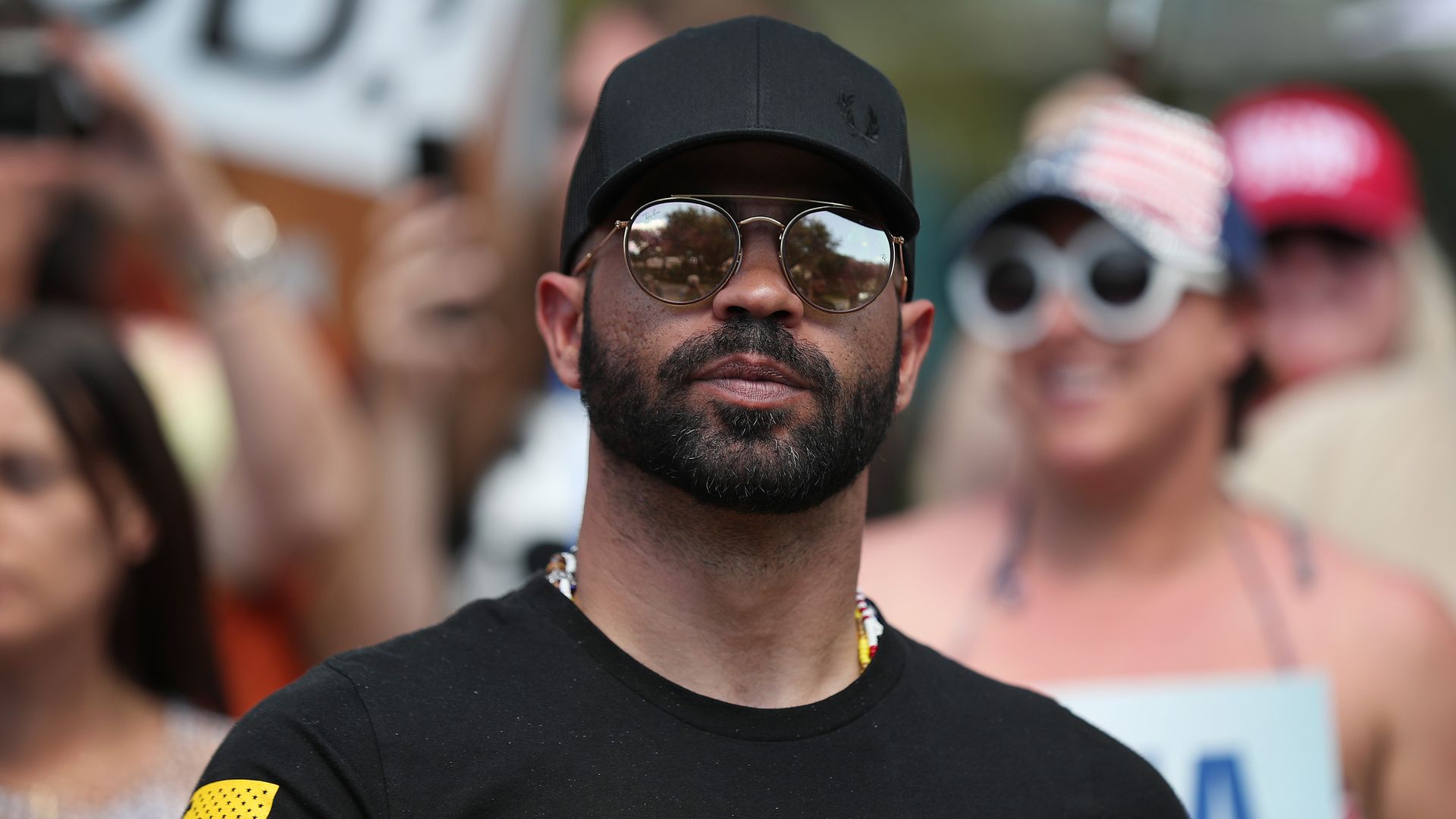 A federal court jury found Henry "Enrique" Tarrio, a leader of the right-wing extremist Proud Boys group, guilty of seditious conspiracy on Thursday for his role in the deadly Jan. 6 Capitol insurrection.
Why it matters: Tarrio could face 20 years in prison after being convicted in one of the highest-profile cases stemming from the attempt to stop the certification of the 2020 presidential election.
Seditious conspiracy is committed when two or more people in the U.S. conspire to overthrow, destroy, seize the property of or levy war against the U.S. government, or to prevent the execution of any U.S. law.
Details: Tarrio was arrested days before the Jan. 6 riot for vandalizing a Black Lives Matter banner at a historic Black church in D.C. in 2020.
However, prosecutors argued that Tarrio maintained command over Proud Boys members after his arrest and cheered on the group as its members stormed the Capitol.
Prosecutors also noted Tarrio took credit for the riot on behalf of the group.
Defense attorney Nayib Hassan blamed former President Trump for the attack on the Capitol in closing arguments on Tuesday, saying it was Trump's "words, it was his motivation, it was his anger that caused what occurred on January 6 in your amazing and beautiful city," per the Washington Post.
"They want to use Enrique Tarrio as a scapegoat for Donald Trump and those in power," Hassan said.
Zoom out: In addition to Tarrio, the jury also found three other Proud Boys members -- Joseph Biggs, Ethan Nordean and Zachary Rehl -- guilty of seditious conspiracy.
Dominic Pezzola, a fifth defendant, was found guilty of obstruction of an official proceeding, conspiracy to prevent Congress and federal law enforcement from their duties, and destruction of government property. He was acquitted of the seditious conspiracy charge.
All five men were originally indicted with seditious conspiracy in June 2022. They have been on trial in a D.C. court over the past four months, and the jury began its deliberations on April 26.
The big picture: The Justice Department has brought only one other case of seditious conspiracy — against Oath Keepers leader Stewart Rhodes and other members of that far-right militia that sought to overturn Biden's victory by stopping Congress' certification of the 2020 presidential election.
Their seditious conspiracy convictions were the first in decades and were considered a preview for the trial involving Tarrio and the other defendants.
Proud Boys member Jeremy Bertino became the first in the group to plead guilty to seditious conspiracy in October 2022.
The Department of Justice said in April that more than 1,020 people have been charged in the roughly two years since the attack on the Capitol, while around 533 have pleaded guilty to such charges.
Editor's note: This story was updated with additional information.
Go deeper