Oath Keepers founder sentenced to 18 years for Jan. 6 seditious conspiracy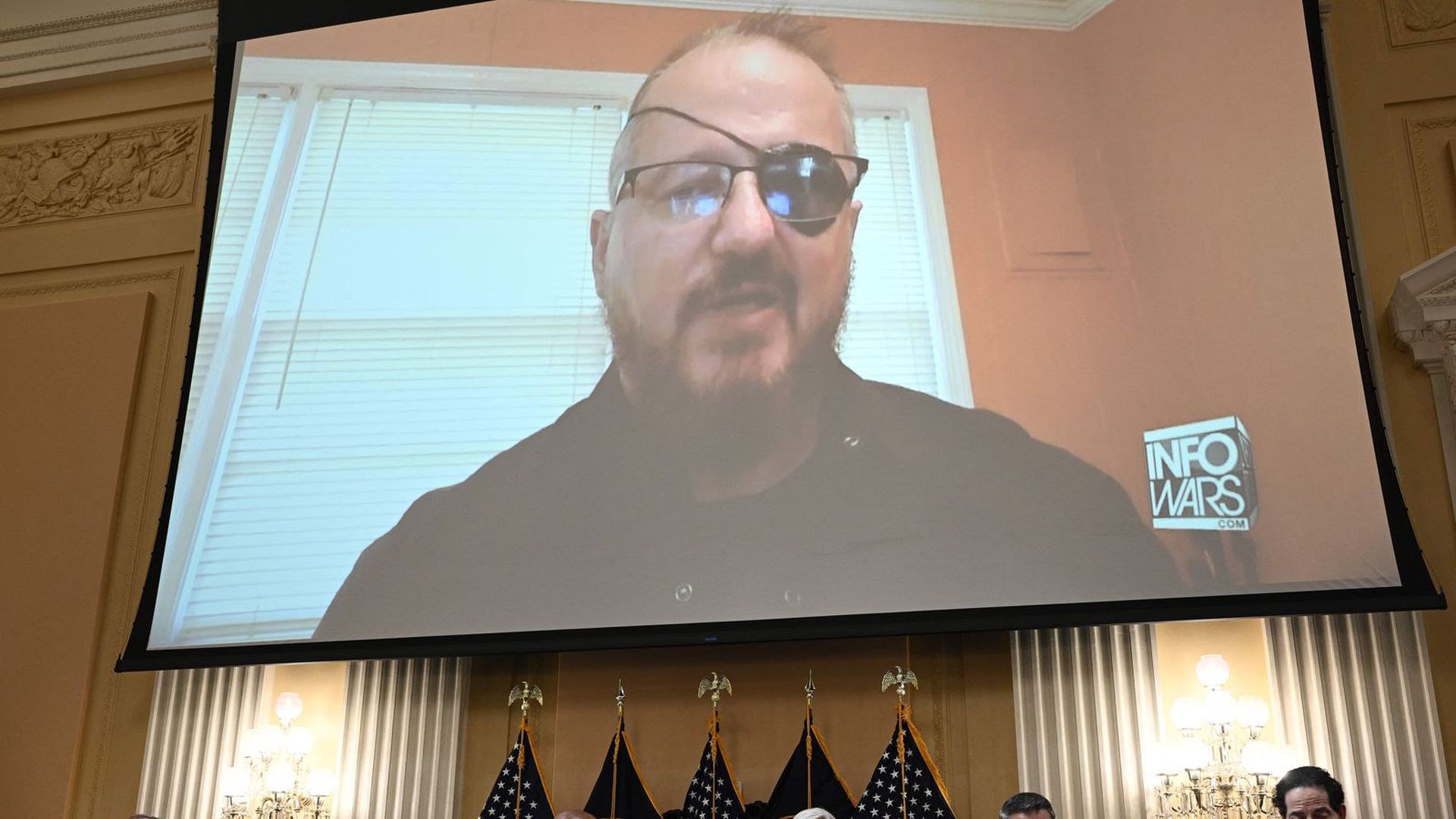 A federal judge on Thursday sentenced Stewart Rhodes, the founder of the far-right militia group Oath Keepers, to 18 years in prison for his role in the deadly Jan. 6 Capitol riot, multiple outlets reported.
Why it matters: Rhodes' is the longest prison sentence received so far by anyone for their role in the insurrection.
Rhodes is also the first of the Jan. 6 defendants convicted of seditious conspiracy to receive his sentence, and his punishment could set a bar for others awaiting sentencing in the coming months.
Catch up quick: A jury last November found Rhodes guilty of seditious conspiracy in one of the landmark cases the Department of Justice brought against participants in the Capitol Riot.
Seditious conspiracy is committed when two or more people conspire to overthrow, destroy, seize the property of or levy war against the U.S. government, or to prevent the execution of any U.S. law.
Federal prosecutors said Rhodes and a group of Oath Keepers led a plot to halt the certification of the 2020 election results in an effort to keep former President Donald Trump in power.
In the indictment against the defendants, the DOJ alleged that Rhodes and the others traveled to Washington, D.C. before Jan. 6 and were prepared to take up arms to stop Congress from certifying the election results.
Rhodes' lawyers had argued he and other Oath Keepers members were anticipating that then-President Trump would use powers under the Insurrection Act to form a militia and wanted to protect his supporters.
What they're saying: Rhodes "used his talents for manipulation to goad more than twenty other American citizens into using force, intimidation, and violence to seek to impose their preferred result on a U.S. presidential election," prosecutors wrote in a sentencing memo ahead of the hearing, per NBC News.
They asked judge U.S. District Judge Amit Mehta to sentence Rhodes to 25 years in prison.
Zoom out: One of Rhodes' top deputies, Kelly Meggs, was also found guilty of seditious conspiracy last November.
In a second trial in January, four other members of the far-right group were convicted of seditious conspiracy and other felonies for their roles on Jan. 6, as well.
The big picture: In addition to Rhodes' group, federal prosecutors also brought seditious conspiracy charges against members of the Proud Boys, a right-wing extremist group, for their role in the insurrection.
Earlier this month, a federal court jury found Henry "Enrique" Tarrio, an ex-leader extremist group, guilty of seditious conspiracy.
The same jury also found three other Proud Boys members — Joseph Biggs, Ethan Nordean and Zachary Rehl — guilty of seditious conspiracy. All are awaiting sentencing.
Go deeper