Jury finds 4 Oath Keepers guilty of seditious conspiracy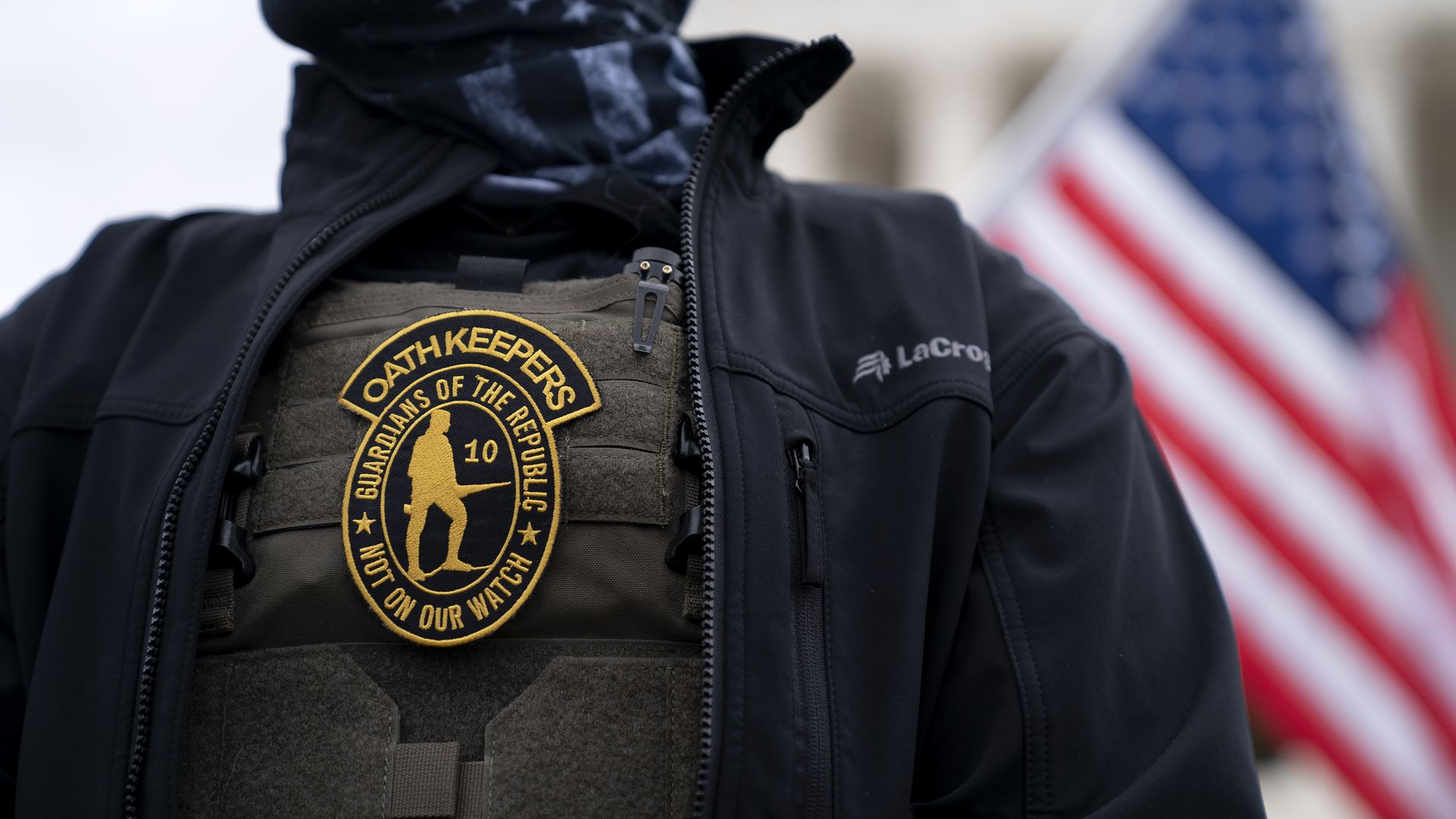 A Washington, D.C., jury found four members of the far-right militia group Oath Keepers guilty of seditious conspiracy on Monday over a plot to stop the transfer of presidential power on Jan. 6, 2021, AP reports.
Why it matters: It's the second set of seditious conspiracy convictions against the anti-government group's members after its founder, Stewart Rhodes, and one other member were found guilty of the seldom-used Civil War-era law last year.
Seditious conspiracy is committed when two or more people in the U.S. conspire to overthrow, destroy, seize the property of or levy war against the U.S. government, or to prevent the execution of any U.S. law.
Details: Prosecutors alleged the Oath Keepers members, led by Rhodes, planned and attempted to violently oppose the transfer of power after President Biden's victory in the 2020 election.
Several members were charged with seditious conspiracy over their actions in the lead-up to and day of the deadly Capitol riot. The group of defendants were tried in two separate trials because of space limitations in the D.C. federal courthouse.
The jury on Monday found Roberto Minuta, Joseph Hackett, David Moerschel and Edward Vallejo guilty of seditious conspiracy and other riot-related felonies.
The men face a maximum of 20 years in prison for the seditious conspiracy convictions alone, though they were also found guilty of several other charges stemming from the riot, including conspiracy to obstruct an official proceeding, according to CNN.
The big picture: Rhodes and another member, Kelly Meggs, were found guilty of seditious conspiracy and other felonies in a November 2022 trial.
Three other Oath Keepers were found not guilty of seditious conspiracy but guilty of multiple other felonies.
The same court is also trying a leader of the far-right Proud Boys group, Henry "Enrique" Tarrio, along with four other members. They are also charged with seditious conspiracy over a similar, but separate, plot to stop the transfer of power through the riot.
Other members of both the Proud Boys and Oath Keepers involved in the riot have pleaded guilty to seditious conspiracy charges.
They are among hundreds of other people who have pleaded guilty or were convicted of other charges stemming from Jan. 6.
What's next: A sentencing date for the four Oath Keeper members was not set Monday, but they will be under house arrest until they are sentenced.
Go deeper ... Judge: Jan. 6 rioter who broke into Capitol followed "Trump's instructions"
Go deeper