Judge: Jan. 6 rioter who broke into Capitol followed "Trump's instructions"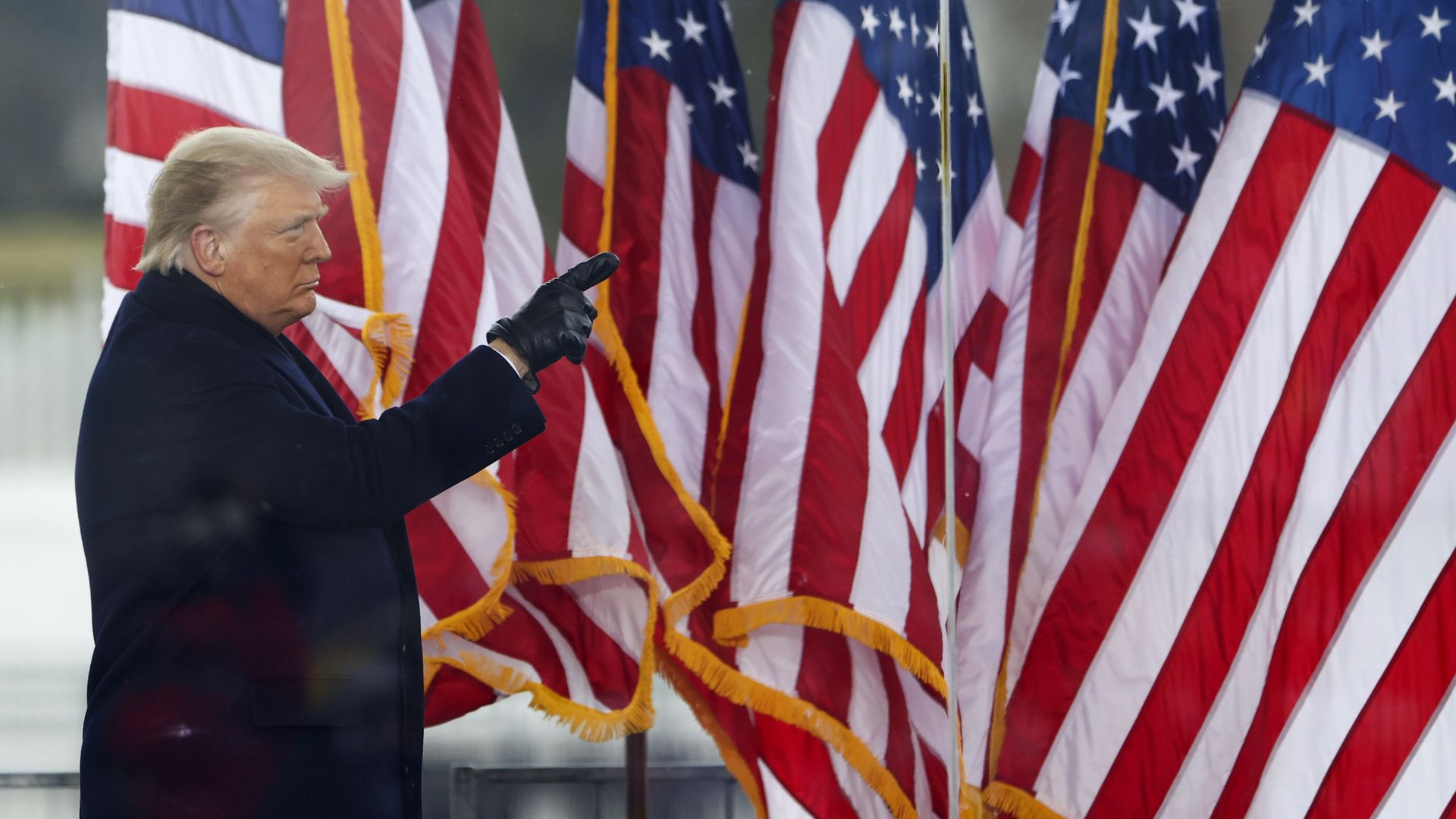 A federal judge said Tuesday that a California woman who breached the U.S. Capitol during the Jan. 6 insurrection "followed then-President Trump's instructions" in breaking the law.
Driving the news: Danean MacAndrew, who traveled to D.C. from California for Trump's rally and filmed herself storming the Capitol with the mob of pro-Trump supporters, was found guilty on charges including violent entry and disorderly conduct in a Capitol building after a three-day bench trial.
What they're saying: Before the Jan. 6, 2021, rally on Jan. 6, MacAndrew tweeted at him "that she too felt that '[t]raps had been set' in the '#RiggedElection' of 2020," District Judge Colleen Kollar-Kotelly wrote in the 18-page opinion. "And at the 'Stop the Steal' rally, then-President Trump eponymously exhorted his supporters to, in fact, stop the steal by marching to the Capitol.
"Defendant marched to the Capitol where, she testified, she understood that only Congress had the power to fix the election's outcome and that Congress was likely in session while she was around and in the Capitol," Kollar-Kotelly said.
"Every step of the way, from the western boundary of Capitol grounds, to the West Lawn, to the Upper West Terrace, to the interior of the Capitol itself, she saw sign after sign that her presence was unlawful," Kollar-Kotelly said. "Nevertheless, heeding the call of former President Trump, she continued onwards to 'stop the steal.'
"Having followed then-President Trump's instructions, which were in line with her stated desires, the Court therefore finds that Defendant intended her presence to be disruptive to Congressional business."
The big picture: Kollar-Kotelly's words echo rhetoric in the House Jan. 6 select committee's final report, which alleges that Trump engaged in a "multi-part conspiracy to overturn the lawful results of the 2020 Presidential election."
At his first broadcast-network appearance since Capitol riot, former Vice President Mike Pence told ABC's "World News Tonight" that Trump's actions during the insurrection meant he "decided to be part of the problem."
Yes, but: Trump has maintained that the report and its allegations are a political witch hunt.
The former president had "urged the crowd to 'peacefully and patriotically make your voices heard' on Jan. 6, a fact, just like the Unselect Committee, this biased judge deliberately omitted," said Trump spokesperson Liz Harrington said in a statement to Axios, in reference to both Kollar-Kotelly's ruling and the now-dissolved panel.
"The violations of due process and unfair treatment of political prisoners by the U.S. government during this saga will forever be a stain on our country," Harrington added.
Go deeper... 187 minutes: Jan. 6 hearing to show Trump's deliberate inaction
Editor's note: This article has been updated with comment from Liz Harrington, a spokesperson for former President Trump.
Go deeper