McConnell's scary moment raises age limit questions for Congress — again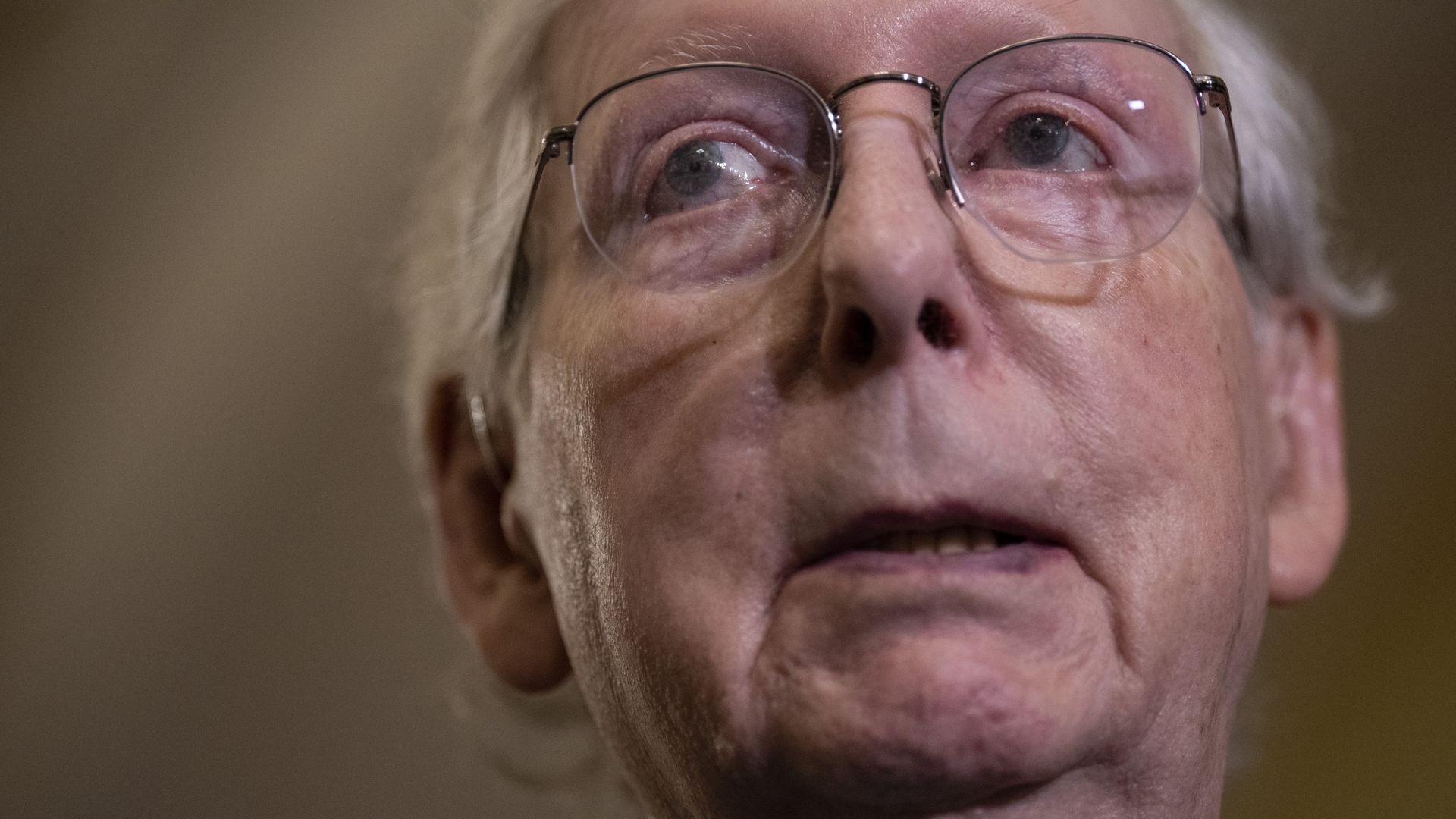 After his second freeze on camera in as many months, Senate Minority Leader Mitch McConnell will face a question that has been swirling around the Senate and the presidential race all year: How old is too old to serve?
Why it matters: At 81, McConnell is the longest serving party leader in Senate history, using his mastery of Senate procedure to bedevil Democrats and reshape the federal judiciary.
Yes, but: For the first time in his career, McConnell may not be entirely in control of his own timeline.
Age, and his physical health, will have a vote.
Immediately after his scary moment, his office announced that he would consult a doctor before his next event.
But aides also downplayed the event, suggesting that a plainly confused and disoriented McConnell was simply "lightheaded"
The big picture: In the presidential campaign, voters routinely say that both President Biden and former President Trump, the likely GOP nominee, lack the youth and vigor for the job.
In a recent AP-NORC poll, some 77% of adults said Biden, 80, is too old for a second term.
While Trump, 77, has made it clear that he plans to mock Biden for age, more than half of voters think the same of him.
In the Senate, one of Biden's longtime friends, Sen. Dianne Feinstein (D-Calif.), 90, sometimes appears confused, leading to calls from fellow Democrats to step down.
Driving the news: After his freeze, McConnell promptly called fellow senators and allies, but he left it to others to describe his condition.
Through an aide, Minority Whip John Thune (R-S.D.) relayed that McConnell sounded like himself and was in good spirits.
Later in the evening, McConnell meet with Rep. Jim Banks (R-Ind.) who is running for the Senate in Indiana. Banks posted a photo with McConnell on X.
"He was engaging," Banks told Axios. "Very dialed in on my race and following closely."
At the White House, Biden expressed his sympathy for his fellow octogenarian. "He's a good friend. I'm going to try and get in touch with him later this afternoon," he said.
What we're watching: McConnell is unlikely to face an immediate challenge as minority leader, according to top Republican officials.
And don't expect any of his would-be replacements — the so-called "three Johns" that includes Thune and Sens. John Cornyn (Texas) and John Barrasso (Wyo.) — to start making calls to colleagues, fishing for support.
But seasoned Republicans privately acknowledge that the public line from the leader's office – that the Kentucky senator simply felt lightheaded – will likely be updated.
Flashback: In March, McConnell was hospitalized with a concussion after suffering a serious fall at a fundraising dinner.
Between the lines: Senators will return from their August recess on Tuesday for what promises to be a busy, and brutal, month of legislative brinksmanship, with a potential government shutdown looming.
They are now bracing for questions about McConnell's health and fitness to govern when they head to their first votes.
Go deeper: Some Democrats privately worry that any conversation about any politician's age draws attention to Biden's own advanced years.
White House officials have taken steps to minimize the risk of physical mishaps that might reinforce perception about Biden's age, like using the shorter steps to board Air Force One.
In late June, after close-up photos showed unexplained lines on Biden's face, officials acknowledged that the president had been using a CPAP machine in response to his sleep apnea.
Go deeper