McConnell escorted out after freezing during press conference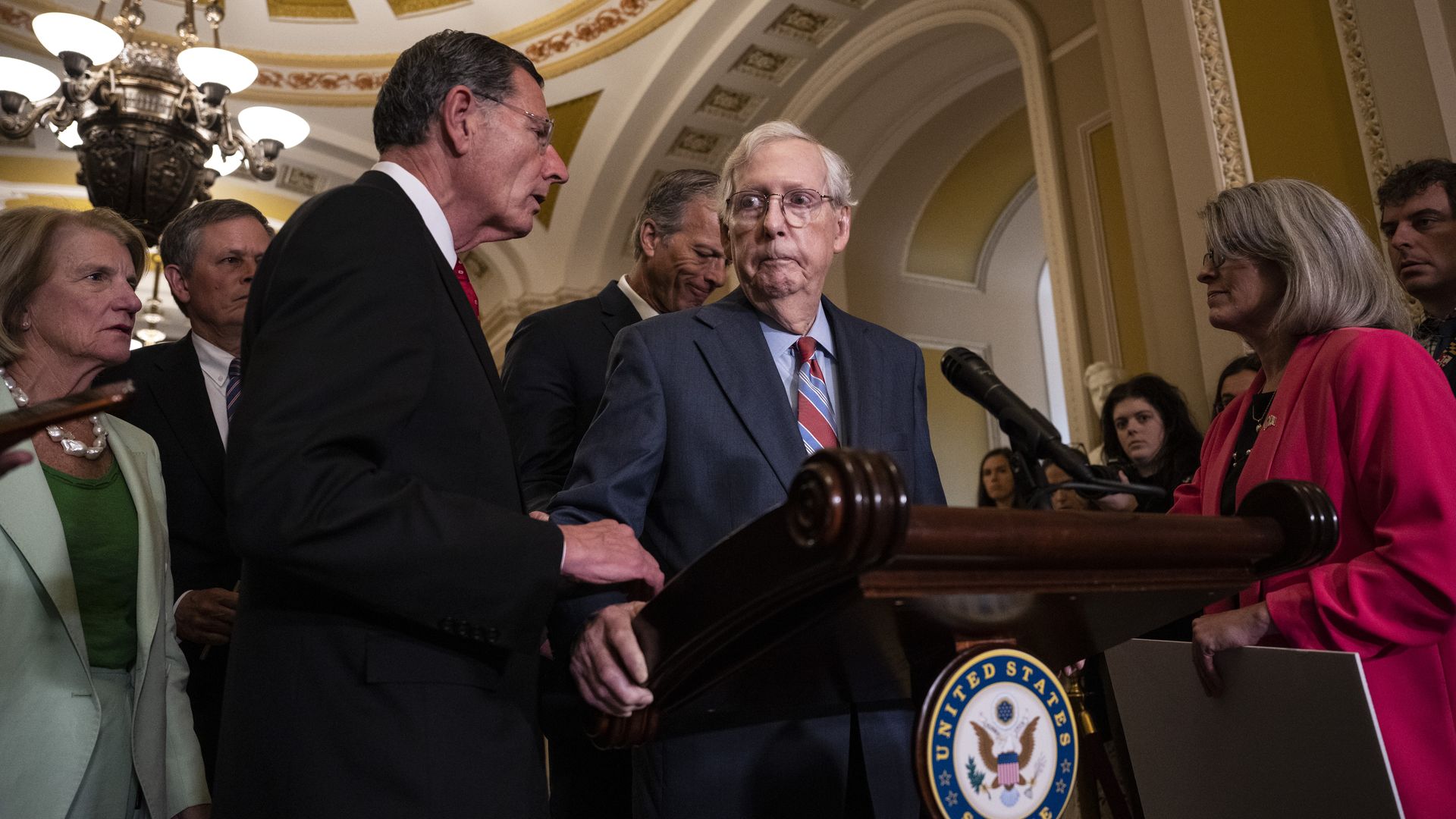 Senate Minority Leader Mitch McConnell (R-Ky.) appeared suddenly unable to speak during a press conference on Wednesday, and was briefly led away by concerned GOP colleagues after he was unable to complete his opening remarks.
Driving the news: McConnell, who has been described by colleagues as one of the most effective political operators in modern history, returned to the press conference and assured reporters he was "fine" after being asked about his health.
"Is there anything else you want to say, or should we just go back to your office?" Sen. John Barrasso (R-Wy.) asked McConnell.
Another Senate GOP leader, Sen. Joni Ernst of Iowa, asked: "Are you good Mitch?"
McConnell was temporarily replaced at the press conference by Senate Minority Whip John Thune, along with other GOP leaders.
The latest: McConnell told reporters later Wednesday evening that he spoke to President Biden by phone after his freeze-up.
"The president called to check on me and I told him I got sandbagged," the minority leader said, a reference to Biden's comments in June after he tripped over a sand bag.
Pressed on what happened, McConnell repeated "I'm fine," adding: "That's the important part."
House Speaker Kevin McCarthy (R-Calif.) told reporters that he met with McConnell after the incident for a regularly scheduled meeting, saying he has no concerns about his Senate counterpart's health.
Of note: A McConnell aide said that the Kentucky Republican "felt lightheaded and stepped away for a moment," noting he was able to "come back to handle Q and A, which ... everyone observed as sharp."
Between the lines: McConnell has led Senate Republicans since 2007 and easily fended off a leadership challenge from Sen. Rick Scott (R-Fl.) in 2022.
"I'm a doctor, I'm just not his doctor. He answered questions and he was fine," Barrasso — the #3 Republican in Senate leadership — told reporters on Wednesday.
"I support Sen. McConnell as long as he wants to serve as leader," Sen. John Cornyn (R-Texas) told Punchbowl News.
Another Wyoming Republican, Sen. Cynthia Lummis told Punchbowl that McConnell was "doing great" at lunch and "hitting on all cylinders." She said McConnell should stay on as leader "unless something happened that needs to be looked at."
Flashback: The Kentucky Republican spent weeks recovering from a concussion after falling at an event in March.
Editor's note: This article has been updated with comment from more Senate Republicans.
Go deeper